Sophia… Sophia: not many names evoke as many emotions in an Italian heart as Sophia. Of course, that is because we think of "la Loren." Growing up as I did with grandparents who witnessed her rise to fame when it happened, in the post-war, hope-filled Italy of the 1950s, I knew about her before even seeing her on the screen. Grandma thought Gina Lollobrigida was prettier and more gracious, but liked Sophia a lot, too, especially in "Pane, Amore e..." and "La Ciociara". Grandpa loved her. And how could you blame him?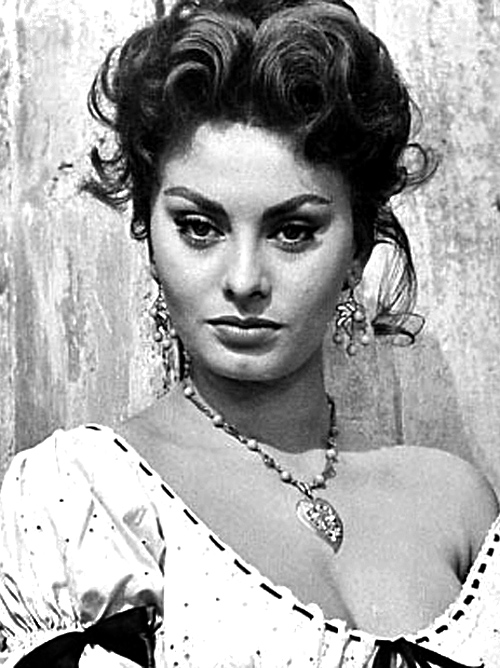 Sophia Loren is one of Italy's treasures for more than one reason. Because of her work, of course, for which she received her fair deal of prizes and recognition around the world; for her absolute, enticing, iconic beauty, still today held as one of the highest examples of how an Italian woman should be: dark, curvaceous, strong willed, with a great sense of humor and a great smile. For her elegance throughout the decades: a long lasting marriage, little gossip surronding it, two children, a life dedicated to the art of cinema and that absolute love for her country she exudes every time she talks about it.
Sophia is a treasure, indeed. And she is one of those people who, in spite of time passing, never really ages to people's eyes: Sophia remains the beauty of Pane, Amore e…, even if she is sixty years older now. This probably happened because she managed to age with grace, avoiding (some say "limiting" but, when a job is well done, it really is just the same) the scalpel and, quite simply, changing from a beautiful 20 year old into a beautiful 80 year old. So beautiful, in fact, that Dolce and Gabbana chose her – and not some young model a quarter her age – to be the face of their new fragrance: and, voilà! Every Italian woman wants, once again, to "smell and look like Sophia."
Sophia Loren for Dolce&Gabbana
Her beauty is an unquestionable matter in this country: saying she is anything less than fantastic could get you arrested for high treason.
To Sophia, then: muse of Italian art, symbol of Italian beauty, testimony to Italian talent. Of course she is an international icon. Of course I should say that Sophia belongs to the world. But I will not: let us Italians revel in the joy of saying "la Loren è tutta nostra," at least this time.
Sophia Loren: her Life and Career
She was born as Sofia Villani Scicolone in Rome, on the 20th of September 1934. It is time to clarify a little mistery about Sophia's birthplace: many list Pozzuoli as her hometown, but she was in fact born in the capital. Her mother, Romilda Villani – a piano teacher – met her father, Riccardo Scicolone, a Roman businessman with aristocratic roots, in Rome. Romilda decided to move back to Pozzuoli, where her family lived after Scicolone, in spite of recognizing Sophia as his daughter, refused to marry. In Pozzuoli, Sophia spent all her childhood, beside a brief parenthesis in Naples during the war, after Pozzuoli had been heavily bombed. She retuned after the end of the conflict and began helping her mother and grandmother in a small café they had opened to support themselves. Sophia had greater things in mind, though: in 1949 she won her first beauty pageant, packed her suitcase and left Pozzuoli with her mother to go back to Rome.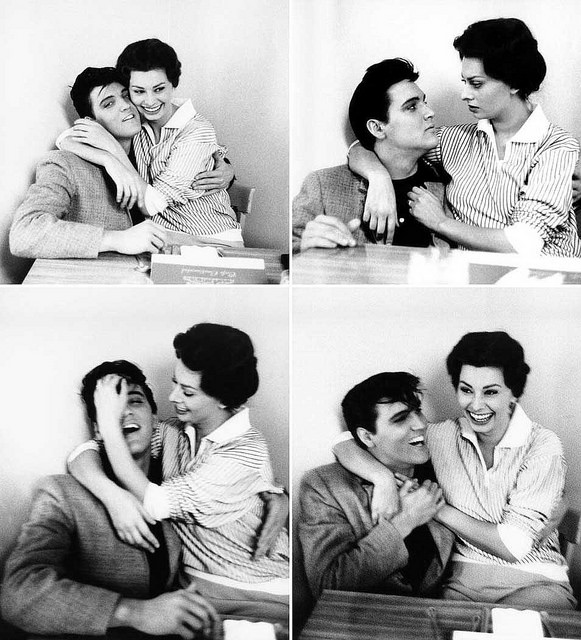 An indignant Mr Scicolone, who disapproved of his daughter's career choices, accused her and her mother to run a brothel from their little Roman apartment: of course, it was a lie, and all ended up with a simple visit to the Police station and an explanation. In 1950, Sophia participated to Miss Italia: she did not win the main title, but that of Miss Eleganza, which was created especially for her. Miss Italia opened to Sophia the doors of Rome's showbusiness: she became a popular "fotoromanzi" (like comics, but with photos and about love…) starlet and took part in several movies as a walk on.
Her career took off for real a year later, in 1951, when producer Carlo Ponti (who was to become her husband) offered her a seven year contract. It was time to come out with the perfect stage name: for a while Sophia went by Sofia Lazzaro then, thanks to the intuition of producer Goffredo Lombardo, she finally became Sophia Loren, the anglicised version of her own name and a take on another actress' – a Swede name Martha Torèn – surname to complete the picture. She was now ready to become an icon.
The 1950s and 1960s witnessed the rise of Sophia's star on the Italian screen first and on the international after. She became famous at home with movies like Due Notti con Cleopatra (Two Nights with Cleopatra,1953), alongside Alberto Sordi and Tempi Nostri (A Slice of Life, 1954), with Totò. She obtained her first leading role in 1954 with L'oro di Napoli (The Gold of Naples), once again with Totò. In 1955, along with other movies, she starred in the famous Pane Amore e… (also known to the American public as Scandal in Sorrento). The 50s also marked the beginning of her dramatic acting career, which increased her exposure abroad. Towards the end of the decade, the doors of Hollywood opened for her, adding up titles such as Orgoglio e Passione (The Pride and the Passion, 1957), La Chiave (The Key, 1958) and Orchidea Nera (The Black Orchid, 1958) to her carnet.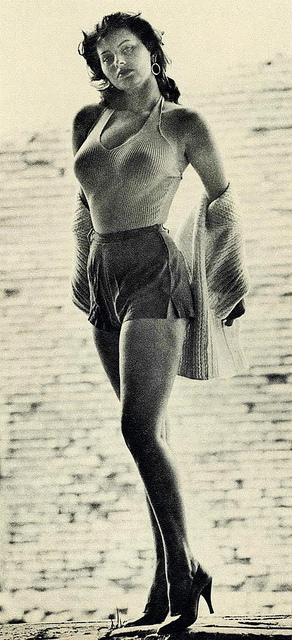 The 1960s and the 1970s reinforced her national and decreed her international success. She was often directed by Vittorio De Sica and had Marcello Mastroianni as her partner. It was, indeed, De Sica to direct her in the movie that won her the Oscar (as well as a Palme d'Or at Cannes, a BAFTA, a David di Donatello and a Nastro d'Argento) La Ciociara (Two Women, 1960), adaptation of one of Alberto Moravia's novels.
These years saw her collaborating with huge names of international cinema including Charlton Heston, Clarke Gable, Paul Newman, Marlon Brando and Charlie Chaplin. In Italy, she starred in Ieri, Oggi e Domani (Yesterday, Today and Tomorrow, 1963), known for her sexy strip-tease for Marcello Mastroianni (re-enacted in Robert Altman's Prêt à Porter, again for Mastroianni, 30 years later), Matrimonio all'Italiana (Marriage Italian Style, 1964), Il Viaggio (The Voyage, last movie directed by De Sica, starring Richard Burton along with Loren), Una Giornata Particolare (A Special Day, 1977, directed by Ettore Scola) among others.
In the 1980s, Sophia dedicated herself to the small screen, interpreting various critically acclaimed tv series. In the 1990s she returns to cinema with the already mentioned Prêt à Porter, That's Amore (1997) and, in 2009, she is the protagonist of Nine, a musical homage to Fellini's 8 1/2.
Sophia has recently published an autobiography, Ieri, Oggi, Domani: La Mia Vita, published by Rizzoli (also available in English: Yesterday, Today, Tomorrow: My Life ).
Some curiosities about Sophia
She is a huge supporter of Naples' own football club S.S.C. Napoli.
She owns homes in Rome and Naples, but her residence is in Geneva, Switzerland.
She posed for the iconic Pirelli Calendar in 2007, looking just as beautiful as much younger actresses Penélope Cruz and Hillary Swank, also protagonists of that edition.
She admitted an affair with Cary Grant in the 1960s.
She played her own mother in a tv series inspired by her sister's autobiography.
Her sister, Maria Scicolone, was married to Benito Mussolini's 4th child, Romano. They had two daughers, Elisabetta and Alessandra. The latter is an Italian MP.
Edoardo Ponti, Sofia's younger son, is married with american actress Sasha Alexander, known for her role as Maura Isles in popular tv seires Rizzoli and Isles.
Sophia in her own words
"I look very well, I look fantastic. I'm laughing but everybody says so. Everybody says so! Sometimes I don't believe them anymore but they're very convincing…!" (…she declared recently to W Magazine).
"Sex bothers me… It is married life I truly enjoy."
"50% of your sex appeal is made up of what you really have. The other 50% of what people think you have."
"A woman who can cook pasta properly holds a prestige, a charme that goes beyond times and trends."
"A woman's dress should be a bit like a net: useful, but it should never keep things hidden."
(Credit for front page photo: wikimedia)
Francesca Bezzone