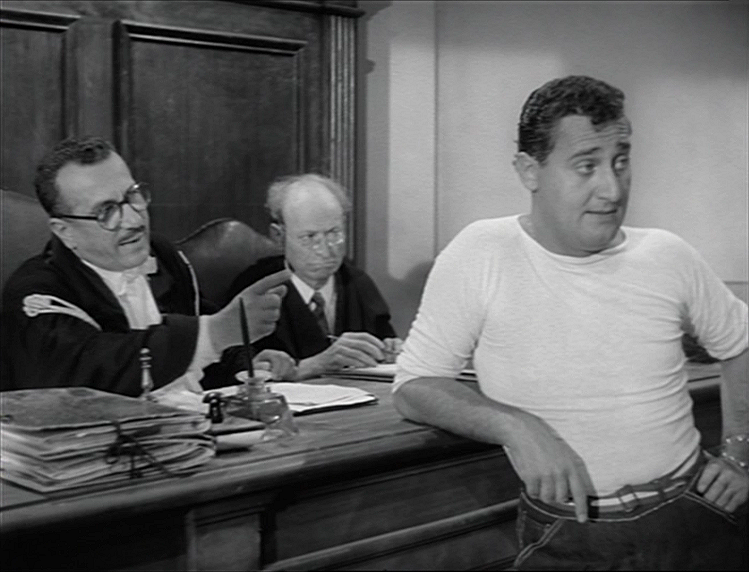 "Maccarone, m'hai provocato e io ti distruggo adesso, maccarone! Io me te magno, ahmm!". (Said in a Roman accent: "Pasta, you provoked me and I'll destroy you now, pasta! I'm going to eat you, ahmm!")
When faced with a plate of pasta, many Italians would say or think of this sentence, first uttered by Alberto Sordi in the film Un Americano a Roma. It is one of the most famous lines in Italian popular consciousness, along with the very image of Sordi as the film's protagonist Nando Mericoni: sitting at the table, eating a dish of spaghetti, reflecting the true spirit of Italians. For this, and many other reasons, Alberto Sordi is regarded as one of the most important of Italian actors, one who managed to embody Italian essence—even in its weaknesses—with irony and a touch of poetry.
In his time, Sordi was one of the most famous movie stars in Italy and he managed to endear himself to Italian audiences thanks to his humility and simplicity. In fact, Sordi was even dubbed Albertone Nazionale or " Our National Alberto," because people considered him to be not just a movie star, but a real representative of the Italian people, full of comedy and spontaneity. While satirizing Italian social mores, Sordi never forgot to mix in the right doses of humor with just the right amount of sadness to make it believable. Sordi, who passed away in February 2003, will be remembered for his continuous jokes, colorful language and his Roman accent.
Born in Rome (in Trastevere) in June of 1920, Sordi started his career as an actor, but also worked as a dubber and director. When he was young, he studied opera singing and he also cut a fable record in order to earn some money and move to Milan where he wanted to attend acting school. Sordi would get expelled from the Accademia because of his Roman accent.
At that point, the struggling actor returned to Rome where he found a job as walk-on in Cinecittà, which was considered the Italian equivalent of Hollywood in the post-war period. He also dubbed many films before becoming a bona fide celebrity in his own right.
In 1947 Sordi worked in the radio, taking part in vaudeville shows like "Rosso e nero" and "Oplà", representing the prototype of the Italian Mr. Average, who was both ironic and satirical. It took quite a bit of time—almost ten years—before the actor really knew success and began playing important roles. Sordi's first leading role was in the film "Mamma mia, che impressione".
The two films that really made Sordi a household name, however, were those directed by Federico Fellini: Lo sceicco bianco e I vitelloni. It was Fellini who really saw the potential and talent of Alberto Sordi.
After appearing in Fellini's films, his career and fame were confirmed. The actor would go on to star in 150 films and is still considered one of the most important actors in the history of Italian cinema. Sordi has even been given more than twenty awards, among them the Leone D'Oro alla Carriera (the Lifetime Achievement Award) at the prestigious Venice Film Festival.
One of Sordi's most famous roles came in 1959 when, together with another great Italian actor, Vittorio Gassman, Sordi played the part of a coward-hero in the masterpiece La Grande Guerra directed by Mario Monicelli.
From La Grande Guerra
« Sordi as Oreste Jacovacci: "Ma che fai aho, prima spari e poi dici chi va là?"
Sentinella: "È sempre mejo 'n amico morto che 'n nemico vivo! Chi siete?"
Oreste Jacovacci: "Semo l'anima de li mortacci tua!"
Sentinella: "E allora passate!" »
Alberto Sordi was not simply a movie star, but an actor who made his indelible mark on Italian cinematographic history. There are images of Sordi that have engrained themselves in the consciousness of Italians young of all ages: Alberto eating spaghetti, Alberto in the role of traffic-directing policeman, and so forth.
Sordi's success as an actor and as a man was so great that about 500,000 people took part in his funeral, held at the Basilica di San Giovanni in Laterano. The actor was buried in one of the most famous cemeteries of Rome, the Cimitero Monumentale del Verano and since then he's had streets and squares, and even a gallery (The Galleria Alberto Sordi), named after him in Rome. Sordi's life may have started with him standing in the background, but it ended with the actor being recognized as one of the brightest and most important of all Italian movie stars.