Sexy. Seductive. Voluptuous. Gorgeous. Exotic.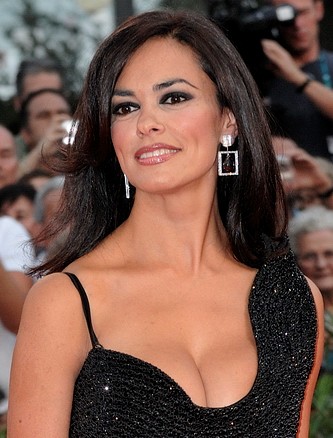 All of these adjectives have been used to identify the Sicilian-born screen goddess, Maria Grazia Cucinotta. They just don't come close. Maria Grazia Cucinotta is so much more than her face or her figure, which boasts impressive measurements of 39-25.5-35.5
Maria Grazia Cucinotta was born on July 27, 1969 in the town of Messina. She started out as a model in Milan. For her it was nothing more than a summer job. At almost 5 ft. 11 in. tall, Maria Grazia was quite a presence on the catwalk; however, she longed for something more. She wanted to act. Maria Grazia began her acting career in commercials and became very successful at it. She appeared in ads for Banca di Roma and Persol sunglasses, among others.
After a while, Maria moved on to bigger television parts and small film roles. She was in 1990's Viaggio d'amore (Journey of Love) and Vacanze di Natale (Christmas Vacation). In 1991, she worked in the TV miniseries, La Ragnatela. During this time, she began to study English. As Maria Grazia would say, "Nobody is born speaking two languages." She realized that she would need to learn English to make a splash outside of Europe, where many other Italian actors and directors found much work.
In 1994, Massimo Troisi cast Maria Grazia as his love interest, Beatrice Russo, in the much-acclaimed film, Il Postino (The Postman). Her role in Il Postino brought Maria Grazia's talent and beauty to the attention of audiences the world over. She earned some recognition and respect and was sent film scripts to look over for the first time in her career.
Over the next few years, Maria Grazia would be kept very busy in her personal and professional lives. In October of 1995, she married businessman Giulio Violati. They live in Rome and do their best to stay out of the tabloids. Also in 1995, Maria Grazia starred as Letizia in the film I Laureati (The Graduates), the TV miniseries, Alta società (High Society) and the Spanish film, el Dia de la Bestia (The Day of the Beast).
Maria was also continuing with her education, taking elocution lessons to rid herself of her Sicilian accent and studying her craft with acting classes. Her hard work would pay off. In 1997, she appeared in the American film, A Brooklyn State of Mind with Jamie-Lynn Sigler, Vincent Spano, Danny Aiello, Tony Danza and Jennifer Esposito. Although the film wasn't a box-office smash, it did earn her a nomination for Best Actress at the New York International Independent Film & Video Festival.

Maria Grazia Cucinotta.
The following year she worked with siblings Michael and Virginia Madsen in the Guy Greville-Morris film, Ballad of the Nightingale. After that, she made a guest appearance on the hit series The Sopranos and played a sexy assassin in The World is not Enough, a James Bond movie. In 2000 she won the coveted role of Mary Magdalene in the TV miniseries Maria Maddalena, which is quite an interesting if not historically verifiable back story to this well-known biblical figure. She reprised the role in Tommaso, another movie in the 3-party trilogy. The third was about Judas Iscariot and entitled Giuda.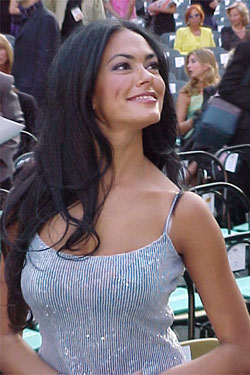 Maria Cucinotta continues to appear in films both in Europe and the United States. In 2000 she also worked with Woody Allen and Sharon stone in Picking up the Pieces and in 2001 she appeared with Timothy Hutton in the comedy, Just One Night. She also joined the television cast of the Italian drama, Il Bello delle Donne. She played Rosy Fumo beginning in 2002. Maria Grazia continues to forge ahead in her career. In 2005, she was one of a huge ensemble cast working as a bartender in the critically acclaimed series of short films entitled All the Invisible Children.
No matter where you find Maria Grazia, she never disappoints. She is a radiant beauty who remains an ageless and sexy brunette bombshell amidst a sea of blondes who try to appear more Anglo. She's an Italian-looking Italian actress who makes no apologies for her Latinate, exotic beauty and voluptuousness. Her stunning and impressive presence harkens back to the heyday of screen sirens such as Sophia Loren and Gina Lollobrigida.
All hail this Maria full of Grazia.