Mario Bava was born on July 31, 1914 in Sanremo, Italy. His birth occurred only one day after Germany declared war on France and Russia after the assassination of the Archduke Franz Ferdinand of Austria, that is, one day after the beginning of World War I. His father, Eugenio Bava, was a cinematographer and technician for silent films. Mario originally studied to be a painter, but the lure of the film industry was very magnetic. He began his career during the 1930s and assisted his father much like his son would later do with him.
Throughout the next two decades, Mario would come to work as a cinematographer/special effects technician for over 70 films on his own. Some of these films included:
Capitan Tempesta (Captain Tempest) 1942
Il Leone di Damasco (The Lion of Damascus) 1942
La Nave Bianca (The White Ship) 1942
Il Barbiere di Siviglia (The Barber of Seville) 1946
Mio Figlio Nerone (Nero's Big Weekend) 1956
His big break came in 1956 during the filming of I Vampiri (The Vampires), which is the first Italian horror film with sound. Riccardo Freda was the original director and is credited as such however, he had a parting of the ways with the film's producers. As a result, Mario was asked to step in to complete the film: this was his first turn as a director. He obviously enjoyed it.
The first of the horror movies in Italy: I vampiri
In 1960 Mario released La Maschera del Demonio (Black Sunday). This film, which is considered by many to be Bava's masterpiece, was based on a story called "Vij" by Russian writer Nikolai Gogol.
The plot involves a 17th century witch who was burned by the Moldavian Inquisition for vampirism and other crimes. She returns to wreak havoc on the life of her 19th century look-alike and relative princess Ana (both parts are played by British actress Barbara Steele). Bava's stamp is all over this seductive and stylish film. He did the cinematography and wrote the screenplay.
La Maschera del Demonio, Mario Bava
Although Bava would branch out into other genres – for example, he was the assistant director of 1961's Esther and the King – he is best known as a master of horror. In 1963, he filmed I Tre Volti della Paura (Black Sabbath). This is three horror stories in one film. In the first, a nurse takes the ring off a corpse and discovers that revenge is stronger than death as the corpse pursues her. In the second story, a prostitute is terrorized by a phone call from an ex-client. In the last short story, horror legend Boris Karloff stars as a 18th century Russian count-turned-vampire who feeds off of the blood of his loved ones.
Mario's next film was 1964's La Frusta e il corpo (The Body and the Whip). This film starred Christopher Lee as a 19th century count who is accused of whipping a girl to death. Upon his return home, he discovers his girlfriend (Dalilah Lavi) has married his brother and is his father's mistress. For some reason, Lee's character is murdered and attempts to enact revenge on those who killed him, while continuing a relationship (of sorts) with his former love.
By this time, Mario had begun teaching his son, Lamberto, the tricks of the trade. The apprenticeship would last for many years more. Perhaps, 1964's Sei Donne per l'Assassino (Blood and Black Lace), which featured a fashion house full of models who meet a gruesome end, would inspire Lamberto to do a similar piece featuring Serena Grandi, called Delirium (1987).
The elder Bava did continue to create films that were like visual paintings – he was a director who understood how to visualize his stories. 1965's Terrore Nello Spazio (Planet of the Vampires), Operazione Paura (Curse of the Living Dead – 1966), Diabolik (1968) and Reazione a Catena (Bay of Blood – 1971) were all visually stunning and horribly grotesque.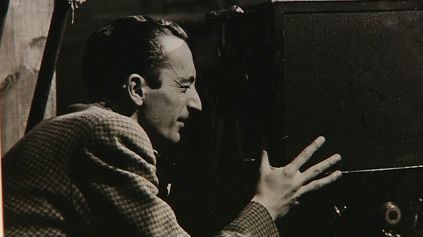 Bava's creativity would eventually lead him to greatly influence not only the gothic horror genre, but also those of thriller and slasher.  Some call him a pioneer, others think that he may have succumbed a great deal to illness, pressure or perhaps even the judgments of younger directors such as his son, Lamberto. It was clear, however, that as the 70s began, Mario Bava's career was on the decline. He would never have another Black Sunday.
Of course, that doesn't mean that he was idle. Not by any means. In 1972, he lensed Gli Orrori del castello di Norimberga (Baron Blood). In this film, an American student goes to Austria to learn about his family history. He reads a 16th century incantation that restores power to one of his ancestors, a sadistic nobleman who earned the name Baron Blood for his cruelty.
In 1974, he created La casa dell'esorcismo (Lisa and the Devil) with Telly Savalas and Elke Sommer. The film, a rielaboration of a previous movie by Bava, which he rejected, was considered by many  a poor knock-off of The Exorcist so it didn't get the attention it deserved. Later that same year, he worked on Cani Arrabbiati (Rabid Dogs) with his son, which however did not achieve success. Although Mario has influenced filmmakers like his son Lamberto Bava, Dario Argento, John Carpenter and many other horror luminaries, he never achieved the success during his lifetime that his talent warranted, which must have frustrated him greatly.
The last film Mario would direct would be 1977's Shock, starring Dario's muse and wife, Daria Nicolodi, as a mother who moves into a new country home to discover her son is possessed by an evil spirit. After this time, he didn't exactly bow out of the film industry. It seems he was content to let other directors shine such his son, Lamberto, and Dario Argento, both of whom he would continue to work with. He did a TV film with Lamberto called La Venere di Ille (Venus of Ille) and provided some special effects for Dario's 1980 film Inferno. Inferno was the last film he worked on. In 1980 Mario Bava died of a heart attack at the age of 65, only 4 days before another iconic director, Alfred Hitchcock, also passed away.
By Deanna Couras Goodson