Dario Argento – The Hitchcock of Giallo Part I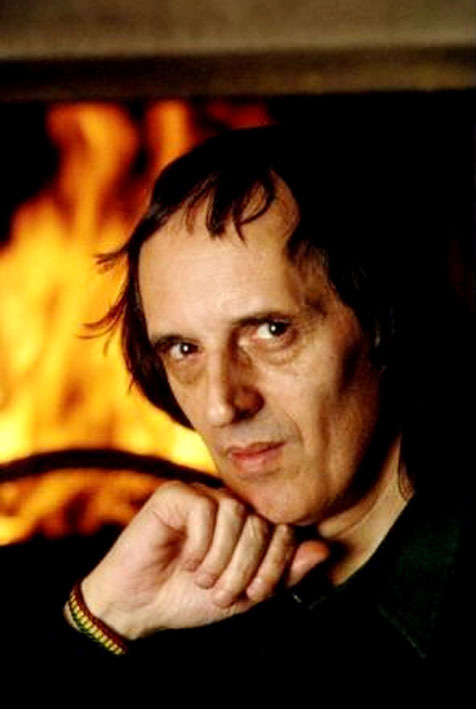 Dario Argento was born on September 7, 1940 in Rome. His father was the film producer, Salvatore Argento, and his mother was a fashion model named Elda Luxardo. Although many people may believe otherwise due to Dario's stance as the disputed master of Italian horror films, it appears that his childhood was normal. Young Dario did seem to take an interest in the dark literary works of Edgar Allan Poe and the Grimm brothers, however.
During high school, while enrolled in a Catholic academy, the intelligent young man, who, by now, was an avid movie lover, became a film critic for the Roman paper, Paese Sera (Country Evening). By the time he reached the age of 20 Dario, who also works under the pseudonyms of Sirio Bernadotte, George Kemp and Roberto Pariente, decided he was tired of writing about other people's films.
He became a screenwriter.
Soon thereafter, Dario started writing screenplays. He is credited with the following, among others:
Probabilità  zero (Zero Probability) – 1961
Scusi, lei Favorevole o Contrario? (Are you for or against?) 1967
La Stagione dei Sensi (The Season of the Senses) 1968
Cimitero senza Croci (Cemetery without Crosses) 1968
Oggi a Me…Domani a Te? (Today it's me…Tomorrow, it's you) 1968
In the mid-to-late 60s, Dario collaborated with Bernardo Bertolucci and Sergio Leone on the screenplay for the Henry Fonda film, Once Upon A Time in the West. Around this time, Dario also began working behind the camera lens as an assistant director. However, he longed for something more.
Dario became a full-fledged director with the debut of L' Uccello dalle Piume di Cristallo (A Bird with Glass Feathers) in 1970. Of course, he also helped write the screenplay as he would continue to do for many other films. L'Uccello dalla Piume di Cristallo is a hallmark in Argento's production, because it is Dario's first giallo film. Giallo in Italy usually refers to a mystery book, the equivalent of an American thriller or suspense novel. A giallo, however, tends to have a darker allure, something more gothic to it. The term has been transposed to cinema, too: it describes certain Italian thriller films in which violence is extreme and almost frenzied, the plot is not the primary point and the accent is rather placed on the piece's aesthetic style: the  director's vision, if you will, is what's most important. Dario is often called the master of Italian giallo.
In L'Uccello dalle Piume di Cristallo, which is the first part of what many critics and fans call his "Animals trilogy", a writer living in Rome witnesses an attempted murder by a mysterious man in raincoat and black leather gloves. He is a suspected serial killer. The writer becomes almost obsessed with hunting the killer and the leads bring him to a very chilling conclusion.

Dario Argento "Masters of Horror".
1971's Il Gatto a Nove Code (Cat O' Nine Tails) and Quattro Mosche di Velluto Grigio (Four Flies on Gray Velvet), also in 1971, are the remainder of the trilogy. After this successful foray into giallo and a great partnership with the gifted Italian composer Ennio Morricone, who helped set the haunting tone of these films with his musical scores, Dario decided that he didn't want to get pigeon-holed as a horror film director and did some comedy and television work for the next few years. Dario, who'd been married to Marisa Casale, previously and had a daughter Fiore, had also begun his long and successful partnership with stage and screen actress Daria Nicolodi by this time. That union would last almost two decades and produce not only his youngest child, actress/director/producer/writer Asia Argento but also some of Dario's most successful films.
Despite the perceived respite, it would not be long before Dario would return to the giallo genre and make what, to many, is the signature Dario film, Profondo Rosso (Deep Red). This movie, which was released in 1975, the year Asia was born, concerns a musician who witnesses the death of a psychic. He teams up with a reporter (played by Nicolodi) to solve the murder before he becomes a victim himself. In this film, we can begin to see Dario taking more chances with camera and visual angles. He also adds a rock music score, working closely with the Italian musical group, the Goblin, to create a stunning film both visually and aurally.
Dario would also work with Goblin and Daria Nicolodi again in Suspiria (Sighs) in 1977. Suspiria follows the story of an American ballerina, Suzy Bannen, played by American actress Jessica Harper. Suzy tries to continue her studies in Bavaria and finds that someone's murdering the students of her exclusive dance school, mysteriously, of course. As the film comes to its climax, we learn that the "Mother of Sighs" is the director of this arts academy. In fact, Suspiria is the first of the "Three Mothers" trilogy.

Dario Argento An Eye for Horror.
The "Three Mothers" idea come from a Thomas DeQuincey book and Daria's experiences with her occultist grandmother, as she grew up in Florence, Italy. 1980's Inferno (Hell) follows the "Mother of Darkness", who resides in the same New York apartment building as a young poet, who ends up dead but not before she lets her twin brother, who's studying in Rome at a school run by the third mother, the "Mother of Tears", know that she suspects something sinister is going on. The remainder of the film follows the young man's attempts to figure out what happened to his sister and others close to him.
The trilogy came to an end in 2007 with The Third Mother (La Terza Madre), which sees Dario's daughter, Asia, as main protagonist. The third mother, the mater lacrimarum (or mother of tears) is the most powerful of the three. Asia plays a your archaeologist who visits Rome to study. Here, she'll come to face the horror and the evil of the mother of tears, not before a series of gruesome events happens around her.
Tenebrae (Darkness), from 1982, is loosely based on experiences Dario himself had with a relentless fan after Suspiria was released. The film, starring Tony Franciosa and featuring John Saxon and Daria Nicolodi, is about a best-selling author (Franciosa) who discovers that a murderer is killing those closest to him in a manner that is book, Tenebrae, may be the inspiration for. The famous author must uncover the mystery before he, himself, falls into the darkness.
By this time, Dario has definitely come into his own as a filmmaker. He boasts an impressive visual style. He is a filmmaker who believes that technology improves a film and, if it's available to be used, it should be. He also uses symbols and conventions such as favoring the murders of beautiful women (specifically his own lover, Daria Nicolodi who meets a horrible demise in at least three of his films), featuring women walking in red, high-heeled shoes, and using his own hands when only the hands of a killer are shown.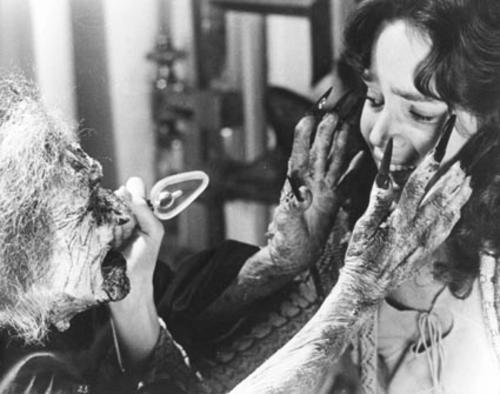 By Deanna Couras Goodson