Federico Fellini is one of the best Italian film directors.
Born in Rimini in 1920, he started his career as a caricaturist, writer, then scriptwriter and finally film director. He died in Rome in 1993.
This is a list of his movies, some of the most representative Italian movies:
Luci del varietà
Variety Lights
1950
Fellini's debut film (co-directed with Alberto Lattuada) tells the story of a lovely young lady who talks her way into a job dancing with a bawdy music hall dance troupe. She quickly becomes the star of the show and embarks on a romance with the troupe's aging manager.
Lo sceicco bianco
The White Sheik
1952
Fellini's first solo directing debut is a comedy that has all the earmarks of his quirky imagination. A honeymooning couple becomes separated on their trip to Rome, which they embark upon in hopes of having an audience with the Pope. The husband becomes entangled with prostitutes and the wife enters the world of her favorite comic book hero, The White Sheik.
I Vitelloni
The Young and the Passionate
1953
The original slacker movie, which spawned countless others, this movie chronicles the year in the lives of five young men trying to find themselves. This movie was also the recipient of an Oscar for Best Original Screenplay.
Amore in Città
Love in the City
1953
Love in the City is the collaborative work of 7 Italian filmmakers, divided into 6 different "episodes". Fellini's contribution is Un'agenzia matrimoniale (A Marriage Agency), about an investigative reporter posing as a groom-to-be.
La Strada
La Strada
1954
La Strada is often considered Fellini's finest cinemastic masterpiece, due in no small part to the work of his wife, actress Giulietta Masina in the role of Gelsomina. Gelsomina is a childlike and intellectually simple young girl that is sold to a circus strongman (Zampano) with whom she falls in love. When they join a small circus, a love triangle is built between the two and the clown Il Matto, who Gelosmina is enchanted with and Zampano abhors.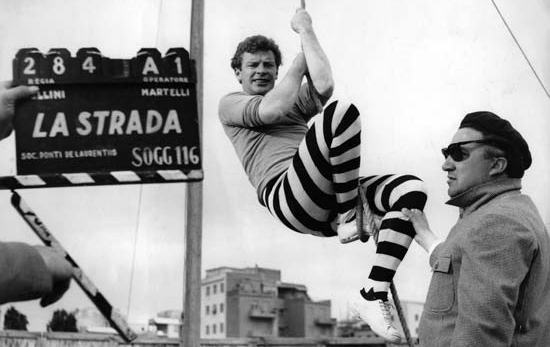 Il Bidone
The Swindle
1955
This film begins as a classic comedy of errors, following the lives of three small time con men who poses as Roman priests to swindle people out of their money. One of them has a chance encounter with his daughter that changes his life and sets him on the path to redemption.
Le Notti di Cabiria
The Nights of Cambiria
1957
The title character Cambria, played again by Giulietta Masina, is a prostitute on the streets of Rome who has sweetness and heart you can't help but fall for. The ending of this movie is a brutal one…just when things seem to finally being going right for Cambria; she suffers a bitter disappointment. But this is one of Fellini's favorite themes to play out – continued hope in the face of sorrow.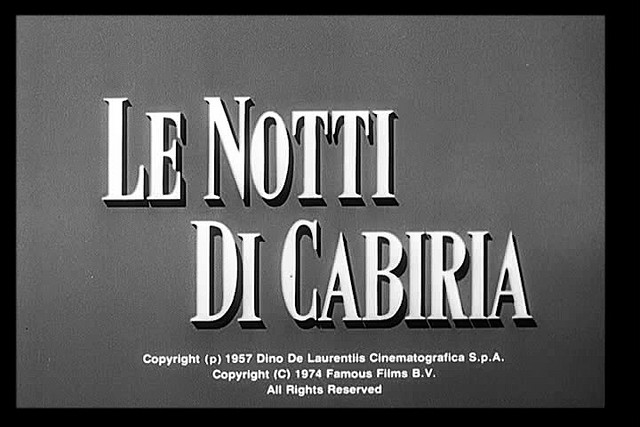 La dolce vita
The Sweet Life
1959
This movie follows the life of tabloid reporter Marcello Rubini and his indulgences of decadent Roman high society. While he doesn't find the decadent parties and orgies ultimately fulfilling, he lacks the nerve do live differently, resigned to a shallow existence in the end.
The epic scene of Anita Ekberg in the Trevi Fountain
Boccaccio '70
1962
Boccaccio '70 is comprised of four different segments by different directors. Fellini's contribution, Le tentazioni del dottor Antonio (The Temptations of Doctor Antonio), is a humorous contribution considered to be his finest short work.
8½
1963
The story of an acclaimed filmmaker desperate for his next great film idea is based partially on the life of Fellini himself. This film won the Oscar for Best Foreign-Language film in 1963.
Marcello Mastroianni and Claudia Cardinale in 8 e mezzo
Giulietta degli spiriti
Juliet of the Spirits
1965
In Fellini's first color film, Giulietta Masina plays a wife whose betrayal leaves her unable to cope with reality; she escapes to a fantasy world that lets her embark on a voyage of self-discovery.
Tre passi nel delirio
Spirits of the Dead
1968
Toby Dammit is one of the three stories told in Spirits Of The Dead and is considered by many to be the only reason to watch the movie. Toby Dammit is the story of an English actor in Italy who doesn't speak the language and is completely alone and eventually descends into madness.
Block-notes di un Regista
Fellini: A Director's Notebook
1969
Fellini's documentary on himself is as surreal as any of his fictional creations. A Director's Notebook was filmed during Fellini's creation of the movie which was to follow it, Fellini Satyricon, as well as some cut scenes from A Night In Cambria.
Fellini Satyricon
Fellini's Satyricon
1969
Of all of Fellini's films, this one is considered his visionary crowning achievement. Set in ancient Rome, it is the story of two young men's riotous and self-indulgent adventures during the reign of Nero.
I clowns
The Clowns
1970
Fellini plays a version of himself, as a documentary filmmaker interviewing a troupe of clowns. Juxtaposed to the film crew is a young boy visiting his first circus and seeing the clowns through new eyes.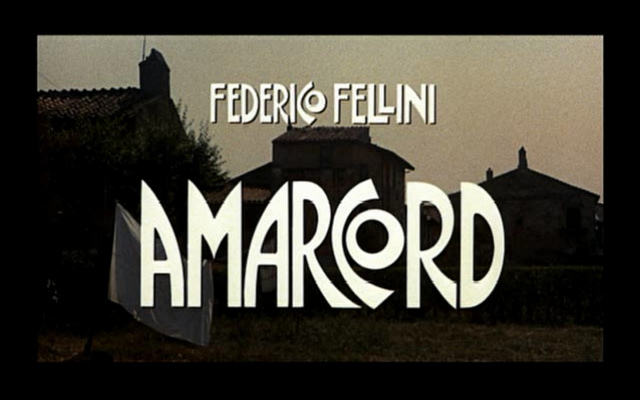 Roma
Fellini's Roma
1972
Another documentary within a documentary, Roma mixes flashbacks about Fellini's own past growing up in Rome, with the story of a movie company making a film about the city (with Fellini playing the director). The film itself warns that there is no story in a traditional sense in this movie, but it has all the earmarks of his lush, colorful cinematography.
Amarcord
Fellini's Amarcord
1973 Amarcord (which means "I remember" in the dialect of Emilia Romagna, the region where Fellini was born) is a nostalgic fictionalized memoir of Fellini's childhood in Italy's Fascist era.
Family lunch in Amarcord
Casanova
Fellini's Casanova
1976
Fellini's take on the story of Casanova is based less on the original legend and more on Fellini's idea of Casanova as an ordinary man caught up in extraordinary circumstances.
Prova d'orchestra
Orchestra Rehearsal
1979
Orchestra Rehearsal chronicles story of an orchestra during rehearsal in an ancient chapel followed by a documentary film crew. The rehearsal quickly erupts into a chaos that Fellini uses to deconstruct social revolt.
La città delle donne
City of Women
1980
Fellini's City Of Women is his exploration of feminism and the bonding between female friends. The story is told through the eyes of Snaporaz, a womanizer who meets a woman on a train and follows her to a feminist convention.
E la nave va
And the Ship Sails On
1983
This work is set in 1914, right before WWI. The setting is a luxury liner set sail to scatter the ashes of a famous diva by her family and friends. The film tells the story of these family and friends, members of an élite class on the verge of obliteration.
Ginger e Fred
Ginger and Fred
1986
Less symbolic that other Fellini films, Ginger and Fred is a slice of life story of a retired dance team (who spent their careers imitating the original Fred and Ginger) who are reunited to dance on the television show "We Are Proud To Present".
Intervista
Interview
1987
Fellini created the whole "mocumentary" genre with this faux documentary of his life in film, as a Japanese film crew follows him.
La voce della luna
(The Voices of the Moon)
1990
Fellini's last movie (he died in 1993) was also a big departure from his previous works, this is his only film based on a novel (Ermanno Cavazzoni's Il poema dei lunatici). The main character, Ivo, moves often between reality and fantasy, and it is never made clear which is which. The result is confusing, startling, and incredibly fascinating.
See Also Italian Cinema