Biography & Filmography of Bruno Bozzetto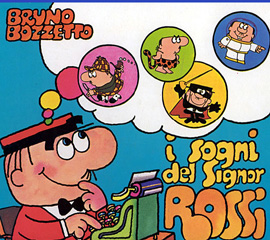 Bruno Bozzetto was born in Milan in 1938. He created his first animated short in 1958, when he was only 20 years old. It was called Tapum! La storia dell armi (Tapum! The History of Weapons) and it dealt with the history of weapons, from the caveman's club to the 20th century's nuclear bomb.
After Tapum! Bozzetto would go on to create over 100 animated films. One of his most famous creations is a lovable, middle-aged man named Mr. Rossi, who always gets into crazy and comical situations.
Over the years, Mr. Rossi has starred in mant animated shorts, such as:
Un Oscar per il Signor Rossi (An Award for Mr. Rossi) 1960
Il Signor Rossi va a Sciare (Mr. Rossi Goes Skiing) 1963
Il Signor Rossi al Mare (Mr. Rossi at the Seaside) 1964
Il Signor Rossi Compra l'Automobile (Mr. Rossi Buys a Car) 1966
Il Signor Rossi al  Camping (Mr. Rossi goes Camping) 1970
Il Signor Rossi al Safari (Mr. Rossi at the Safari) 1971
Il Signor Rossi a Venezia (Mr. Rossi in Venice) 1974
Mr. Rossi's very popular worldwide. Did you know that he's the mascot for the German National Lottery? And why not? Besides appearing in animated shorts, Mr. Rossi's starred in several full-length feature films and in a 1975 television series called Gli Sport del Signor Rossi (The Sports of Signor Rossi): he's, indeed, very famous.
The full length movie Bozzetto animated creation starred in was 1976's I Sogni del Signor Rossi (Mr. Rossi's Dreams). In this film, Mr. Rossi returns home for the weekend. It's been a long week at work, and he's ready to relax with his dog, Gastone. Gastone, however, wants to go out and have fun. Gastone loves movies, television and books, and he always compares his owner to famous heroes such as Tarzan, Aladdin and Zorro. He does this so often that Rossi starts to identify with these characters, which we see throughout this delightful film.
The second full-length Mr. Rossi film is called Il Signor Rossi Cerca la Felicità (Mr. Rossi Searches for Happiness). In this 1976 animated classic, Mr. Rossi travels through time to get away from his ho-hum life. With the help of his Fairy Sicura (Fairy Godmother) and his magic whistle, Mr. Rossi goes to ancient Egypt to see the pyramids, the Stone Age, Ancient Rome, the old American West and even the land of Fairy Tales where Robin Hood and Pinocchio are. He is on a quest to find happiness and, in the end, Mr. Rossi discovers happiness isn't found far away: it's closer than he could have ever imagined.
In the final full-length Rossi film, Le Vacanze del Signor Rossi (Mr. Rossi's Vacation – 1978), Mr. Rossi travels through Italy. He and Gastone go to the seaside in a camper. They also visit a farm and get caught in a debate over the rights of farm animals. In the end, they head to the mountains for some relaxation, but there's none to be found. There's always something crazy and exciting going on in Mr. Rossi's life!
Of course, Bozzetto's created many other memorable characters and films. He's known for his intelligent and hilarious satire. His first full-length film predated the Mr. Rossi's by almost a decade. It was called West and Soda (1965),  a delicious parody of the American West, complete with damsels in distress, a handsome young cow-poke and a nasty land baron.
In 1968, Bozzetto took on superheroes in VIP, Mio Fratello Superuomo (VIP, My Brother Superman). The main characters of this film are SuperVip and his brother, MiniVip. MiniVip is far from impressive as a super being. He must fight against his deflated ego as well as a super villain, Happy Betty, a tycoon hell-bent on world-domination. Can MiniVip conquer his personal demons? Will he work with SuperVip and save the day? You have to watch it to find out. It's a true comedy classic.
Perhaps, Bozzetto's most famous full-length work is 1976's Allegro non Troppo. In it, Bozzetto presents live-action sequences showcasing a frustrated animator, played by Maurizio Nichetti, a frequent collaborator of Bozzetto's. The animator has this idea to do a bunch of animated short stories set to classic music, but he's upset because someone named "Prisney" has stolen that idea already. The various animated shorts dispersed throughout the piece are very similar to Disney's Fantasia. It's a funny spoof, with cute animation set to classical pieces by Debussy, Sibelius, Vivaldi and many more.
Bozzetto has also continued to animate, write and produce shorter cartoons. He earned a Golden Bear award for 1988's Mr. Tao and an Oscar nomination for 1991's Grasshoppers. In recent years, he's created classics such as Europe & Italy (1999), which appears on our site,  Yes & No (2000), Adam (2002),  Olympics (2003), Femminile e Maschile and Neuro (2004), Looo (2005), Armi su Strada (2008) and Rapsodeus (2013).
He took a break from animation in 1987 and directed, wrote and produced the live-action film, Sotto il Ristorante Cinese (Under the Chinese Restaurant), starring Claudio Botosso and Amanda Sandrelli. Ivan (Botosso) witnesses a robbery only a few days before his wedding. He takes refuge in the basement of a Chinese restaurant. There, he is transported via a door into this new place. It's an exotic beach. There, he meets and falls in love with Eva (Sandrelli). The adventures he has there change his life forever.
Bozzetto has also worked on these live action shorts and films:
The Seventh Day He Rested 1963
The Household Drug 1972
The Cabin 1973
Happy Birthday 1979
Automatic Yellow 1980
Detective Sam Black 1980
Bruno Bozzetto is a prolific cartoonist and satirist. He is not afraid to take on any topic. He has constantly challenged himself and his audiences throughout his long and illustrious career. He has that rare combination of intelligence, artistic ability and comedic timing. His films and shorts are well-loved and rightly so. Hopefully, Bozzetto isn't done showing us how things should – and could – be yet!
By Deanna Couras Goodson