Maurizio Nichetti – Biography & Brief Filmography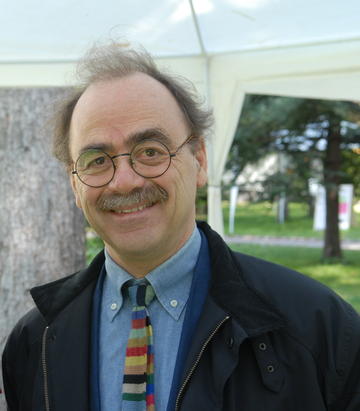 Maurizio Nichetti is one of Italy's best-loved comedic talents. Some consider him to be the 'Italian Woody Allen.' He was born in Milan on May 8, 1948. Nichetti was educated at the prestigious Leonardo Da Vinci Scientific School. He graduated with a degree in architecture in 1975. While still in school, he began preparing for his career in show business. He studied under Marise Flach, a pupil of Decroux himself, at her Mime School at Milan's "Il Piccolo Teatro" (the Little Theater).
In 1971, he began his collaboration with cartoonist Bruno Bozzetto as a scriptwriter, but eventually Nichetti moved his way up to bigger and better things such as directing commercials and industrial films. He also helped write three, full-length Mr. Rossi features – Mr. Rossi Looks for Happiness, Mr. Rossi's Dreams and Mr. Rossi's Vacation. Mr. Rossi, of course, is one of Bruno Bozzetto's most famous creations.
Maurizio co-wrote and starred in the live-action animator in 1976's Allegro Non Troppo, a wonderful take-off of Disney's Fantasia. During this time with Bozzetto, Nichetti also wrote and acted in two live-action comedies La Cabina (The Cabin), in which an amateur photographer works hard to catch a beautiful girl's eye, and Oppio per Oppio (The Household Drug), which is a true – and hysterical – testament to the addictive hold television can have over people.
In 1975, Nichetti founded his own mime school called "QUELLIDROCK", which transformed itself into a wonderful Milan-based theater company. In 1978, he wrote, produced and directed a short, comedic film called Magic Show. This paved the way for his first full-length feature, 1979's Ratataplan. In this silent film, Maurizio Nichetti introduces Alberto Colombo, the hapless engineer he would revisit in 2001's Honolulu Baby. Colombo is a daydreamer who discovers that he's just too busy dreaming to work or find love.
Using his wonderfully expressive face and actions, Colombo makes a robot, whom he dresses in disco garb, to do his 'dirty work' for him so he can continue to dream. His robot is a big hit and finds a great girl who eventually learns she may have something in common with the real man, after all. Ratataplan was a big hit at that year's Venice film festival. It gained worldwide acclaim and earned over 6 billion lira. That's an astounding figure considering Ratataplan was produced for only 100 million lira.
Over the next few years, he would act, direct, or do both in the following films:
Ho Fatto Splash! 1980
Domani Si Balla! 1982
I Paladini…Storie d'Arme e d'Amore (Hearts & Armor) 1983
Bertoldo, Bertoldino e…Cacasenno 1984
Il Cammissario Lo Gatto 1986
Il Bi E Il Ba 1986
By 1989, Nichetti had firmly established himself as a writer, producer, director and actor. During that year, he released Ladri di Saponette (The Icicle Thief). This film lampoons the classic De Sica film, Bicycle Thieves. It's a film within a film that's interrupted with live action and obnoxious, hysterical commercials that are just fantastic.
Maurizio Nichetti
In 1991, Maurizio Nichetti wrote, directed and played the starring role in Volere Volare (I Want to Fly). Maurizio plays Maurizio, ironically enough. The movie's Maurizio creates sound effects for cartoons. He meets and falls in love with Martina, an escort who is no-nonsense with her clients. However, she is a true romantic at heart. Maurizio avoids a physical relationship with Martina because he's turning into a cartoon. In the end, Martina realizes that she loves Maurizio. He is a man who is different from all the rest. When they finally consummate their love, Maurizio is a full-fledged cartoon.
In the decade between Volere Volare and Honolulu Baby, Nichetti would help create and star in a bunch of other films. These include:
Stefano Quantestorie 1993
Tous les jours dimanche (Seven Sundays – France/Italy) 1994
L'Articolo 2 (Article 2) 1994
Luna e l'Altra 1996
Palla di Neve (Snowball) 1996
Honolulu Baby is perhaps Nichetti's best and best-loved film. In the film, he revisits Alberto Colombo, the engineer he first brought to the screen in 1979's Ratataplan. Colombo now works for the multinational corporation he failed his exam for in Ratataplan. This company requires that the employees only speak English or face being fired.
Maurizio Nichetti,Trento Film Festival 2008.
Daunted by pressures at work, he wants to take his wife Margherita, played by Portuguese actress Maria de Medeiros, away from it all. Instead, his employer sends Alberto away to a South American desert outpost called Melancias, a town in which there are no men. Colombo has a great deal of fun and gets into lots of crazy shenanigans. The film is so very funny and has a surprise ending that shows that karmic justice can also be comic justice.
After Honolulu Baby, Nichetti has directed mostly tv works, but has appeared as an actor in interantionally acclaimed movies such as Somewhere (2010), directed by Sofia Coppola. 
This brief biography and filmography cannot explain what Maurizio Nichetti means to Italian cinema. He's a comedic genius who brings intelligence and a sharp sense of slapstick to the big screen. He's a brilliant writer, director, actor and comedian, a true asset to his craft and to Italy.
By Deanna Couras Goodson