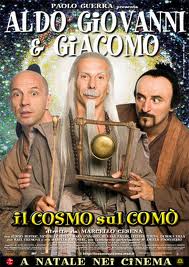 Italian cinema has been always labeled as intellectual and artistic, deep in its content and a benchmark for many filmmakers. Masters like De Sica and Rossellini created the neorealism that became worshipped by Hollywood and studied in every single film school in the world. Despite this claim to fame, the genre that has captured Italian moviegoers for decades, and lined the pockets of producers, is comedy. Italian comedies are a bit different from your usual Hollywood comedic fare, yet they nonetheless continue to be both popular and lucrative within Italy.
There are two typical kinds of Italian comedies; the franchise type, where a producer repeats the same formula over and over, and then the more artistic and creative type, where an artist or comedian will write direct and act, in what is basically a true "one man" operation. Actors like Carlo Verdone, Francesco Nuti, Roberto Benigni, Alberto Sordi and Massimo Troisi have mastered this genre and, by doing so, have entered the hearts of their fans forever.
Aldo, Giovanni and Giacomo (Aldo Baglio, Giovanni Storti and Giacomo Poretti) also belong to this group, having created their own characters and background stories, which have led to great films and success at the box office. The only difference is that, instead of being a single artist they are three, creating and sharing the work.

Esecuzione spagnola – Aldo Giovanni e Giacomo
Like true comedians, this trio started doing cabaret and live shows, but what really caught the interest of the audience besides their jokes was their ability to imitate Italian accents from different regions. Their TV appearances in major shows especially with the famous Gialappa's Band sealed their popularity. It is indeed with the popular Gialappa's shows such as "Mai dire Gol" (Never Say Goal) and "Mai dire Domenica" (Never Say Sunday) that their popularity sky rocketed, allowing them the exposure to film producers needed to transport their characters unto the big screen.
With quite a bit of control over the content, the trio debuted in theatres in 1997 with the film "Tre uomini e una gamba" (Three men and a Leg). It was a huge hit and several others great cinematic successes followed, making them a very reliable brand at the box office. The strength of this comedic trio is in their plots, and also in their capability to summarize the spirit of their characters created for television, and expand them into more refined roles in the movies. Their films usually lend a special eye of attention to art direction, which allows for a better storytelling experience.
Thanks to their style and talent, they won the Vittorio De Sica Award in 2004, a very prestigious award, named after one of the best filmmakers of recent memory. The award proved that Aldo, Giovanni and Giacomo had secured themselves a place in "film heaven."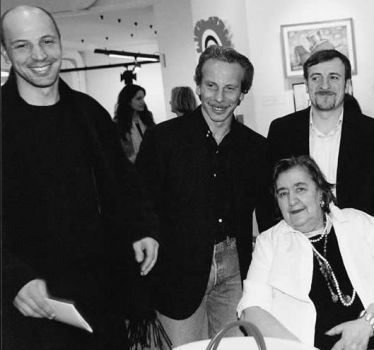 In 2010, the three starred in a comedy about Santa Claus thieves, titled "La banda dei Babbi Natale" (The Gang of the Santa Clauses). The film did fairly well, but is most notable for making Italian cinema history after being named by Facebook poll. It was the first time the social network had such an important impact on Italian filmmaking.
La banda dei Babbi Natale, Aldo, Giovanni e Giacomo 2010
Regardless of their movie success, the trio never forgets television or theater, often appearing both on the small screen and on stage. They have also become the spokespeople for a very important telephone/internet provider, which has made them even more popular, with each commercial feeling like a short film to entertain fans.
The only unfortunate thing about Aldo, Giovanni and Giacomo, is that their work is very Italian-centric, making it hard to market internationally . Thus, the trio is unlikely to become known to a broader international audience as Roberto Benigni, for example, has.
The trailer of "Il ricco, il povero e il maggiordomo" by Aldo, Giovanni e Giacomo 2014
Here is a list of the trio's movies:
Tre uomini e una gamba (1997)
Così è la vita (1998) (English Subtitles )
Chiedimi se sono felice (2000)
La leggenda di Al, John e Jack (2002) (English Subtitles)
Tu la conosci Claudia? (2004) (English Subtitles)
Anplagghed al cinema' (2006)
Il cosmo sul comò (2008)
La banda dei Babbi Natale (2010)
Il ricco, il povero e il maggiordomo (2014)
Fuga da Reuma Park – a "cinepanettone" (2016)