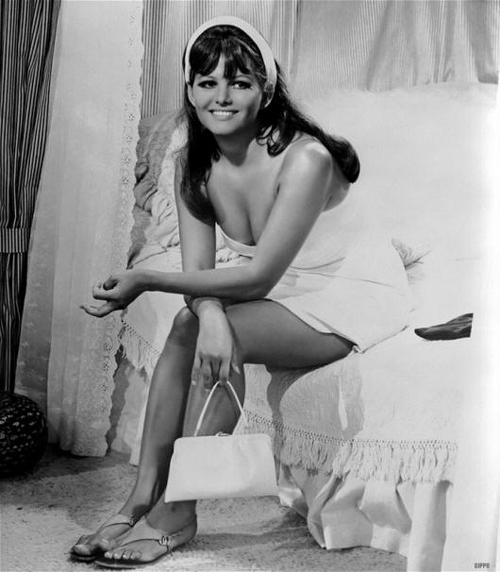 "Cinema saved my life," Claudia Cardinale once said. The beautiful Tunisian-Italian had an excellent career starring in many highly-regarded European films, but her private life was traumatic.
Born in 1939 in Tunisia, Claudia's parents were Italian. Her education was French and she didn't grow up speaking Italian. When she was very young, however, she won a beauty contest and the prize was a trip to the Venice Film Festival. "I was helping my mother and people from the Italian government organize an Italian film festival in Tunisia. I was looking at the girls on the stage and I wasn't supposed to be there. Someone pushed me out on the stage and I was named the Most Beautiful Girl in Tunisia." Inspired to act she still had difficulty with the language and her early movies were actually dubbed!
Her looks were noticed and she began to work with famous directors, such as Visconti and Abel Gance. Soon after seeing the movie White Nights by Visconti, which impressed her greatly, she won a role in Rocco and his Brothers.
Cardinale always wanted to be a school teacher and was actually studying at teacher's college when she won the beauty contest. Now she realised that she was talented at acting even though she remained in the shadow of Sophia Loren. Regarded as another Italian sex symbol by many, she became Italy's answer to Brigitte Bardot.
Claudia found a mentor in the older, famous Italian producer, Cristaldi. He made her enter into an exclusive contract with him in 1958. This forbade her to cut her luxurious, long, glossy hair, marry or gain weight. He also chose her movies and he chose them well. She was noticed in Girl with a Suitcase and appeared on many magazine covers.
Her career probably never reached its full potential although she won prizes and received good reviews for many of her roles. The classic film, The Leopard, was probably her best. This was dominated by the autocratic Burt Lancaster but Cardinale played a fiery Italian woman to perfection, and had great chemistry with Alain Delon.
She won Best Actress in the same year (1963) for her role in Bebo's Girl.

Claudia Cardinale.
Traumatic Private Life
Cristaldi couldn't stand any scandal and was extremely controlling so Cardinale couldn't have any romances with her co-stars although it must have been tempting. She also said that it was against her policy to become involved with her co-stars. She said that: "I never felt scandal and confession were necessary to be an actress. I've never revealed my self or even my body in films. Mystery is very important."
She has spoken recently about how she was raped when still quite young. She gave birth to a son, Patrick, who was presented as her brother. She didn't tell people that he was her son until he was nineteen.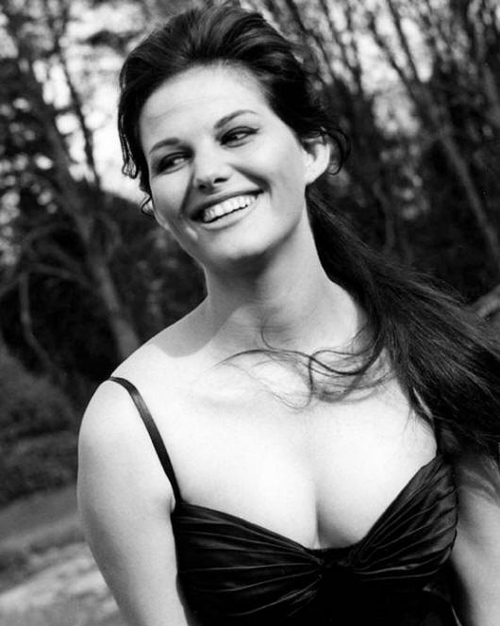 Cardinale starred in Fellini's Eight and A Half for which he won the Oscar for Best Foreign Film in 1963. She achieved her greatest Hollywood success playing a beautiful princess in Blake Edward's great comedy, The Pink Panther, and starred in a few Hollywood westerns. However, Cardinale chose to act mostly in European films because she didn't like the Hollywood system and their method of signing stars to exclusive contracts. She remarked that: "I don't like the star system. I am a normal person. I like to live in Europe. I mean I have been going to Hollywood many, many times but I don't want to sign a contract."
Eventually Cardinale, a free spirit, grew tired of Cristaldi's controlling influence. She told the L.A. Times in 1975 that: "For more then 15 years I was considered and treated like an object or a project to be manufactured and merchandised." They divorced each other that year.
She has been living with the director, Pasquele Squitieri, for a long time. They have a daughter.
UNESCO Ambassador
A family friend once met the actress and found her as beautiful and charming as she is in her movies!
Claudia Cardinale now works as a UNESCO Goodwill Ambassador because she believes strongly in helping women achieve higher status through education. She said that: "…it is with passion and dedication that I will be attentive to the needs of women and fight relentlessly for their rights".
By Lisa-Anne Sanderson