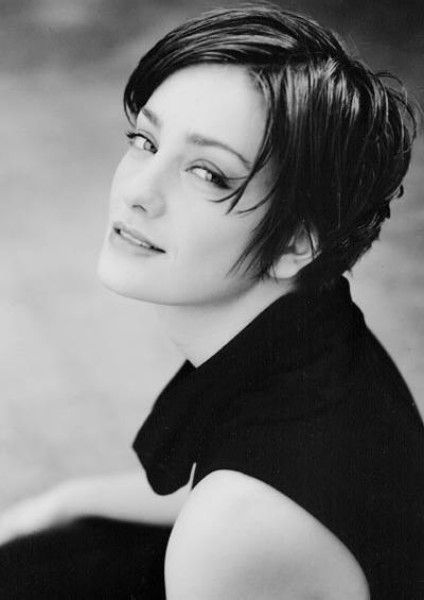 Italy had excellent actresses in the past, from the legendary Anna Magnani to Monica Vitti, but for a while the talented actress arena was pretty empty. Have you ever dreamt to get one special wish granted by a genie, something on the lines of 'you can marry whoever you want'?. Well, if such a thing were to happen, Giovanna Mezzogiorno would probably be my first choice (sorry Giovanna!). Giovanna Mezzogiono, together with Margherita Buy and Asia Argento, is one of my favourite Italian actresses, so we have to dedicate at least an article to her achievements. The talented Giovanna was born in Rome on November 9, 1974. She is the daughter of actors Vittorio Mezzogiorno and Cecilia Sacchi. With parents like that, acting was the natural choice for her, but she decided to pursue her call the hard way. She could have utilised her father's influence to easily gain a role in some tv series. Instead, she was a student in Paris for two years, under the tutelage of the legendary theater director, Peter Brook. Her father worked with the British-born Brook. He had played Arjuna in The Maharbharata.
Giovanna Mezzogiorno made her theater debut at the famed Parisian theater Bouffes du Nord in Qui est là, a work inspired by Shakespeare's Hamlet, in which she played the role of Ofelia. In 1996 Giovanna received the Coppola-Prati Prize for her portrayal of this Shakespeare inspired heroine. The following year – in 1997 – she made her film debut in Sergio Rubini's film, Il viaggo della sposa (The Bride's Journey). Her acting skills earned her the Targa d' Argento for the 'Nuovi Talenti del Cinema Italiano' (New Talents of Italian Cinema), the Grolle d'Oro and the Globo d'Oro by the Foreign Press Association as well as the Premio Flaiano as Best Actress of the 1997 – 1998 season.
Giovanna starred next in Del Perduto Amore. She was again awarded for her stellar performance. This time she received the Nastro d'Argento, the Ciak d'Oro and the Premio Pasinetti as Best Actress. Giovanna was well on her way to being one of the most celebrated – and decorated – of all Italian film actresses. At this time, she also began her relationship with Stefano Accorsi. They split up in 2001.
Giovanna Mezzogiorno received recognition in her first international film role as well. She had a supporting role as Soeur Simplice in 2000's Les Miserables, which featured Gerard Depardieu as Jean Valjean and John Malkovich as Javert. Giovanna delighted audiences and proved that she could hold her own with international luminaries such as Malkovich and Depardieu.
Giovanna Mezzogiorno models for Men's Vogue.
In 2001, Giovanna played Giulia in L'Ultimo Bacio (Last Kiss) in which her pregnancy throws her longtime boyfriend's life into a tailspin. For her performance, Giovanna received her first David di Donatello nomination for Best Actress. In 2003, she was nominated – and won – the David di Donatello for her role as Giovanna, a wife who cares for her husband, a Holocaust survivor, who has a very mysterious job and perhaps isn't who she thinks he is.
Not only did Giovanna win the David di Donatello for this role. She won awards all over the world for her sensitive portrayal of a character who shares her name. She was named Best Actress at the Bangkok Film Festival in Thailand, received the Silver Ribbon by the Italian National Syndicate of Film Journalists (again) and earned another award as Best Actress at the Karlovy Vary International Film Festival.
Giovanna has also had a starring role in 2001's Nobel and Malefemme. She worked with Klaus Maria Brandauer in 2003's made for TV movie, Entrusted. She was directed by Cristina Comencini in 2005's La Bestia nel Cuore. For this role she was awarded the Coppa Volpi as Best Female Actress at the 62nd Venice International Film Festival, and the movie also gained an Oscar nod in 2006 in the Foreign Film section. In 2006 she took a part as one of the female leads in the indie sci-fi movie AD Project.
The following year, 2007, is a busy year for Mezzogiorno. She has important roles in L'amore ai tempi del colera (Love at the time of Cholera), along with spanish actor Javier Bardem, a movie inpired by El amor en los tiempos del cólera by Gabriel Garcia Marquez, Lezioni di Volo (Flight Lessons), directed by Francesca Archibugi, and Notturno Bus, first movie by director Davide Marengo.
Trailer of Vincere
In 2008 she was the lead in Vincere, by Marco Bellocchio. This movie is about the alleged first wife of Italian dictator Benito Mussolini and was the only Italian movie presented at the Cannes Festival 2009. In 2011 she was awarded the prize for best lead actress by the National Society of Film Critics Awards 2010 for this film.
In 2009 she leads La Prima Linea, with Italian heartthrob Riccardo Scamarcio and in 2010 she is part of the all star ensemble that acted in the sleeper hit comedy Basilicata Coast to Coast.
After she gave birth to two children in 2011, Giovanna Mezzogiorno still managed to act in a couple of movies: Vinodentro in 2013 and I nostri ragazzi in 2014.