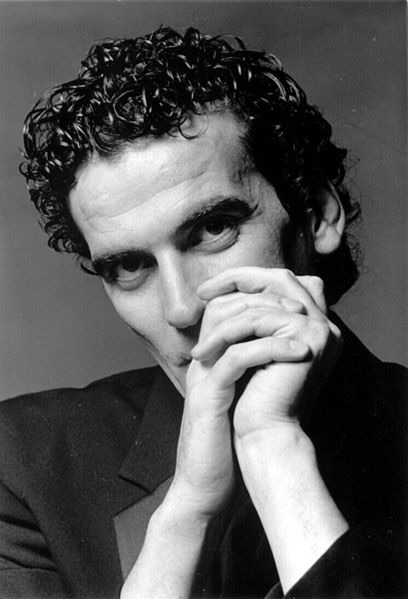 "Comm'aggio accuminciato? Ecco… io ero 'nu guaglione… ero andato a vedere un grande film. Si trattava di Roma città aperta, chillo grande lavoro di Rossellini. Me n'ero uscito da o'cinema con tutte quelle immagini dint'a capa e tutte quante le emozioni dentro. Mi sono fermato 'nu mumento e m'aggio ditto… "Massimo, da grande tu devi fà 'o geometra".
Massimo Troisi, the famous Italian actor and screenplay writer, recalls watching the Rossellini movie Roma città aperta and how it moved him. In a mix of Italian and Neapolitan dialect, Troisi tells the story of how he "exited the movies with all those images in my head and an overflow of emotions inside." It was then that he told himself that when he grew up he had to become a surveyor.
Born in San Giorgio a Cremano, near Naples, on February 19, 1953, Massimo Troisi was the eldest son of six children. When Troisi was 15 he attended secondary school in order to fufill his dreams of becoming a surveyor and it is then that he was bitten by the acting bug. Following his passion for theatre Troisi acted in the group I Saraceni with actors Lello Arena, Enzo Decaro, Valeria Pezza and Nico Mucci. In 1972 their passion for acting culminated in the birth of the Centro Teatro Spazio, a sort of small theatre built in an old garage in the town of San Giorgio Vecchio.
Some years later, Troisi decided to create, together with his friends, the acting group called Smorfia and he started to act at the Sancarluccio, a theatre situated in Naples, and at La Chanson in Rome. Due to the group's amazing success, Rai made them an offer: Italy's national network wanted to display the group's performances on TV in a non-stop program. During this period Troisi met tons of talented artists and also participated in the famous Luna Park program. Troisi's group was so successful that their theater shows were totally sold out beginning with the first months of 1980.
In 1981 Troisi directed and was the actor of his first film: Ricomincio da tre. Due to this famous film Troisi was awarded the first prize for Best Picture in Taormina, the David di Donatello prize. In that year Troisi also took part in a TV program called Che…fai ridi?!
Troisi was beloved by the masses and his career was giving him a lot of satisfaction. In fact, in 1989 he received la Coppa Voppi, a prize for Best Actor, together with Marcello Mastroianni, in the movie Che ora è by Ettore Scola. Massimo's greatest success, however, is also due to the famous movie Non ci resta che piangere (1984) where he was the protagonist together with his friend Roberto Benigni. It was this film that really gave Troisi both fame and the recognition he deserved. Massimo Troisi had also directed a movie on his premature death with the title Morto Troisi, Viva Troisi. Unfortunately, his death came quite soon, when in 1994 at the age of 41, he died of a heart attack after ending the shooting of Il postino, a movie that would make him well known to North American audiences along with his gorgeous co-star Maria Grazia Cucinotta. The film received five Academy Award nominations including Best Picture, Best Director, Best Actor, Best Adapted Screenplay and Best Score — a stunning feat for a foreign film.
He was very social and loved being with people. He once said "I was born in a house with 17 people. This is why I have this strong sense of the community. And this is why if there are less than 15 people around me, I feel very lonely."
Non so cosa teneva "dint'a capa",
intelligente, generoso, scaltro, per lui non vale il detto che è del Papa,
morto un Troisi non se ne fa un altro.
Morto Troisi muore la segreta
arte di quella dolce tarantella,
ciò che Moravia disse del Poeta
io lo ridico per un Pulcinella.
La gioia di bagnarsi in quel diluvio
di "jamm, o' saccio, 'naggia, oilloc, azz!"
era come parlare col Vesuvio, era come ascoltare del buon Jazz.
"Non si capisce", urlavano sicuri,
"questo Troisi se ne resti al Sud!"
Adesso lo capiscono i canguri,
gli Indiani e i miliardari di Hollywood!
Con lui ho capito tutta la bellezza
di Napoli, la gente, il suo destino,
e non m'ha mai parlato della pizza,
e non m'ha mai suonato il mandolino.
O Massimino io ti tengo in serbo
fra ciò che il mondo dona di più caro,
ha fatto più miracoli il tuo verbo
di quello dell'amato San Gennaro.
The words above, a lasting ode to the artist's good hearted simplicity and immense, irreplaceable talent, are ones that will ring in the ears of fans for decades to come. As the verse state Troisi was unique, especially for bringing Napoli, his home, to the world. "With him I understood all the beauty of Naples, its people, and its destiny, and he never talked to me about pizza and he never played the mandolin. Oh, Massimo…you have made more miracles with your words than those of the loved San Gennaro [the patron saint of Naples]."
Troisi and the Neapolitan language
Troisi used to speak a mix of Italian and Neapolitan, the language that he felt more comfortable with. "I think and dream in Neapolitan, when I speak Italian I feel fake," he used to say. Neapolitan is not easy to understand for Italians from other regions, but he kept speaking Neapolitan and contributed to its diffusion and comprehension. In an interview, Isabella Rossellini asked him "Why do you keep speaking Neapolitan?". His answer was "Well, if I make the effort of learning and speaking a good Italian, you should also make the effort of learning Neapolitan."
Massimo Troisi is an actor, writer and comedian that will live long in the annals of Italian movie history.