The doe eyed Italian model born in 1980, Mariacarla Boscono, is quickly moving up the ranks of the fashion industry, playing the muse of Givency, working the cover of Vogue and gliding down the runways of Versace during Fashion Week. She became the first to pick up one of the contracts Kate Moss lost after the paparazzi drug fiasco when she took the place as the face for Stella McCartney's highly publicized H&M collection. Her ascent to supermodel stardom has included campaigns for Roberto Cavalli, Bulgari, Escada, and Armani Exchange.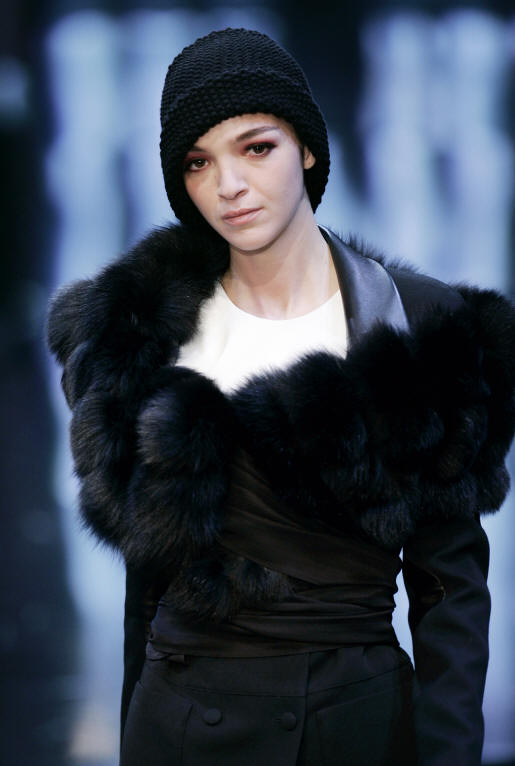 The brunette beauty was wracking up frequent flier miles even before she became one of the most wanted girls of the moment. Her mother was from Tuscany and her father was born in a small textile village in Italy. They were living in Thailand for close to a decade when her mother became pregnant, and moved to Rome to give birth to Mariacarla. Before she was two years old, she already lived in Providence and Key West. He father, a businessman, experienced success in the US and she attended the beginning of primary school in America. After some years, her parents decided that it would be best for their daughter to spend some time in Italy and reconnect with her roots. acarla Boscono.
The Boscono family clearly has a serious case of wanderlust. When she was 9 years old, they moved for her father's work, yet again, to a village in Africa, between Malindi and Mombasa. Mariacarla describes her time in the exotic strange continent as the most fantastic years of her life, remembering the intoxicating heat, smells, and tastes unique to Africa. She said in an interview "I had no friends. I was alone in this huge house, in this huge park, with this huge baobab tree. You had to watch out everywhere because there were snakes everywhere, falling down from trees, in the toilets, in the rooms. Everywhere." She eased some of her loneliness by caring for her pets, a dog she found on the streets named Pippo and an iguana that she fed but was too scared to touch.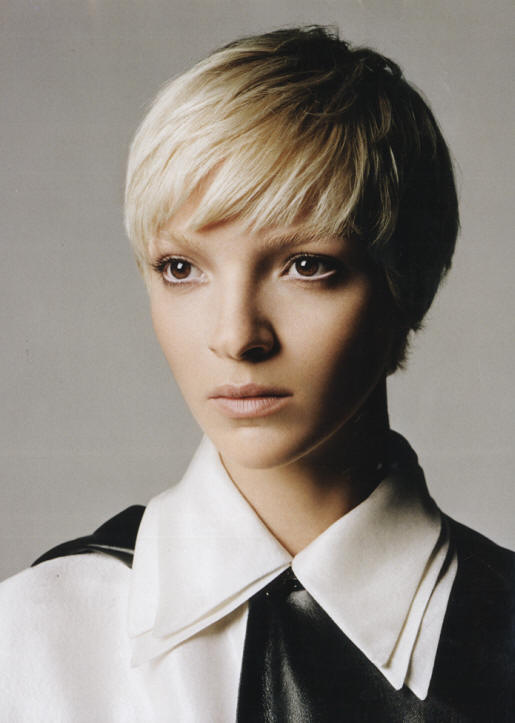 When she was 17 and living again in Rome, this beauty felt ugly and awkward like most girls her age. Going through a self described "dark phase" she dressed in all black, the typical goth uniform most teenagers adopt at some point of their adolescence. The guys in her classes taunted her relentlessly by calling her Olive Oil, because she was 5'9 and a half, skinny, and flat-chested, drawing comparisons to Popeye's love interest. So she was quite taken aback when her parents' friend, a photographer for the movies, came one night for dinner and expressed interest in shooting Mariacarla. At first she declined, and says "I never saw myself this way. I never thought I could have this power to be this beauty."
It was her mother, the most obvious fan of Mariacarla, that believed in her daughter's potential from the start. She prompted her to send the photographs to agencies. Mariacarla swallowed some of her teen angst, and worked hard to become stronger and build her self confidence.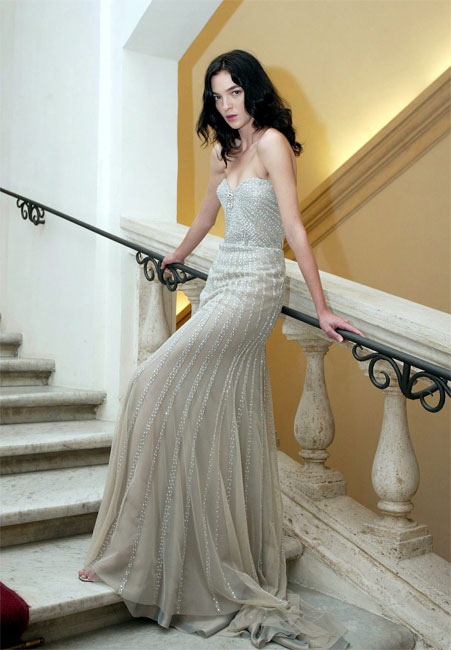 Her chic mother also instilled in her the importance of cultivating her own personal look. Drawn to the freedom of expression that fashion allows, Mariacarla is fond of eclectic, extravagant, and bohemian fashion. She is always on the search for a interesting vintage dress in faraway places to add to her eccentric wardrobe.
With a positive attitude and penchant for style on her side, the rest is history. She started on the catwalk of Milan fashion week, often doing more than a dozen shows for the event. Her trademark is her striking, sensational walk. In the cutthroat world of modeling, you need to be a step ahead of the rest. Although Mariacarla has this incredible diversity and intriguing emotion in her face, she didn't even have a book. Piero Piazzi, a booker from Milan who worked with Naomi Campbell, took Mariacarlo under his wing.

Mariacarla Boscono on the Runway
Shortly after finishing high school, she was on a flight to the Big Apple, with plans to find editorial work and live there for a month. Something clicked in Mariacarla during her trip to New York and she stayed. She felt comfortable with DNA, the agency that helped her score many prestigious jobs. She credits her success amidst the extreme competition of hundreds of stunning girls to her down to earth personality. She views each casting and assignment as an opportunity to learn and meet new people. Mariacarla states "I'm more like somebody when I'm on a set, I try to catch everything that I can. The details, the lights. I feel like sometimes my life is going very fast, so I want to know everything. I'm trying to imprint it on my mind."
In 2003, 2004 and 2009 she is one of the months of the Pirelli Calendar. In 2005 Forbes mentions Mariacarla Boscono as one of the super models better paied in the world. In 2010 models.com listed her in the forth position of the most important models of the moment. Since 2006, she occasionaly acts at theatre performances.
She doesn't take her opportunities she has been blessed with or the people who have helped her along the way for granted. She makes a graceful effort to show this sentiment as often as she can. She is just as likely to hug to food service guys on set as the photographer when she is saying her goodbyes after a day in the studio. It is her personality, oozing quirkiness and genuine sweetness, that makes her a rare breed in the fashion industry.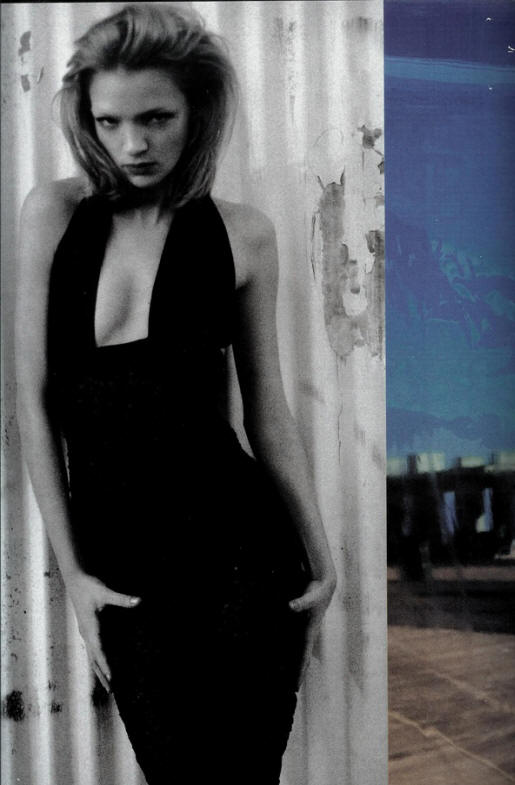 This global girl, who has an adventurous upbringing trekking the globe, now has two places she calls home: Harlem and Rome. Although she has lived everywhere, she is very Italian in spirit. She was drawn to the brownstone she lives in Harlem because it's cozy, warm, and family oriented. Downtown in the trendier neighborhoods of Manhattan, the walls are too thin and the spaces are too small for her taste. She enjoys the simple pleasures in life such as cooking and sitting down to dinner to talk with her Italian boyfriend after an exhausting day. Mariacarla Boscono doesn't fear the inevitable model expiration date. For a girl who has experienced a glamorous side of life that many of us can only dream of, she is very reasonable. She looks forward to what the future will bring her and dreams of working on a travel publication someday.
By Meredith Paslawsky