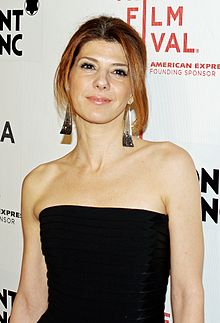 One Oscar under her belt and two more nominations, the film and show business industry has reserved a special place for this pretty lady from NY, Marisa Tomei. The role that brought her to the public eye was as the co-star of Joe Pesci in "My Cousin Vinny", where she won the Oscar for her performance as a New Jersey girl trapped in Alabama, following her boyfriend around during his first trial as a lawyer. The film is hilarious, and Marisa delivers a masterful performance, which probably hurt her future career, as all her subsequent roles would be compared to it, and would have to deal with typecasting from that point forward. Regardless, she was able to cut through and build a respectable career, taking up difficult, challenging roles, as well as embracing rather risky decisions for an already well established actress, such as that of going nude in "The Wrestler".
Raised in an Italian-American family, she is definitely a Brooklyn girl, in the positive sense that, along with the energy brought in by her heritage, she adds the explosive personality of a New Yorker. Her aura and her looks helped make audiences fall in love with her, but it was her heart and her acting skills that eventually elevated her from supporting actress to star, even though she probably deserves more credit for her talent than she has been given. She's landed a great deal of money and more importantly, she has the artistic recognition of the industry, and that is what counts in show business. It is indeed a great achievement to be recognized, but fame and money fade away, while becoming part of Hollywood, turning into an icon, stays for ever.

Above: "Only Love" (1998), starring Marisa Tomei, the full movie
Her most impressive performances were clearly "In the Bedroom" and "The Wrestler", for which she was nominated to the Oscars as best actress; in these movies her performance was so strongly personal it managed to bring reality to the silver screen. She fully embodies every emotion, every need of each character she performs, making them not only believable but real, to the point of forcing the audience to connect in a very direct way. Marisa has acting in her DNA, and her spirit reveals how talented an actress can be. She delivered another incredibly strong performance in "Before the Devil Knows You're Dead", masterfully directed by Sydney Lumet. In this film she went bare and did some very explicit sex scenes, a risky choice and yet a necessary one for the full development of the plot and her character. Her last appearance is in Spider-Man: Homecoming (2017).
Of course she was also part of less artistic, more box-office friendly flicks, such as "What Women Want" with Mel Gibson, Helen Hunt and Alan Alda, and "Wild Hogs", the middle-age crisis movie with John Travolta and Steve Allen, about four part-time biker friends on a road trip. Although not the lead, she proved herself to be very comfortable in more commercial movies. Past 50, Marisa Tomei still looks beautiful and full of life, and we look forward to seeing her in her next film.