Sicily and Calabria are areas of Italy you want to experience to the fullest. By touring through them by motorcycle, we not only had flexibility and spontaneity, but we also were able to enjoy the texture. From navigating the slick cobblestones in the Vucciria and Capo markets of Palermo to the thrilling mountainsides in Calabria, you feel the place.
We loved driving through hot breezes scented with hay and wild herbs. It's not just the view, but really being a part of the landscape. Here come the motorcycle trips in Italy from Palermo to Reggio di Calabria. Ready for a Sicily road trip?
Motorcycle trips in Italy: From Palermo to Reggio di Calabria
A favorite section of our trip through southern Italy was Palermo – our main destination, and Galiciano, in Calabria. We went via Catania, taking us straight through the golden fields of the heartland, then past gorgeous Taormina and on to Messinia to catch the ferry to Villa San Giovanni. From there, we drove down the coast to Reggio di Calabria, and took a side trip to – Galliciano – or at least, almost to Galliciano. Let's dig into the motorcycle trip in Italy, specifically a Sicily road trip! Sicily is great for road trips, but if you want to go more south, you can also get from Italy to Malta and explore another amazing island in the Mediterranean.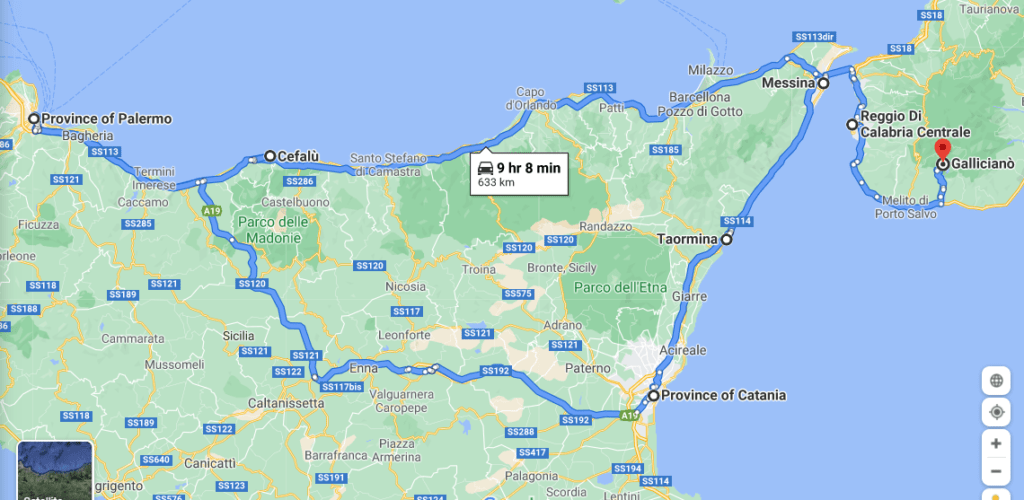 Palermo
We had three days in Palermo, and could easily have filled many, many more. The mix of slightly chaotic Mediterranean verve and Baroque glamour is a powerful combination – stimulating yet refined. But Palermo offers something even more fascinating – the Arab-Norman architectural heritage, uniting Latin, Byzantine, and Islamic aesthetics to glorious result. Any Southern Italy road trip should include Palermo, as the capital of Sicily. Make sure you check the best hotels in Palermo!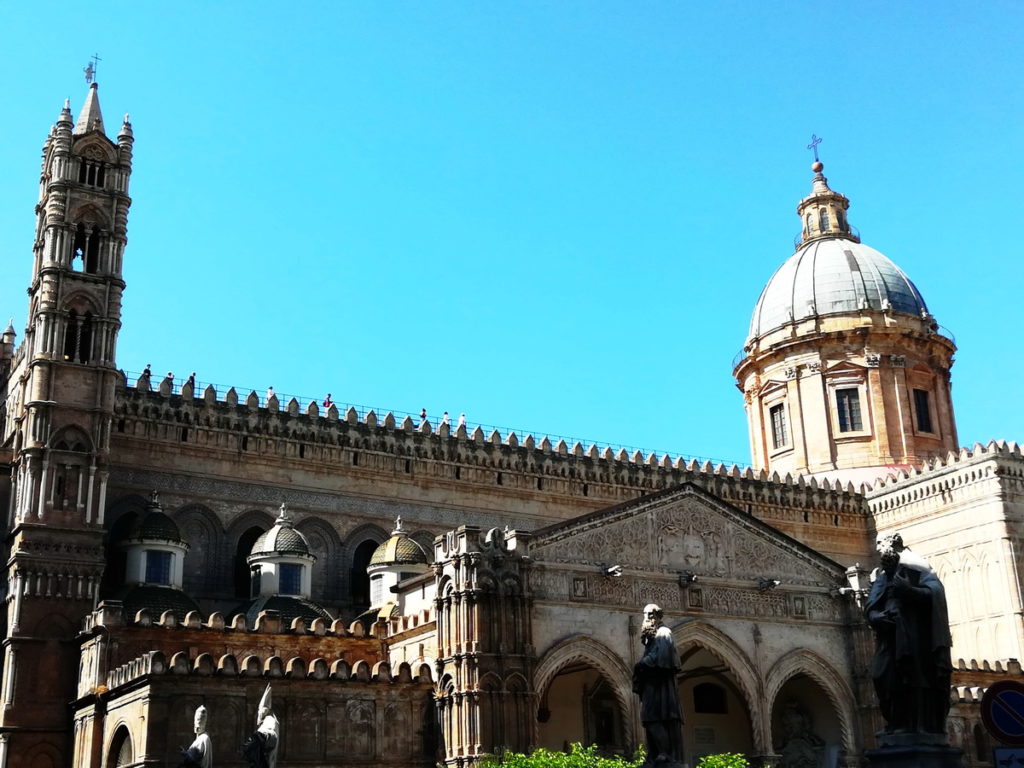 Getting to Palermo
The drive from Messina (where the ferry from Calabria arrives) to Palermo was the most intense segment of the trip. The main road is in poor condition in parts, is crowded with trucks on their way to Palermo, and with drivers who seem to be in a hurry. Add in a tunnel or two, and you have some challenging driving, especially on a motorcycle. On the plus side, you can stop off in Cefalù.
Seeing Palermo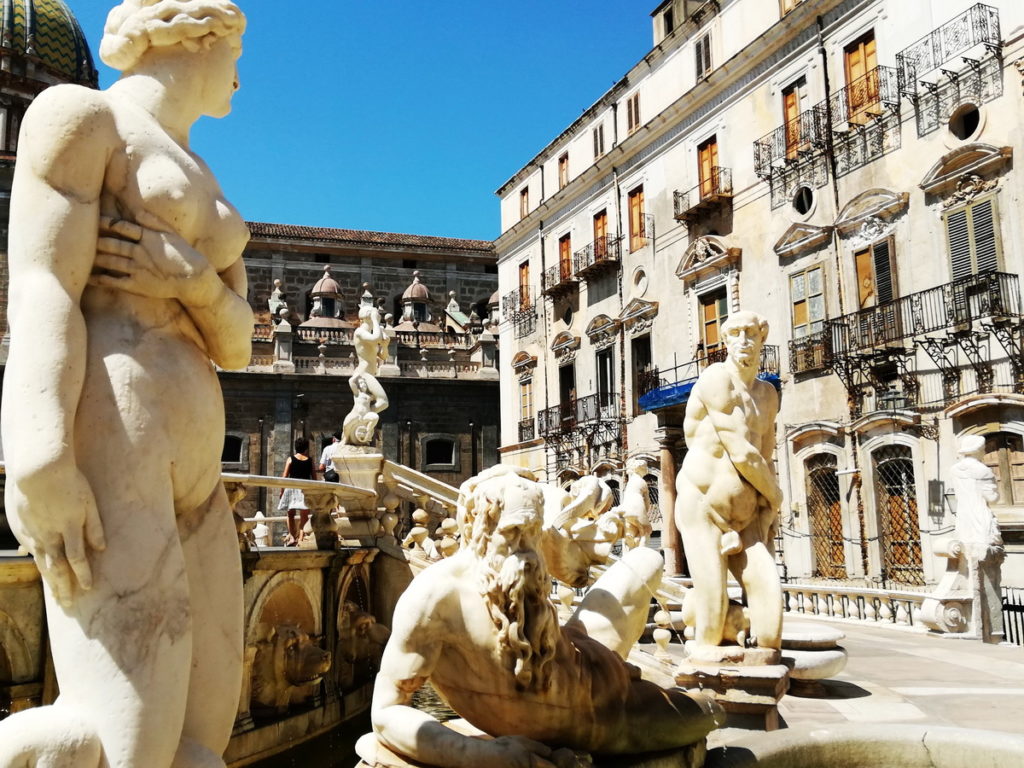 Palermo is a walkable city, and we enjoyed many of the highlights on foot, like the Quattro Canti (Piazza Vigliena) – the famous intersection of curved Baroque facades – and the Praetorius Fountain. Right by here is two of the best examples Arab-Norman architecture. The Church of the Martorana is thrillingly opulent, while its neighbor, the Church of San Cataldo, has a stark stone interior, the better to admire its sense of proportions, and elaborate Arabic-style floor. The spectacular Norman Palace, with the Palatine Chapel, is also one of the highlights.
Other sites that captured our interest were the Opera house – the grand late 19th-century Teatro Massimo – as well as the "Stile Liberty" Ribaudo and Vicari kiosks outside. Even if you're spending just one day in Palermo, you'll be able to see most of it.
Fans of Stile Liberty – the Italian Art Nouveau – will love going out to Mondello. Another reason to travel to Palermo by motorcycle is being able to pop out to this chic beach resort for a swim. Mondello has a fantastic Stile Liberty Pavillion, as well as some mansions of the same period. The waters of August were spectacular, and the well-groomed beach is of fine sand.
Another place we would not have easily visited without a motorcycle was the hilltop suburb of Monreale. Site of another Arab Norman Church and a charming little town.
Eating in Palermo
What will you eat in Palermo? That depends on how adventurous you are – or, alternatively, on how much you like gelato. Or, in our case, both. We started each day with a cornetto or a canolo and a caffèlatte at Antico Caffe Spinnato – a Palermo institution – on a pleasant pedestrian street. Make sure to stop by the food market in Palermo as well for some delicious street food.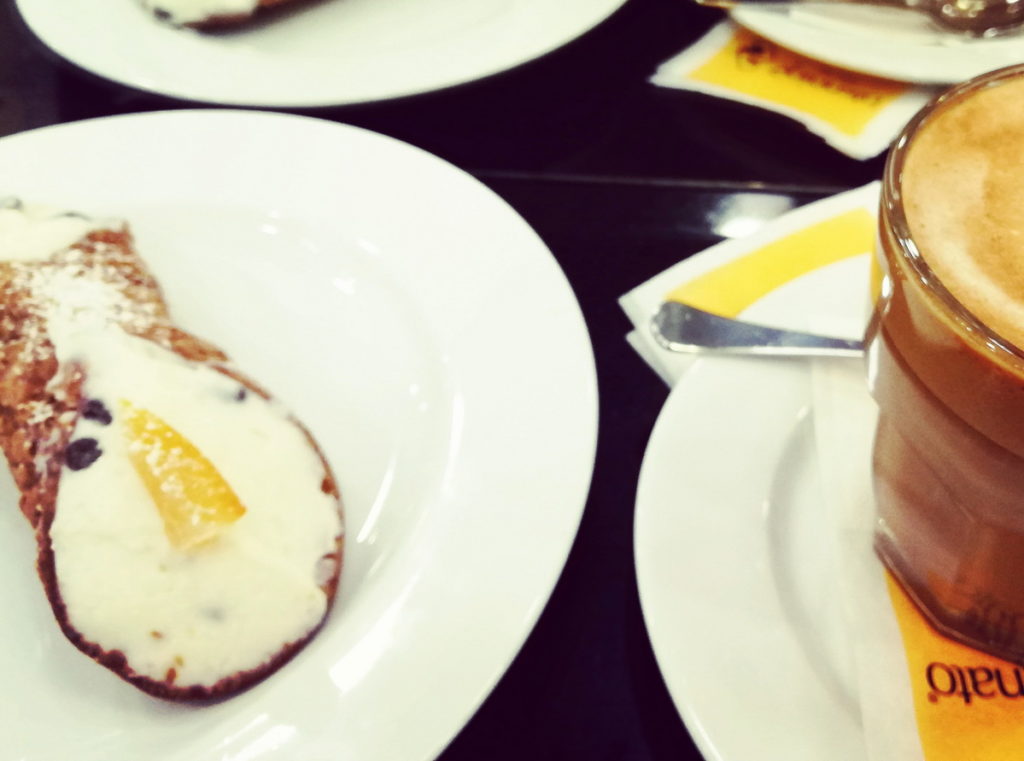 By night, we dove into some of the more legendary street food specialties, including pane ca' meusa – thin slices of the spleen in a savory sauce, on a fluffy roll – this at Nino u Ballerinu. We also tried stigghiola – grilled intestine – at a cantina by the Piazza della Kalsa by the old city walls, which is the best place to sit outside and drink a large Peroni beer on a hot night, even if you don't love grilled intestine. Did the promise of supreme gelato afterward make us braver? Of course, it did.
Also if you're looking for budget places, such as hostels in Palermo, or anything similar, check out the availability down below:
Catania
Having spent so many days in Palermo, we had not budgeted the time that Catania deserves. But we really wanted a taste, because this is by no means our only visit to Sicily. It was spectacular. Continuing the of the motorcycle trips in Italy itinerary with Catania.
Getting to Catania from Palermo
The next stop on the motorcycle road trip in Italy, on our road trip in Sicily, was Catania. The drive from Palermo in the north to Catania in the east is not a long one. The A19 – a well-maintained and in our case also relatively empty road – cuts across the center of Sicily, through golden fields and rolling hills, passing just a few herds of cattle and little else. After just over two hours – it felt too soon – we were on the outskirts of Catania.
Seeing Catania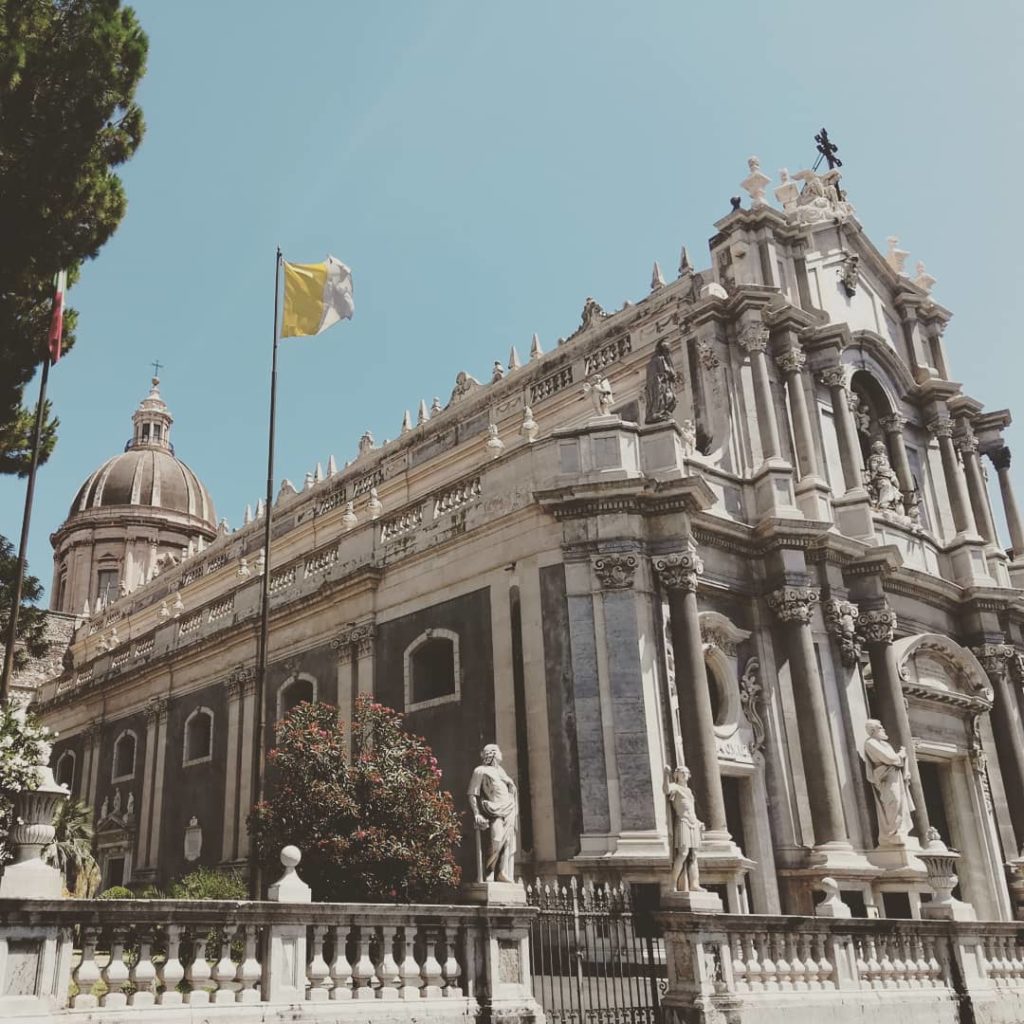 Catania was a little harder to navigate. We got our bearings – and breakfast – at the train station. The breakfast we had was from a cantina in the parking lot – we ate it standing up, using the seat of the bike as a picnic table. What did we have? The Sicilian specialty of brioche con granita. Unlike brioche con gelato, this treat is served a la carte – a packaged brioche (in this case), and a cup of fresh almond granita – granita di mandorle. You rip off little pieces of brioche and dip them in the cool granita, and sigh with happiness in between each bite.
So, off to the main square of Catania – the Piazza del Duomo. You would think after the Baroque pomp of Palermo we would be prepared, but no – it's really an amazing Piazza. Partly, it's the access – you have no preparation for either the scale or the splendor. Catania has serious old city walls. On one side is a simple farmers' market. No vehicles are permitted in the Piazza. You walk through a tall gate in the wall and it's magical the contrast. The highlights here are the enchanting Fontana dell'Elefante – the symbol of the city, which is in front of the Palazzo degli Elefanti – now the town hall. Across from these is the Duomo, of 1736, a spectacular example of the Sicilian Baroque. All are by the architect Giovanni Battista Vaccarini.
This grand Piazza is just a sample of the opulence of Catania. Greek and Roman ruins also abound, along with many more Baroque churches, Palazzi, and a Botanical Garden, as well as several museums.
The Catania experience is densely packed. We could afford far too little time there, but it was worthwhile nonetheless. Even the briefest stop in Catania is rewarding. Parking – it must be noted – will be a challenge.
Reggio di Calabria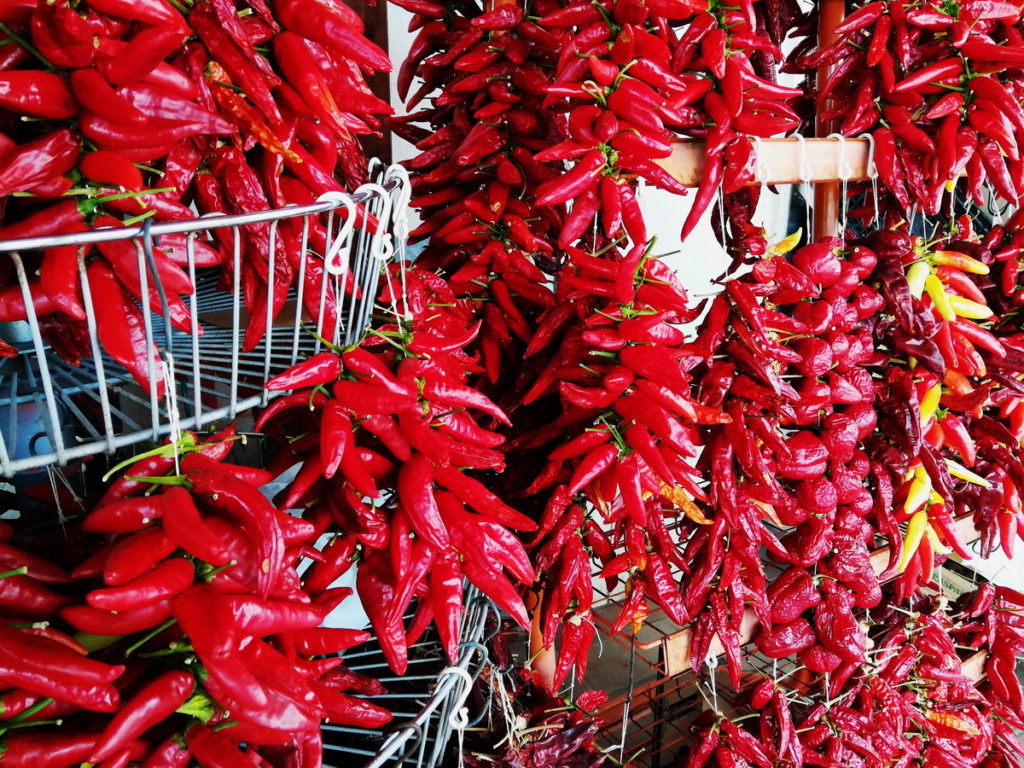 Reggio di Calabria was a convenient place to stay while we explored a piece of Magna Grecia. We had heard that in some hill towns of Calabria, the local dialect is much like Greek. We found that Reggio di Calabria itself is lovely, and seemed very popular with Italian tourists. It was a festive place to spend Ferragosto – the 15th of August – a major summer holiday in both Italy and Greece.
Getting to Reggio di Calabria
From Catania, we took the A18, following the gorgeous coastline. Less than an hour later, we were passing through the popular resort town Gardini Naxos, then Taormina, with its charming Isola Bella. It's worth scheduling time for a swim here. We couldn't because we were hoping to reach Galiciano before nightfall.
From Taormina, it was another hour until Messina, where we would catch the ferry. The mainland of Italy is actually really close – a bridge would span the strait with ease. It's so nice there isn't one though – the ferry makes an occasion out of it, a little adventure.
There are ferries constantly – you just need to cue up. The price for two, including the motorcycle, was 1 euro. There's just barely enough time to go upstairs to the snack bar and get an espresso or a Campari soda in one of those little bottles (first you wait in the line to pay, then present your receipt to the barista – just like at a cafe).
Our ferry was the Fata Morgana – named for the great mirage that sometimes hovers over the Strait of Messina.
Reggio di Calabria
With a very long waterfront promenade lined with dozens of the most spectacular ficus trees we had ever seen, Reggio di Calabria was enchanting. It was a perfect day to be here, filled with happy Italian vacationers enjoying gelato and a stroll.
If we'd been able to spend more time, we would definitely have visited the Museo Nazionale della Magna Grecia – famous for the Riace Bronzes – as well as the neo-Gothic Villa Genoese-Zerbi, the Neoclassical Palazzo Nesci, and the Reggio Cathedral. Also on our list for next time is the Bergamot Museum – celebrating Calabria's excellence in the cultivation of bergamot ("The Prince of Citrus Fruit"). From Reggio di Calabria, we continue the Sicily road trip to Galliciano.
Gallicianò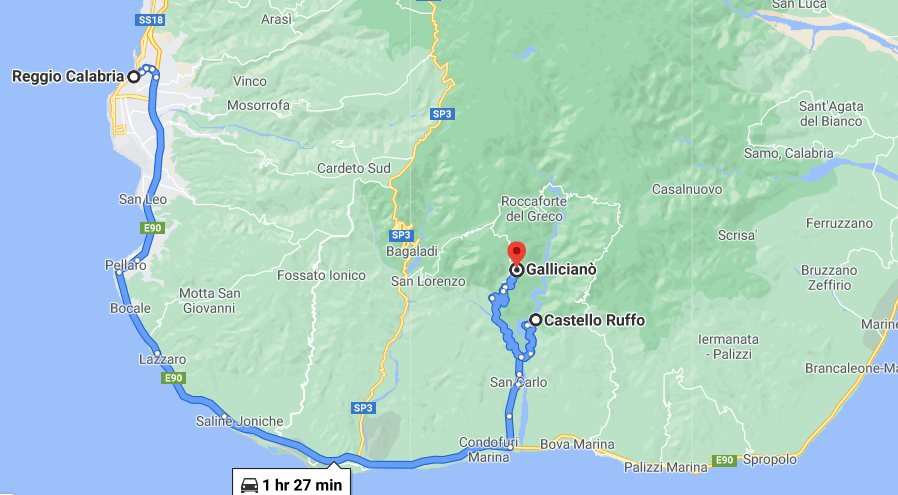 In the hilltowns of Magna Grecia, people still speak a dialect based on Greek. We had seen documentaries and set out to find one we had seen – Gallicianò. It's a little under 2 hours from Reggio di Calabria, through some beautiful and wild countryside. We first followed the coastline, going south then following the coast and turning east. We went inland, driving north through an idyllic valley by the broad riverbed of the Fiumara di Amandolea. The road began to rise, as the rough and wild landscape grew ever closer to that of Crete. Like Crete, these were rugged hillsides favored by herds of goats and fragrant fig trees.
Also like Crete, the few street signs were pierced with bullet holes – the friendly locals of Magna Grecia resemble their friends of Grecia proper in this, too (Cretans love a little target practice). Then, far from anything like a village, without so much as another car in sight for kilometers – but there was a group of backpacking kids on foot – we came to a magnificent abandoned fortress on the top of the hill, high above the valley – the Castello Ruffo.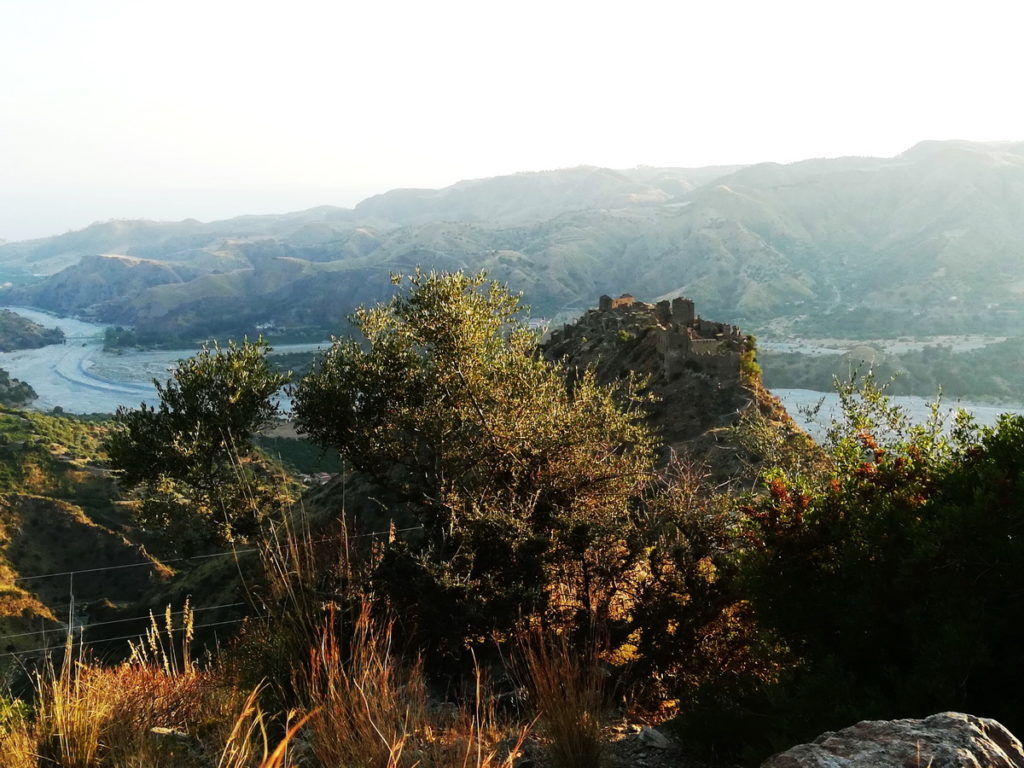 This surely was the backpackers' destination, for a night under the stars. As we continued to climb – abandoning the pavement altogether, but encouraged by the GPS – the road grew ever narrower, and rougher. Gallicianò was less than 2 kilometers away, but the road had become nearly impossible. In the fading light, we'd barely be able to make it back down safely as it was. The sunset from the Castello as we returned was reason enough for the adventure.
We returned to Reggio di Calabria – dusty and elated from the adventure. And of course, famished for some spicy and zesty Calabrian cuisine. We settled in the end for a stellar pizza and some wine, seated in a park amidst the crowds enjoying the passeggiata on a hot night. The Ferragosto could not have been more festive – a celebration of the peak of summer.
Notes and Tips on Enjoying a Sicily road trip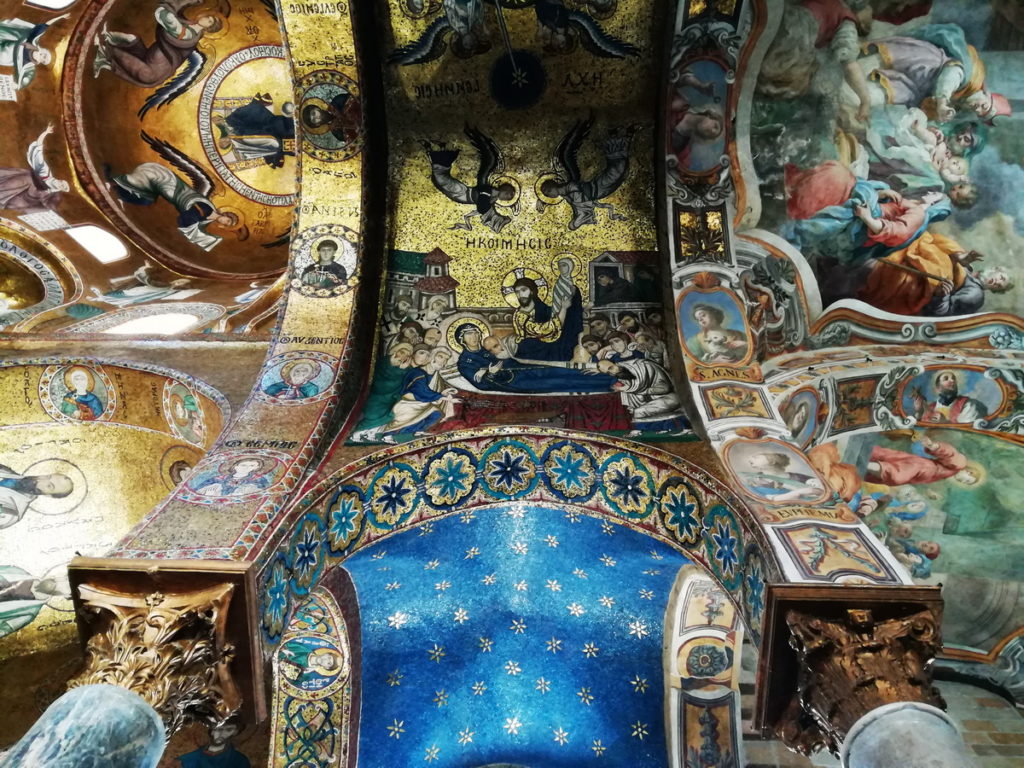 I say this with affection for Italy and the Italians: but watch yourself on the road, especially if you're on a motorcycle. Even by Greek standards (that's where we live and drive, full time), Italian car drivers can be assertive. They're counting on you to get out of their way, and they'll just muscle on through sometimes. You need vigilance, and reflexes – especially in tunnels, on bridges, etc. However, motorcycle trips in Italy are worth it!
Our adventure – (mis)adventure to Gallicianò – our GPS gave us the route but didn't specify that it's a dirt road part of the way. There are other routes to Gallicianò we'll seek out in the future. If you subscribe to the idea that in travel, there's never really a wrong turn, you'll be fine – we loved the adventure that brought us to the Castello Ruffo instead. If you are going somewhere remote by car or motorcycle, be ready for the unexpected.
Unlike another trip we took to Genoa via Napoli, we had no tolls, or none significant enough to remember. That made this a much less expensive trip. Italian road tolls, when they have them, are the same for motorcycles as they are for cars, and they really added up to a considerable amount – nearly as much as petrol for the same stretch. The money we had budgeted for road tolls this year we ended up spending on really good meals instead.
You can't just leave your motorcycle wherever you like in Palermo – there's actually much more limited motorcycle parking than in many other places, including for example the south of France and anywhere in Greece. Park wherever the locals all park. This would be the suggestion of motorcycle trips in Italy, a Sicily road trip on a bike!
If you're planning a longer trip to Italy, let's say a two weeks Italy itinerary, you should also consider Sicily, as each town has much to offer, and not to forget the beaches. If you're planning a road trip around the island, you should definitely calculate with at least two weeks, to really see everything!
Written By Amber Charmei – Provocolate
Pin it: Motorcycle trip in Italy – Sicily road trip from Palermo