Lying between two seas, the Mediterranean and the Tyrrhenian, caressed by a constant breeze and warmed by the rays of a generous sun, western Sicily is a place of welcome that rewards visitors with its natural beauty, history, culture and gastronomic traditions.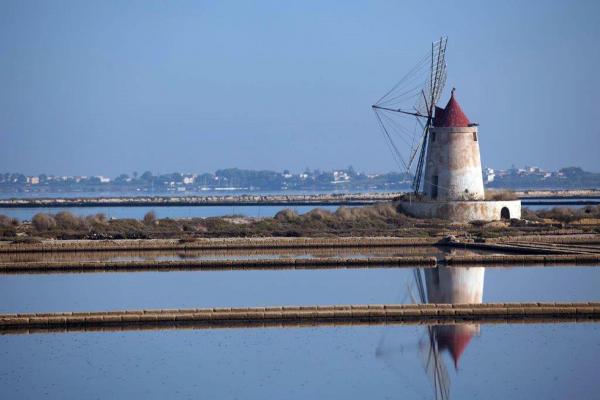 The best place to start a tour is Trapani which, with its ancient neighbourhoods, mysteries and tourist port, is the heart of the region.
The Salt Route with its ancient salt pans running down the coast to Marsala also starts here.
The next stop is the Mediaeval town of Erice perched on the summit of Mount San Giuliano overlooking Trapani. It is easy to get lost in its narrow streets, which offer a wealth of churches, convents and craftsmen's workshops.
The Monte Cofano nature reserve near Custonaci to the north offers beautiful sea views and grottoes dating to prehistoric times.
History comes to the fore in Marsala as Giuseppe Garibaldi landed here with his Expedition of the Thousand in 1860, while in the city centre there are clear signs of the various periods of foreign dominion. Here, a tasting of the world-famous local sweet Marsala wine is also a must.
Six kilometres from Calatafimi Segesta stands the archaeological area of Segesta with its fifth-century BC Doric temple and its second-century BC Greek theatre that hosts performances and concerts in summer.
Mazara del Vallo is a bridge between Europe and Africa with the local Tunisian and Italian communities living side by side.
From Trapani it is possible to reach the three Egadi islands of Favignana, Levanzo and Marettimo.
Text and photo: Ansa