Want to see the real Tuscan countryside but not sure where to start? We've got the perfect suggestion for you! This road trip gives you an authentic look (and lots of taste!) into true Italian countryside charm. Rolling Tuscan hills and refreshing drinks? We can't think of a better Tuscany road trip, so bring your camera and let's start from the pretty Tuscan capital of Florence!
Tuscany is full of beautiful lands, landscapes, medieval towns, and cities… There are many hidden gems in Tuscany that we must experience, as well as the delicious food, and great wine! Let's see how to plan a quick Tuscany road trip then! The beauty of Tuscany is that you can plan unlimited day trips. For instance, if you're in Florence, you have a lot of possibilities for day trips from Florence. Let's see now what are some highlights if you're planning a Tuscany road trip instead!
The best Tuscany road trip
So if you're planning a Florence itinerary, you should definitely add some other destinations in Tuscany, to complete the experience.
Stop 1: Certaldo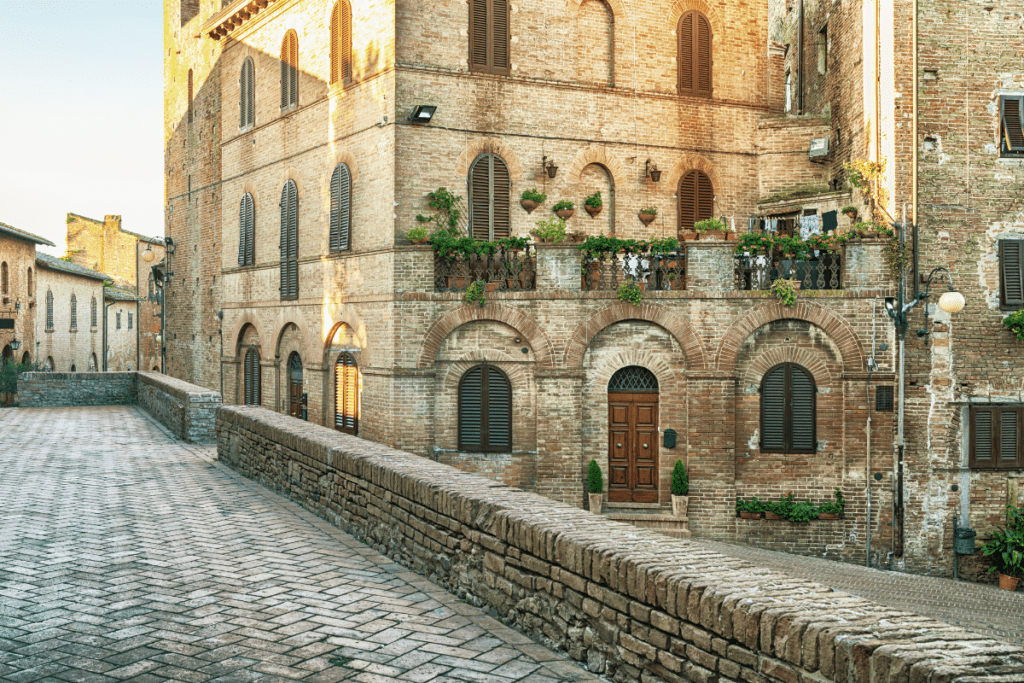 Your first stop is the picturesque town of Certaldo. It's around 35 minutes driving southwest from Florence. Certaldo is the town of poets and writers. When exploring the pretty backstreets it's no surprise that it was a location where writers felt inspired! You can visit the house of the famous medieval writer Giovanni Boccaccio. The view from the top of the tower is one of the finest!
If there's one local highlight you have to try, it's the onions! The red ones have a unique sweetness and have been famous since the Medieval ages. Our favorite way to sample it? Pick up a local jar of Certaldo onion jam and smother it on some Tuscan pecorino… you won't be disappointed!
You only need to spend a day here, but there are plenty of agriturismos in the town if you fancy hanging around a little longer.
Stop 2: San Gimignano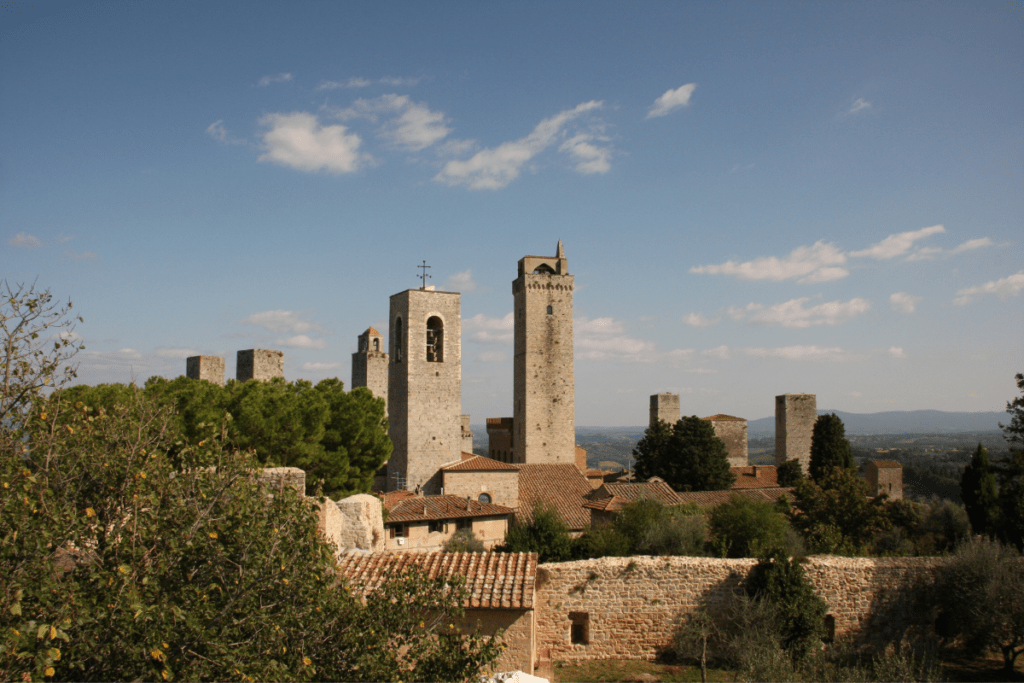 Your next stop is the beautiful hill-top town of San Gimignano. It's only 22 minutes driving from Certaldo. The town is marked by four distinct medieval towers that set it apart from all the other Tuscan hilltop settlements. You can climb up to the top of the tallest tower Torre Grossa. It's 213 steps but worth it for the panoramic view on top! Whilst the towers alone are worth the visit, there's plenty more to see here!
You could spend a couple of days in San Gimignano. We love wandering through its backstreets away from the tourist hotspots to get a more local and authentic impression of the hilltop honeypot. The locals here are very artistic and you'll find many artisan craft shops selling regional goods whilst exploring. Most shops offer craft-making workshops. The locals are friendly so just pop in and ask if you feel like getting in touch with your creative side!
Got a sweet tooth? Then Gelateria Dondoli is one spot you can't miss if you're passing through San Gimignano. The gelato shop is known across the globe, especially for its unique flavors! Pink grapefruit and sparkling wine gelato take your fancy? The owner Sergio praises the milk of special local cows for creating its unique and creamy flavor!
If you're a wine fanatic, then you can't leave without sampling a glass of Vernaccia of San Gimignano. It was the first Italian variety to get a DOCG certification in 1966 and its production area falls entirely in the San Gimignano area.
Continuing the Tuscany Road Trip
Stop 3: Volterra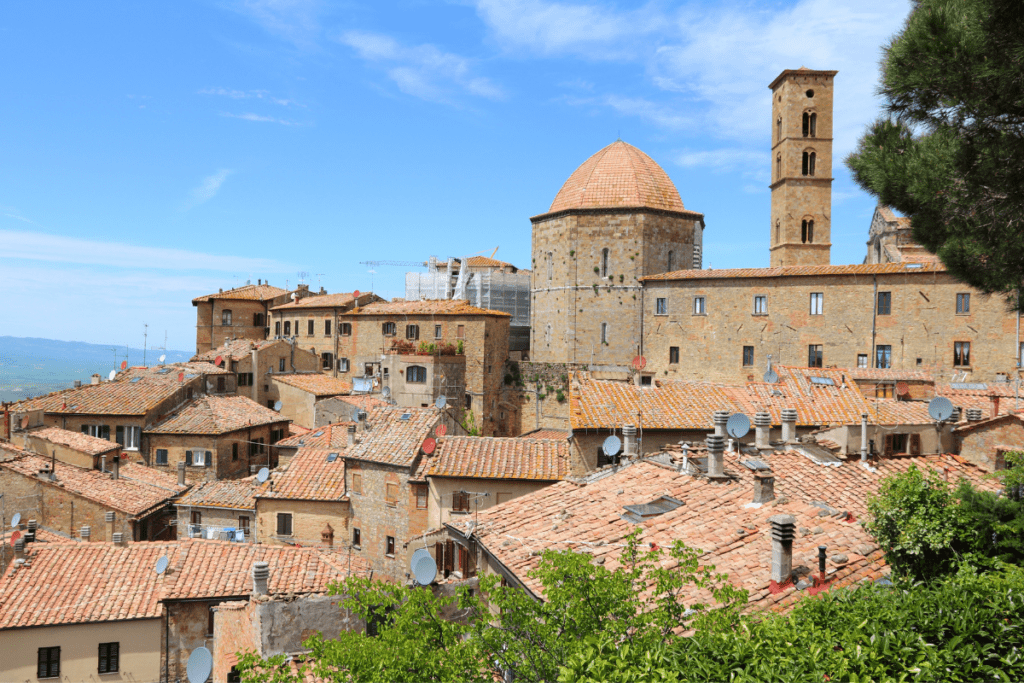 Volterra is a forty-minute drive southwest of San Gimignano. A medieval hilltop town, it's one of the less frequented by tourists giving it a more off-beat feel. Sometimes you can feel as though you are exploring all its ancient sites and attractions completely to yourself!
One of the most monumental sites lies just outside the town's walls, the Teatro Romano. The theatre dates back to the first century AD but is one of the best-preserved in Italy. In fact, it's still possible to see the 19 tiers of seating built into the marble slopes. It was believed that the theatre hosted over 2,000 spectators back in its reign.
Foodies will delight at Volterra being the village that excels in Tuscan specialties! One of our favorites is the fondue of Volterra. A cheesy and delicious starter served with crusty bruschetta, always best when washed down with a glass of Tuscan red!
Stop 4: Bolgheri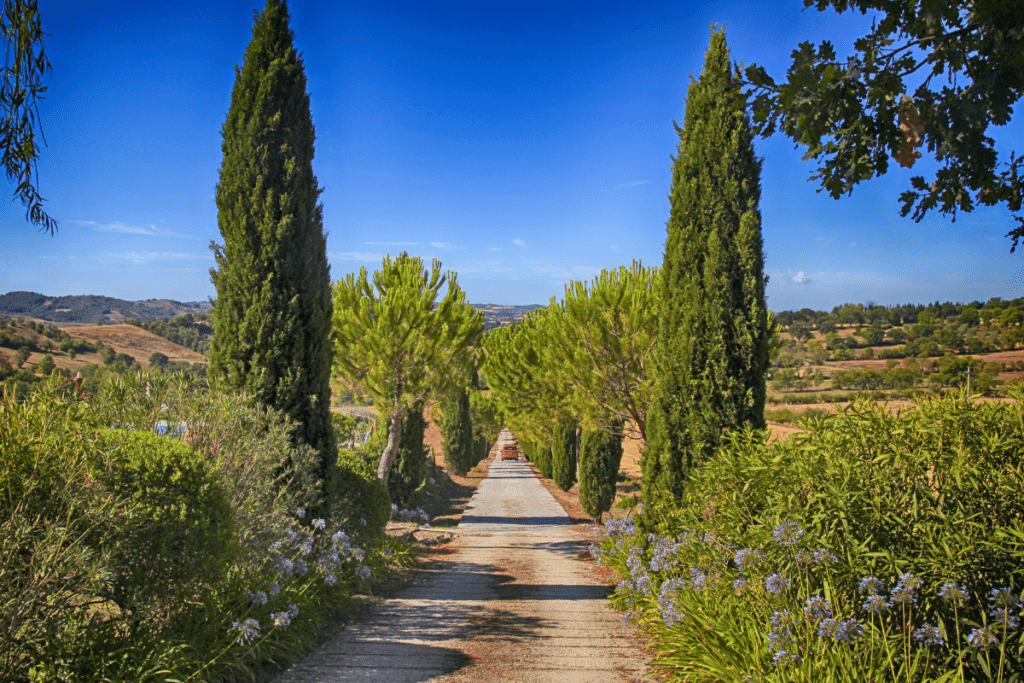 After hitting the countryside, we suggest you start to head further west towards the coastline. 50 minutes from Volterra you'll pass by the quaint town of Bolgheri. Located just 10km from the seaside this pretty town is marked by the magnificent red bricks of its castle.
It's an enchanting village and one we love to get lost in. The streets are full of small artisan trades, bustling taverns, and delicious wine shops selling the region's finest trade. Bolgheri is home to one of the top (and most expensive) Tuscan wine producers, Tenuta San Guido and it's not difficult to find one of their bottles here. It's possible to visit a number of wineries that lie just outside the city and we certainly recommend doing so!
Craving some coastline? The Etruscan coast is a short fifteen-minute drive away. You can discover some of the most beautiful and remote beaches here.
Stop 5 of the Tuscany Road Trip: Lucca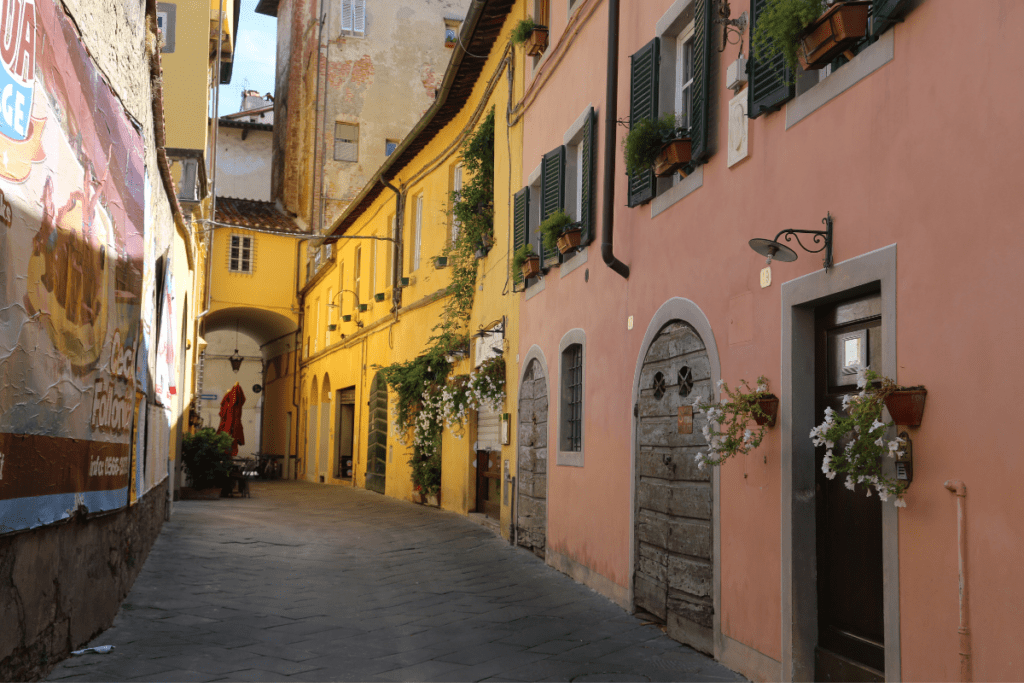 Finally, on your last pit stop of a circular road trip from Florence, we suggest spending a couple of days in Lucca. Also known as the city of 100 churches, it's possible to walk all the way along its city walls on foot With over 4km of panoramic views to the endless Tuscan countryside and inside the picturesque city-center. It's the best way to get acquainted with this beautiful town!
Of course, visiting every church wouldn't be possible, so we suggest visiting the cathedral of St Martin which is also home to a selection of artistic masterpieces.
Need a sugar pick-me-up amongst all this exploring? Hop into a local bakery and ask for the famous Buccellato. It's a semi-sweet bread made with raisins and is a local delicacy! We suggest enjoying it in one of Lucca's many beautiful palazzo squares.
So what are you waiting for?  Italy is full of hidden gems and there's so much to see outside of Tuscany's well-known capital, and it's easy to do a road trip like this in 5 days. So if you're looking for a more authentic (and delicious) impression of the rolling hills of Tuscany, then this is the perfect road trip for you. Andiamo, your real Italian adventure is just a short drive away!  Make sure to check our list of Tuscany villa rentals too!
Wrapping up this Tuscany road trip from Florence
Our Tuscany road trip includes some of the most beautiful destinations in Tuscany. If you're traveling to Florence and you do have some spare days, we really do suggest planning a quick road trip as well. The Tuscan towns are absolutely amazing, and they have to be seen. You will fall in love with Tuscany all over again!
Written by Achraf Aouadi from Walk Beside Me
Pin it: Tuscany road trip – road trip from Florence in Tuscany