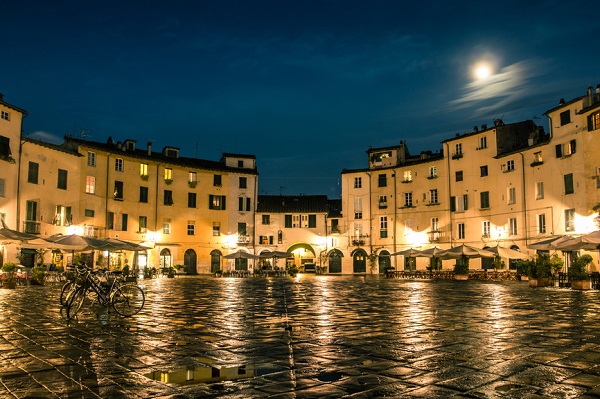 Lucca is small medieval town located near the Ligurian Sea, where you can get a dose of fresh air and escape the bustle of other parts of Tuscany. One of its most unique features is the 30 foot-wide walls that surround the city. Lucca was founded by the Etruscans and became a Roman colony in 180 BC, which accounts for its rectangular street plan. Let's see some of the best things to see in Lucca's old town! Firs of all, if you're in Lucca during the summer, don't miss the Lucca Summer Festival!

Do not come to Lucca with the same intentions as you do for Rome or Florence or you will miss what this place can offer you: a stillness that you may have never experienced in your lifetime.
La Dolce Vita in Lucca
I was captivated by the early morning in Lucca. People were moving at a different pace than I'm used to: riding their bikes, stopping to say hello, and oddly enough, everyone seemed to be smiling. In Lucca people really enjoy each moment, relishing in the simplicity of reading the newspaper or sipping a cappuccino.
The people of Lucca are very proud of their town and it shows in every aspect. It is a rarity nowadays to come across a town that is kept in such pristine condition, obviously a collaborative effort of the local people. Abandon the typical travel itinerary and take the day as it comes. Since the place is small and its borders clearly defined, it is likely you will stumble upon most of my suggestions without even trying.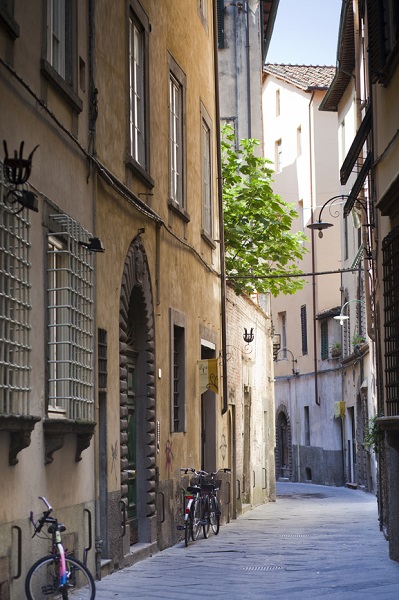 Confined in the walls of Lucca, people live a life without crime, litter, busy traffic, or rushing crowds. You may enjoy spending the day photographing the 99 churches within the walls. The main churches are San Frediano, known for its mosaics, the stunning San Martino, with its asymmetric façade and San Michele in Foro.
The walls around Lucca are approximately 30 feet wide, complete with running and bike paths, giving you the perfect opportunity to take a late afternoon jog with the best vantage point in town. Or buy a bottle of wine and some goodies from the local gourmet shops to have a picnic in one of the many magical piazzas.
While you are in Lucca, it is worth visiting Montecarlo and Florence which are nearby!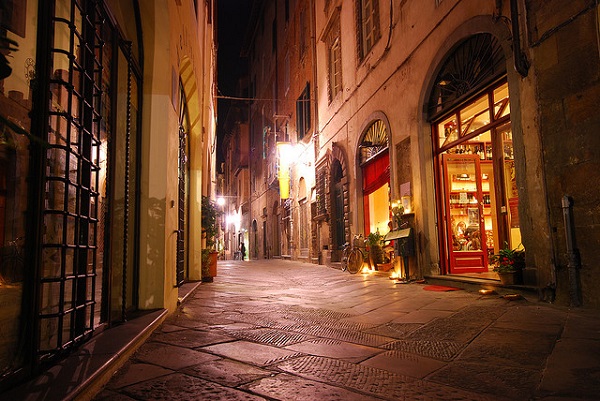 Shopping in Lucca
Lucca offers a plethora of shops and boutiques of notable, early 20th century liberty style façades along Via Fillungo. If you don't believe you can find Prada in a town this small, think again. There are several high fashion boutiques, including the luxury store Mode Mignon, with an impeccable selection of the best of each Italian designer collection. Included in the shops are many leather shoe stores where you can find great bargains on handmade men's shoes and a tiny shop featuring the highly coveted Santa Maria Novella Pharmacia soaps and perfumes. Furthermore, Lucca also has all the regulars for Italy such as Furla and United Colors of Benetton.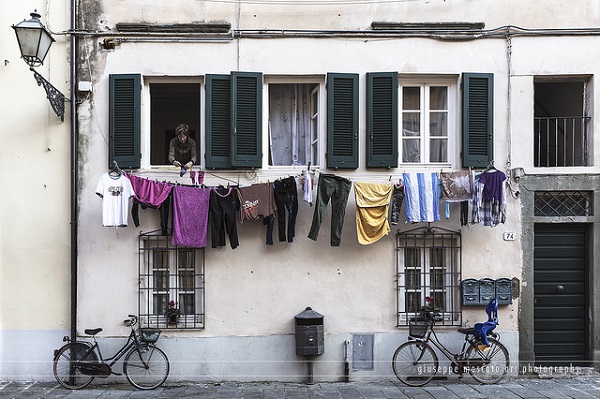 Chocolat, a charming chocolate shop, located on via Cenami, is one of my favorite places in Lucca. You can find nearly anything your heart desires. With an array of assorted truffles, chocolate nuts, and dipped fruit, there is something to please anyone. However, if you are a purist, try the classic truffle, which is so deep and flavorful, I even questioned if it might be the best chocolate I have tasted in my life.
As far as nightlife goes, Antica Drogheria is a favorite among locals for an evening apertif. When you walk in, it's a classic sweet shop with candies, soda, and a small selection of pastries. But they have a bigger room that is always full of people enjoying a glass of wine or a cocktail in the evening.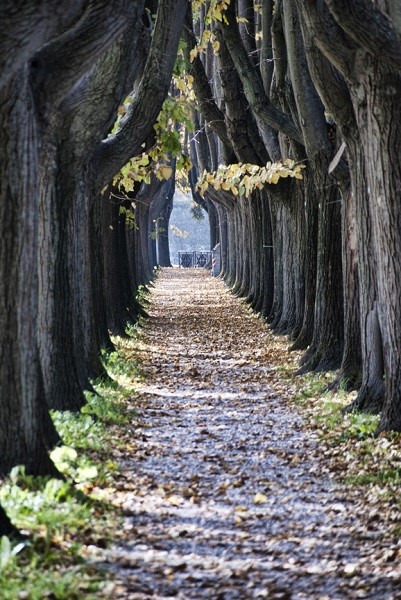 Suggestions for a meal in Lucca
For a great meal, Trattoria Da Giulio is a famous establishment of Lucca that has been around forever. The walls of the quaint entry showcase photographs of Italian actors and politicians who are patrons of this restaurant. They offer simple, yet delicious regional cuisine without blowing the bank. Their specialities include Zuppa di Farro, a hearty bean and spelt soup, Farinata, a savory chickpeas-based baked flat cake, and Castagnaccio, a chestnut cake.
If you are looking for a hotel on a budget, Da Elisa alle Sette Arti is hard to beat. It is located in the historical center, its rooms styled in art deco and of generous size. The one downside is that you share a bathroom with other people staying in the hotel, but it is very affordable making it perfect for backpackers or for families. In addition there is a guest kitchen, breakfast daily, parking, and bike rent. If you want to pamper yourself, Hotel Noblesse is your place. It is a small five star hotel complete with an eclectic antique decor style, flat panel TVs and hydrotherapy tubs. There is a beautiful garden area for guests and the American Bar, known for its fabulous ambience.
Are you in for a hike in some caves? Not far away from Lucca you'll find Grotta del Vento and Castelnuovo di Garfagnana, you won't regret it!
By Meredith Paslawsky