How would it be to take a flight of fantasy to the Renaissance in the enchantment of a Florentine evening? Or to witness the legendary Palio? Author Erica Miner reveals this and more in her article:
Travels with My Lovers … An excerpt and exploration of Tuscany by Erica Miner.
A good traveler is one who does not know where he is going to, and a perfect traveler does not know where he came from. – Lin Yutang
What does Traveling mean? Is it an experience beyond the six senses? How much of our Traveling experience is driven by our emotional reactions to the places we visit?
After all, sometimes your only transportation is a leap of faith. This phrase symbolizes the journey of my life: a voyage of self-discovery that inspired me to write my novel, Travels With My Lovers.
Years ago, I decided to fulfill my lifelong dream of Traveling to Europe. I started in Italy, for that was where I, a musician with the Metropolitan Opera in New York City, could explore the roots of my beloved opera.
"In Italy," I was told, "everything is an opera." How very true, as I discovered. In my travels and encounters with Italians, whether sight-seeing, on the trains, drinking wine in the piazzas or visiting someone's home, I observed the microcosm of Italian life that absolutely defines drama.
My experiences were so vivid that I captured them in journal form. Eventually, these journals became my novel about a woman's journey to inner wisdom.
The wonders of Italy moved me deeply, heightening my senses in ways I had never imagined. The ancient towns, soulful music and fine art that surrounded me brought new psychic energy to my soul. I found a vast history, an inspiring culture and a joyous people; and, as you will read in my novel, I also found romance – in the ultimate language of love.
Within these pages, I will share with you a few of my most precious moments from those experiences in Bell'Italia. But to get the whole story, you will want to read Travels With My Lovers and find out for yourself what enchantment awaited the unsuspecting protagonist in her pilgrimage to the birthplace of opera.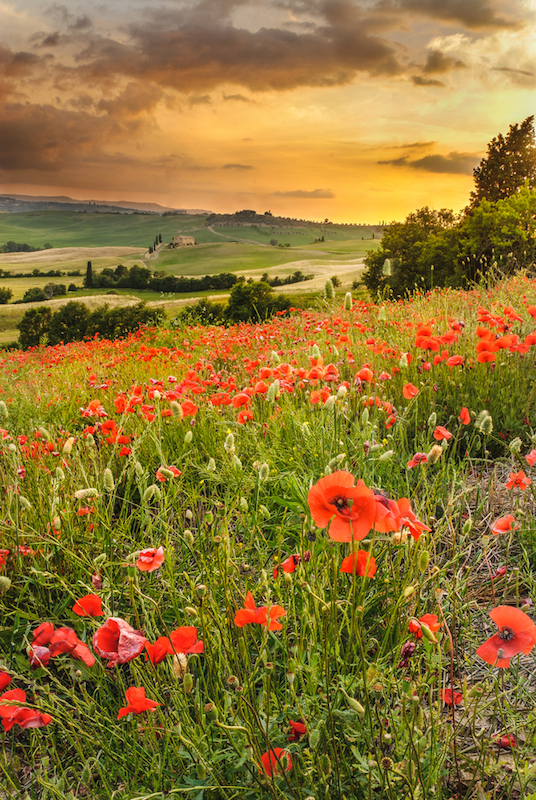 Travel to Florence
Firenze (Florence) was, and will always be, my most beloved city – not just in Italy but in the world. When I left the train station and entered this magical world for the first time, I felt I had come home. Something about the orange cupolas, cobbled streets and burnished light felt familiar, as if I had spent a number of previous lifetimes there. I saw Firenze through my own eyes, my children's eyes and the eyes of the charming Florentine man who captured my heart. It was he who introduced me to some treasures I would otherwise not have been able to discover…
…It was a festival night, and all of Florence was assembled in this famous square to witness a pageant of extraordinary proportions. Costumed knights on horses decked out in full Renaissance regalia paraded in front of the crowds huddled together on risers erected especially for the occasion.
Every bit of this hubbub seemed appropriate since the Piazza had long been thought of as the political heart of the city: a symbol of the prestige and greatness of the Florentine state.
The entire atmosphere created an indelible, unforgettable impression in me, and I became carried away with a fantasy of living the life of a citizen during the former glory of this enchanting city. I imagined myself as a Renaissance noblewoman of the Medici Court…betrothed to a handsome Florentine knight…
And there were more delights to discover: a unique open-air performance, by amateur musicians, of Verdi's Vespri Siciliani overture, which could not have been experienced anywhere else but in Italy…
I let the music wash over me, its penetrating intensity evoking an opera plot full of intrigue, conspiracy, jealousy and lust for power.
Here was an overture bursting with swelling tunes, searing colors and intense images, which portrayed an event – the thirteenth-century Sicilian insurrection – that held an esteemed place in the history of Italy's quest for independence and individuality. And here was I, celebrating its magnificence with its extraordinary citizens – and with Carlo, mio bene.
The few out-of-tune notes and other inaccuracies of the playing did nothing to detract from the exquisite feeling of experiencing the deep love of these devoted musicians for the music of their esteemed compatriot and composer, Verdi. And I recognized that henceforth, when I myself played this particular overture, its passion and expressiveness would incite feelings much more profound than any I had ever known in my musical life thus far.
It was not only the city itself, but its surroundings as well, which captured my writer's imagination. How many travelers have fallen in love with Fiesole, for example?
As we drove the cypress-lined road into the hills of Fiesole, the scenery that unfurled before my eyes was spectacular, completely beyond my imagination. There were awe-inspiring views awaiting us at every turn, a continuous succession of unforgettable vistas across rows of shade trees and beautiful villas, the breathtaking carpet of green-covered hillocks and fiery-orange roofs that unwound in the ever-increasing distance behind us.
No wonder everyone loved Florence. I imagined myself back in the Renaissance, gazing at the same panorama with a handsome young Florentine at my side. I was suddenly brought back to an image of ancient Florence which I had seen in my guide book: young people clad in long, flowing silks strolling along a passageway with the Arno River in the background: a view which had remained unchanged over the past five centuries.
The approaching darkness added an element of mystery to the surroundings. The cypresses took on an air of intrigue. I was in a fantasy world of unimaginable beauty, with no idea what new adventure awaited me at the next bend in the road.
Continue to Part II of Tuscan Travels