Giuseppe Verdi: The Swan of Busseto
Born in the Duchy of Parma in Le Roncole, Verdi moved to Busseto in 1824 and began his musical career under the tutelage of Ferdinando Provesi. He composed an overture for Gioacchino Rossini's "II Barbiere di Siviglia" (The Barber of Seville) after which he moved to Milan. Unfortunately, Verdi was not accepted at the Milan Conservatorio (music school), so he studied privately under Vincenzo Lavigna. After marrying Lavigna's daughter, who he loved deeply, and completing his studies, he accepted the position of municipal music director of Busseto in 1836.
In 1838 Ricordi, a music director and founder of the still famous music publishing house, purchased Verdi's work copyright. This business continued for the rest of his life, passing through several generations of Ricordi's family. Verdi gave up his position of musical director in 1839, and returned to Milan to produce his opera, Oberto Conte di San Bonifacio. The opera opened on the 17th of November 1839 at Milan's "La Scala." Even though production was modest, Verdi was contracted for further work.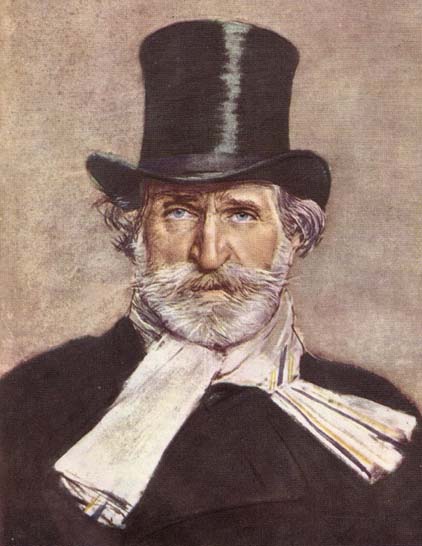 Verdi's first attempt at a comedy was Un Giorno di Regno, which was a failure. It was written shortly after his beloved wife and child died, while Verdi was still mourning. In spite of the sorrow and the professional faux pas, Verdi did not give up.
Verdi's first great success was in 1842 with Nabucco, an opera based on the Biblical tales of the Jewish people's exile from their own Land. The story touched a chord in the composer's heart and served to inspire other great works, as well as to give Verdi a great yearning to see Italy united and freed from oppression.
On the 11th of February 1843, I Lombardi alla Prima Crociata premiered in Milan and was a great success. Ernani triumphed in Venice later the same year. In 1844, Attila and Giovanna d' Arco strengthened Verdi's fame.
Verdi didn't find La Scala's reviews of his work positive enough, so he asked Ricordi not to allow his works to be represented in Milan. His operas Attila, Alzira and Macbeth premiered elsewhere in Italy. I Masnadieri premiered in London, England.
Rigoletto premiered in Venice in 1851 and was a success throughout the first half of the decade. Verdi again triumphed when II Trovatore premiered in Rome. However, La Traviata was a critique fiasco: critics condemned the subjects of free love, rape and suicide upon which the opera was based, but the public loved it very much, for the very same reasons.
By this time, Verdi was a very wealthy man and he used a portion of his riches to buy an estate in Busseto. He returned to the place where his music career began and helped to establish the Kingdom of Italy. He was elected to the position of Deputy in the first parliament of the new nation.
In 1862, La Forza del Destino premiered in St. Petersburg. Later in the year Don Carlos was presented in Paris. The following year, Aida was performed at La Scala to a packed house. Verdi had composed the opera for  the Egyptian Khedive (a viceroy) who wanted to open a new opera house in Cairo.
Verdi and Ricordi had a falling out over irregularities concerning a large sum of money, but things settled back a few years later, when Ricordi encouraged Verdi to compose the Otello, which premiered in 1887. Falstaff, a successive opera, was very successful, too.
In 1901, Verdi constructed a Casa di Riposo, a retirement villa for poor artists in Milan. It was here that he died shortly after it was established. More than 250,000 people attended his funeral, mourning the death of one of the greatest composers in Italian history. Verdi is interred in the Famedio at the Cimitero Monumentale di Milano. He left a great legacy to the people of Italy in the form of his music and he even have an asteroid,  asteroid 3975-Verdi named in his honor.
by Mary M. Alward