Tuscan cuisine is loved and  appreciated all over the world. Cooking and baking in Tuscany is still a huge part of everyday life, I'm pleased to report.
Having lived in a block of 12 apartments, I know that food, preparation and cooking continues to be a priority, in particular with the older generation. I've seen women return early in the morning from the local shops or the weekly market laden with fresh produce. I've seen them return from their campo (field) or orto (kitchen garden) with bags stuffed full of fruit and vegetables — key to the preparation of some Tuscan cuisine delicacy — they've been tending to over the months.
I took an opportunity to visit a campo. They'll grow anything possible from olives to sweet corn, plums to figs and they'll breed rabbits, goats, geese and ducks for food. Step inside an apartment block door towards lunchtime and you'll experience delicious aromas drifting around the hallway. Descend to the garages when grapes are being harvested and you'll get tipsy on the gorgeous smells of winemaking! This is the beauty of agritourismo in the Tuscan cuisine. 
I've been fortunate to have been invited into Italian people's homes and can assure you that convenience foods have not quite arrived on mass over here. I've witnessed weekday lunchtime preparations underway with pots of simmering vegetables or soup on the stove, and I've spied a lump of meat in a dish marinating in red wine for the evening meal. Lunchtime and evening meals are still considered important, whether cooking for two or providing for a large family. (There is the fact of course that lunch breaks vary between one to three and a half hours!)
I truly hope that the young people being brought up in the traditional Italian way continue, where possible, to keep the habitual culture alive passed down to them through the generations. Of course it is understood that city life will influence the kitchens of its inhabitants, but it will be a sad day when convenience foods stuffed with preservatives and additives take over the kitchen cupboards and fridges of the non-city areas, replacing the healthy diet, as well as losing the slow lunch break in order to rush around getting things done. It's already too late in the UK.
It's impossible to list the many authentic recipes and their variations, but here is a 'taster' of those I have found to be the most well-known around Tuscany which maybe you'd like to try making yourself or sampling on your travels.
Tuscan cuisine: schiacciata all'olio
(Flat bread with Olive Oil) or sometimes called Schiaccia and more locally called Ciaccia.
The best time to catch this staple of Tuscan cuisine is during the morning as it's usually sold out by lunchtime! This tasty flat style bread is also available with olives or cheese along with a sweet version with sultanas and sugar. The most popular is with olive oil available in a hard or soft form, enjoyed by children who take it to school for their colazione (breakfast) or grown-ups snacking on a freshly baked piece taking a stroll.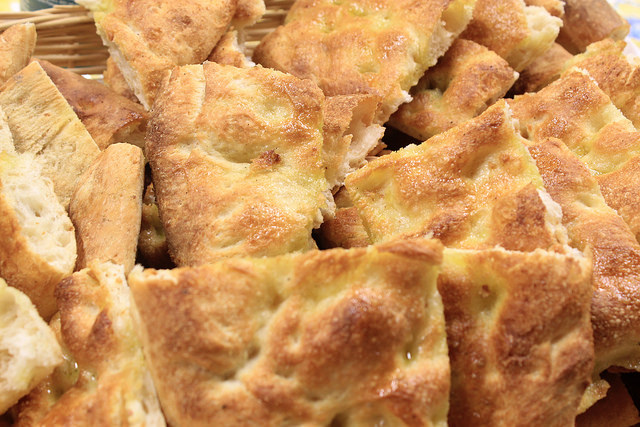 Ingredients – 450grms 00 flour, 70 ml extra virgin olive oil, 25grms dry yeast, 250ml tepid water, 1 tsp salt, sea salt and a little extra olive for finishing.
Method – Using a jug, dissolve the yeast in the warm water, letting it rest for 5 mins. Place the flour, salt, olive oil, dissolved yeast and mix together, finally kneading for around 10 mins. Place dough into an oiled bowl, cover and let it rest in a warm area for around 1 to 1½ hrs. Spread the dough using your fingers onto an oiled baking sheet, and make occasional finger dents across the surface. Drizzle olive oil over and sprinkle with sea salt. Allow it to rest for a further 30 mins. Preheat your oven to 220 deg C (430 deg F), and bake for 20 mins. If you wish you can add a little more olive oil when the bread is removed from the oven.
Pici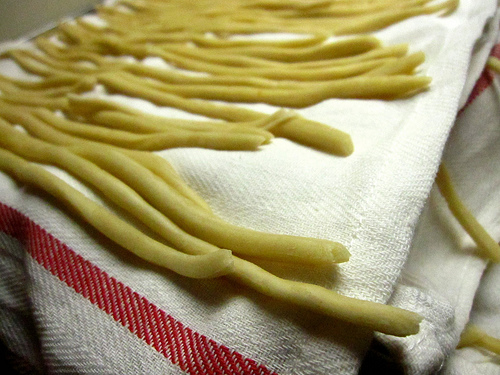 Pici are a robust pasta typical of Tuscan cuisine in the form of a thicker spaghetti. It is popular and still made in many households today, often served with a garlic or wild boar sauce.
Ingredients – 400grms type 0 or 00 flour, 1 tbls extra virgin olive oil, pinch of salt, water.
Method – On a work surface or if you prefer in a bowl, add the oil and salt to the flour with enough water to form a dough, kneading well. The dough should now be covered and left to rest for around 20 minutes. Sprinkle semola or flour onto a prepared tray ready to receive the prepared pici, which will help stop them sticking to each other prior to cooking. Roll out the dough to make a sheet of around 1.5cm in thickness, then slice into strips of around 3mm. With floured hands, gently roll each one into rounded elongated pieces of pici. Place each pici onto the tray.
Pici all'aglione (Pici with garlic sauce)
Ingredients – 400grms prepared pici, 40g freshly peeled and sliced garlic, 700grms peeled sieved tomatoes, salt, pepper, extra virgin olive oil and grated pecorino cheese.
Method – Gently sauté the garlic in a good amount of olive oil over a low heat. Add tomatoes, salt and pepper, gently cooking for 30 mins. Meanwhile bring a pan of salted water to the boil and cook the pici until 'al dente'. Place pici and sauce together in a large bowl and serve immediately with grated pecorino cheese.
Pici con Sugo di Cinghiale (Pici with Wild Boar Sauce) or sometimes known as Pici del Cacciatore (Pici of the Hunter)
If you find Wild Boar Sauce on the menu, take it!
Ingredients – 400grms prepared pici, 100 grms minced wild boar, 200grms puréed tomatoes, 4 cloves garlic, 1 celery stalk, 2 bay leaves, chopped sprig of rosemary, half a glass of red wine, 500 ml stock, extra virgin olive oil, grated parmesan cheese.
Method – Gently sauté the garlic and rosemary in olive oil then add the minced meat seasoning with the salt and pepper. Next, add the bay leaves and the wine and once this has evaporated, add the tomatoes. This now needs to simmer over a low heat for around 2 hours. You will need to stir in some stock occasionally to prevent the sauce from becoming dry. Serve with freshly cooked pici and a good sprinkling of the parmesan cheese.
Note: In some areas you will find the wild boar sauce also being offered with the pasta Pappardelle, flatter lengths of pasta, similar to ribbons made with maize flour and using eggs.
Trippa alla Fiorentina (Florentine Style Tripe), Tuscan cuisine at its most traditional
Not only will you find this in the rustic style restaurant or trattoria, you will find this treat served as a snack on the streets in Florence. It is a true staple of traditional Tuscan cuisine.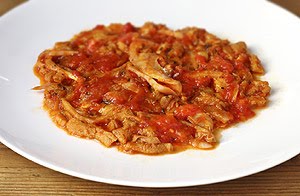 Ingredients – 700grms pre-cooked tripe, 400grms peeled, chopped tomatoes, 2 stalks finely chopped celery, 50grms grated Parmesan cheese, 1 finely chopped carrot, 2 finely chopped onions, 2 finely chopped cloves garlic, extra virgin olive oil, salt and pepper.
Method – Wash the tripe carefully then blanch it in boiling water for 10 mins. Rinse in cold water, dry, then cut the tripe into strips. Gently sauté the celery, carrot, onions and garlic in the olive oil until slightly softened. Add the tripe, and following after a few minutes add the tomatoes, then season with salt and pepper. Cover and simmer for around 30 mins, or until upon tasting, the tripe is tender. Stir in the Parmesan and serve.
Panzanella (Summer Cold Bread Salad)
This is a refreshing salad, lovely on its own, at a picnic or as a side dish and a perfect way to use up stale bread: Tuscan cuisine is all about avoiding waste!
Ingredients – 400grms stale country-style bread cut into thick slices, 200grms tomatoes (not too soft) cut into pieces, 1 medium chopped cucumber, 2 thinly sliced onions, sprigs of fresh basil, washed, dried and broken by hand into pieces, red wine vinegar, extra virgin olive oil, salt and pepper.
Method – Put the slices of bread into a suitable container, cover the slices with water and leave to soak for around 20 minutes. Place all the vegetables into a salad bowl. Drain the bread very well, squeezing it to expel as much water as possible, finally crumbling it into the salad bowl also. Add a good dash of the vinegar and oil, season with salt and pepper, stir, then leave to stand for at least 30 mins.
Cantuccini di Prato (Almond Biscuits)
Traditionally, these biscuits are served with a glass of Vin Santo after the evening meal, where upon eating, it is permitted to 'dunk' the biscuits into the wine to soften them. Cin cin!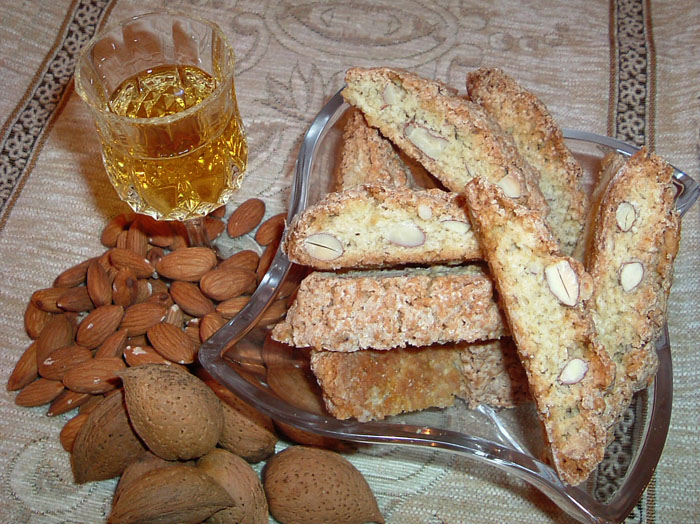 Ingredients – 100g shelled/peeled almonds, 200g sugar, 3 eggs, 300g flour, a little milk for mixing, 1 tbls anise seed, 1 tsp grated orange peel, pinch of salt, pinch of baking soda, little butter for greasing.
Method – Onto a dry board, sift flour and backing soda into a heap. Add in the salt, sugar, orange peel, almonds and anise seed. Gently mix in. Make a well and break 2 eggs into the center, working all the ingredients together. You can add a little milk if the dough is too stiff. With floured hands, shape into rolls approximately 5cm thick, place them onto a lightly buttered tray then glaze the rolls with the beaten yolk from the egg remaining. Place into the oven preheated at 190 degrees centigrade for 15 mins. Remove from the oven and cut into the classic slanting slices and finally return to the oven for a further 5 mins.
Attending a weekly open-air market is a must during your visit to Italy, and one of the first things that really struck me is just how huge and abundant the fruit and vegetables are. There are types of 'greens' I've never set my eyes on before. Very little is imported, so you'll rarely see anything here that's not grown in Italy. Swedes or parsnips won't be found here, possibly as we're too far south. I've also noticed that when a particular vegetable is in season, you will find it available everywhere, and at the open-air markets it will be on display in amazing heaps, and so fresh like it's all just been pulled out of the ground. The Italian housewives and cooks take advantage of each season's produce, and you'll see that the restaurants and trattorias make the most of them too, adjusting their menu accordingly.
Lastly, one early April, I attended a kite festival held at an airfield. At that time, fave (we know them as broad beans) were in season and I was really surprised upon noticing that many people were sitting at tables having bought the beans still in their pods from a stand, peeling them and enjoying the raw beans with parmesan cheese! Something we never try in England. Apparently, it is said in Italy, that should you find a pod with seven seeds inside, this will bring you a time of great luck. Apparently Fave seem to be quite popular!