Traveling along the scenic routes of Val d'Orcia and Val D'Elsa in Tuscany is nothing short of a dream come true for most visitors. And when you finally arrive here you will absolutely with no doubt, fall in love and you will want to come back again and again. Haven on Earth for wine enthusiasts.
Here you have to try truffles, pecorino cheese, and of course the legendary Bistecca alla Fiorentina. Pair them with the outstanding wines Tuscany has plenty to offer and you're in for an unforgettable gastronomic experience.
Tuscany lies in central Italy and stretches along the country's western coast. This region boasts a diverse landscape, encompassing charming coastal towns, idyllic mountain villages, and vibrant urban centers. Yet, perhaps the most captivating treasure that Tuscany offers is its world-renowned wine culture.
Tuscany is famous for red wines, which make up 70% of its wine production. This region is particularly celebrated for its Sangiovese grapes, known for their late-ripening characteristics, and is host to an impressive array of wine appellations. Four areas hold the most significance and have obtained DOCG recognition – Brunello di Montalcino, Chianti Classico, Vernaccia di San Gimignano, and Vino Nobile di Montepulciano.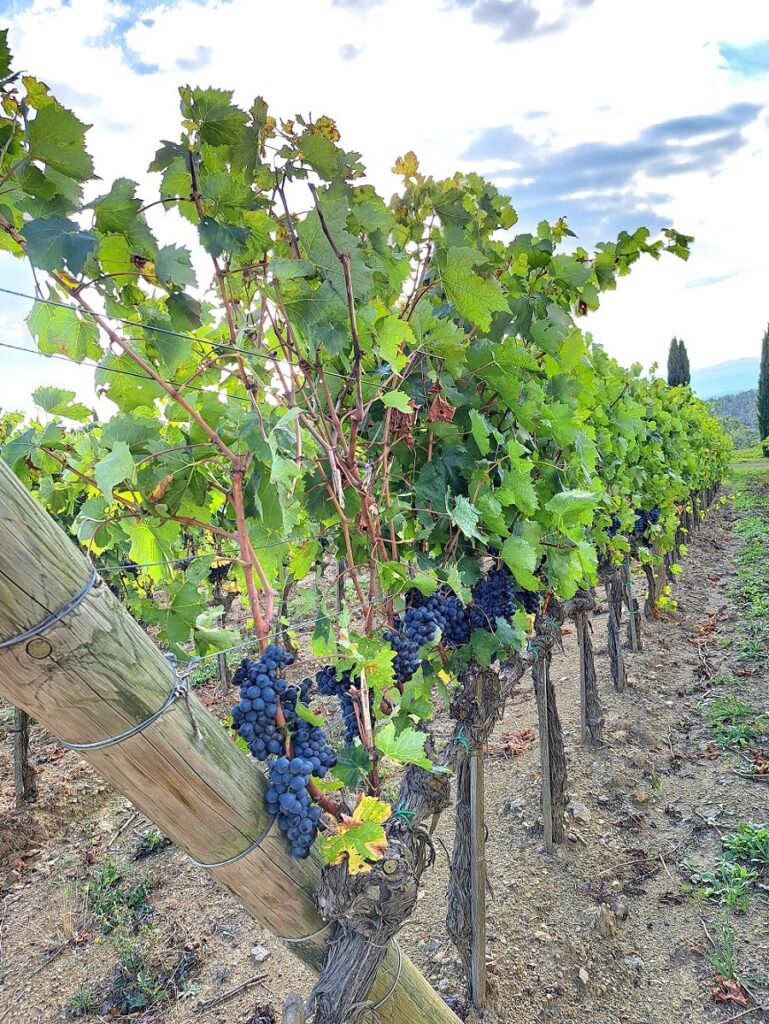 DOCG wines stands for Denominazione di Origine Controllata e Garantita, meaning Denomination of Controlled and Guaranteed Origin, and is awarded to wines of "particular quality merit". These wines are subject to additional controls, both at the processing and bottling stages. The DOCG wines offer extremely important guarantees such as the certainty of great quality and truthful origin. For example, you will never find a Brunello di Montalcino produced in Bordeaux.
Places to visit in the Tuscany wine region
If you are a wine lover and your primary interest is to visit extraordinary wineries and to try amazing wines, but you also want to do a little bit of sightseeing and exploring medieval towns that are art by themselves, then we suggest not to skip these places.
In these remarkable areas, you have the opportunity to indulge in the perfect fusion of fine wine tasting and cultural exploration.
San Gimignano: The Medieval Marvel of Tuscany
Halfway between Florence and Siena lays the medieval town San Gimignano. With its charming ancient stone buildings and a skyline punctuated by fourteen soaring towers, it's no wonder this place has earned the nickname "Medieval Manhattan." In the past, the towers of San Gimignano were not just displays of wealth, they also represented the power of the families who built them. They still shape a skyline that is without a doubt unique.
Today, this hill town has cemented its status as one of the most iconic and instantly recognizable destinations in all of Tuscany.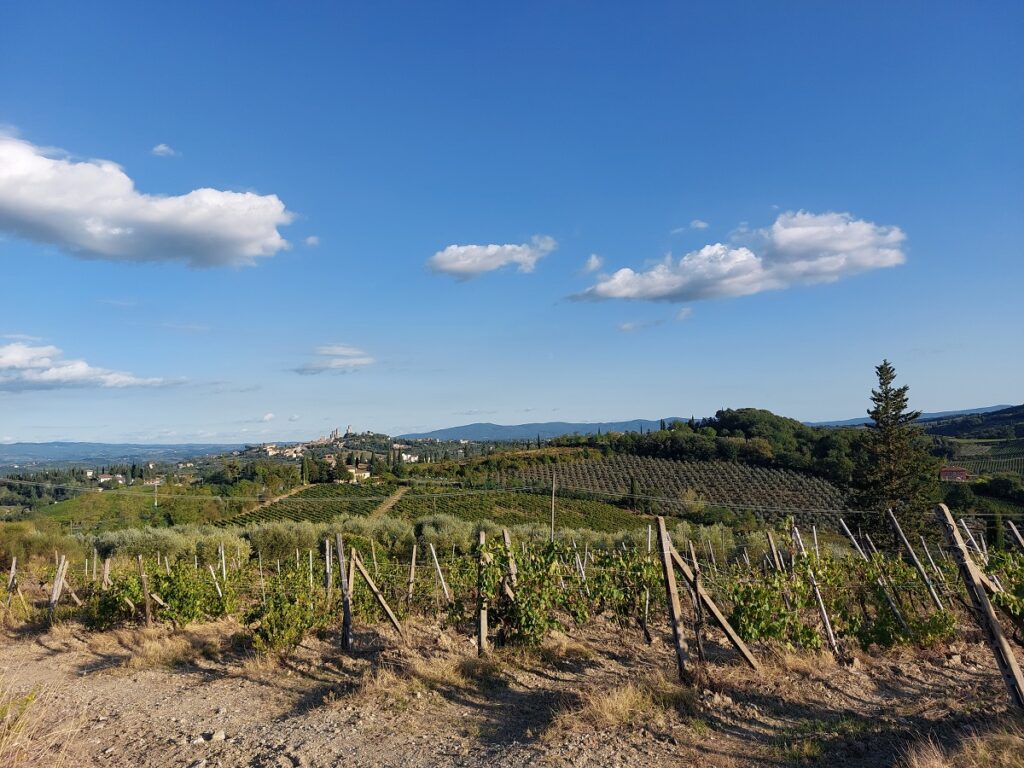 A visit to San Gimignano would be incomplete without tasting Vernaccia di San Gimignano which is one of the oldest wines of Italy. A crisp and delightful white wine that's a testament to the region's winemaking heritage. Also, a stop at Gelateria Dondoli is an absolute must. This gelateria has won countless awards, invents flavour combinations that attract hundreds of people on a regular basis and was World Champion on two occasions.
Volterra: A Timeless Gem
Nestled in the heart of Tuscany, Volterra is a captivating town that effortlessly blends history, culture, and natural beauty. Its origins date back to the Etruscan era, and the town's well-preserved historic center is a testament to its rich past. Visitors are greeted by a charming labyrinth of cobbled streets, medieval walls, and beautiful squares, such as Piazza dei Priori, where one can admire the striking Palazzo dei Priori. From the panoramic views of the surrounding countryside to the delectable local cuisine, Volterra stands as a timeless gem.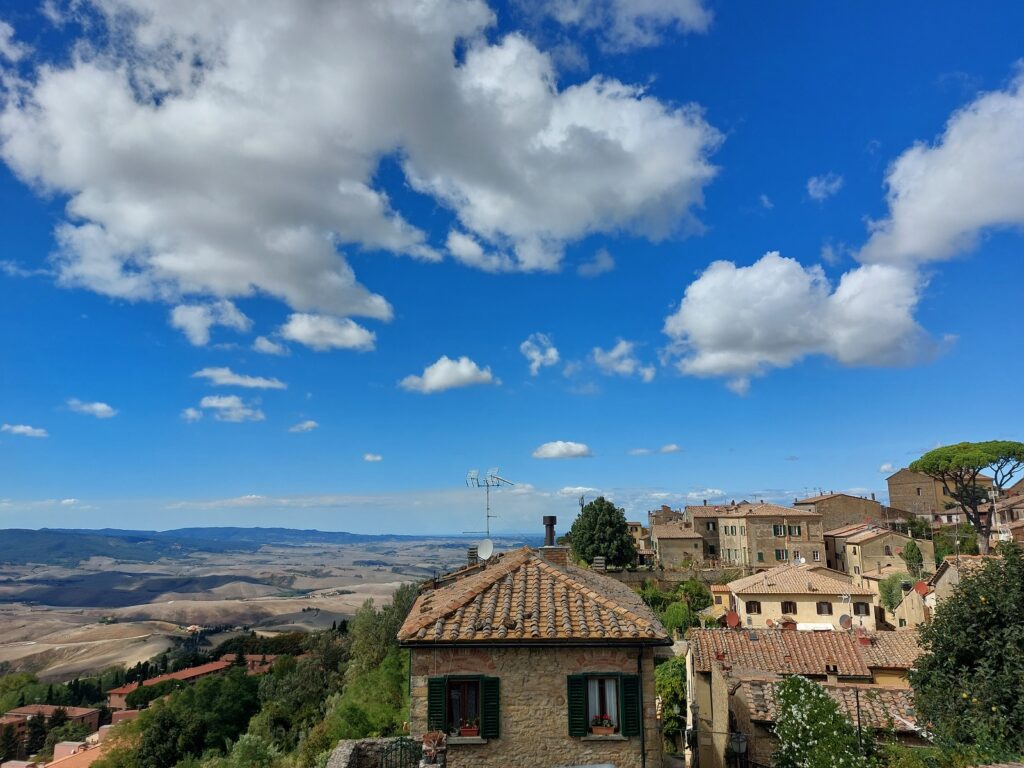 Montalcino: Where wine excellence finds its home
This charming medieval hilltop town is best known for the iconic, world-famous wine the Brunello di Montalcino. With a population of a mere 5,000 inhabitants, a staggering 90% of them dedicate their livelihoods to the wine industry. Their collective efforts have propelled Montalcino onto the global stage, ensuring its legacy as a town responsible for producing one of the world's most esteemed and exquisite wines.
This historic town is perched atop a hill, offering breathtaking panoramic views of the surrounding vineyards and the stunning Val d'Orcia landscape, creating an unforgettable experience for all who visit.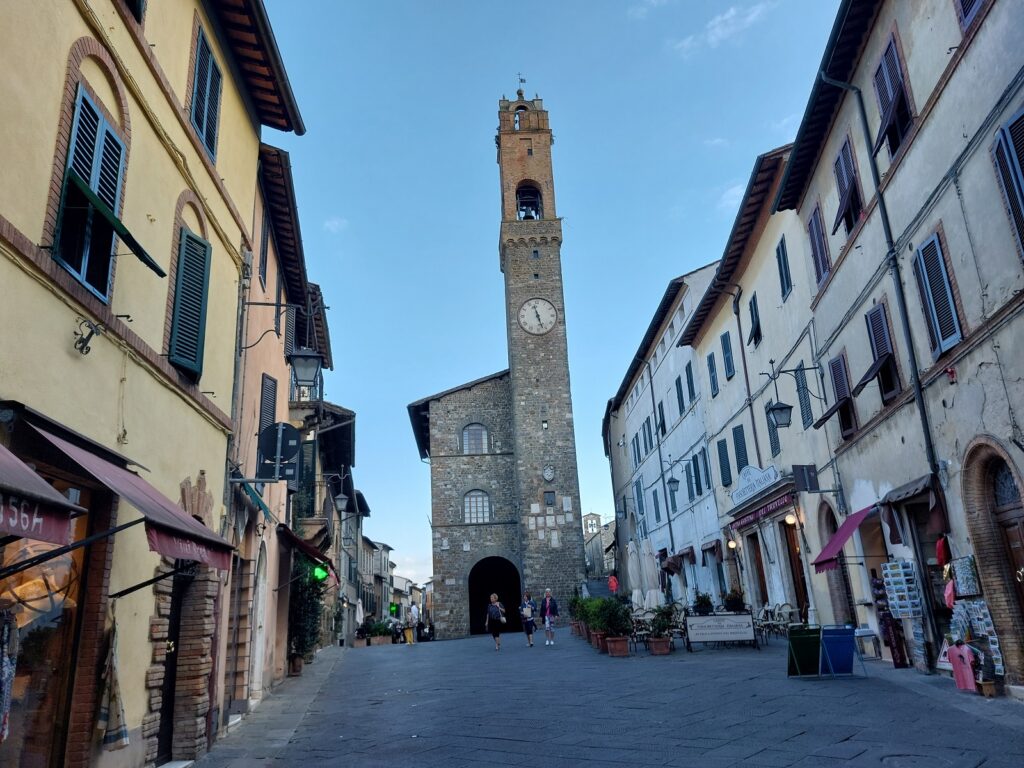 Pienza: Charming treasure in Val d'Orcia
Pienza will enchant you with its charming stone architecture, romantic lanes, world-famous cheese, and local cuisine. The delectable local pecorino cheese, Pecorino di Pienza is as steeped in history as Tuscany's wines. Pienza's allure extends beyond its culinary treasures. The town's idyllic setting, often referred to as the Elysian Fields, served as the backdrop for the iconic film "Gladiator" in 2000. Visitors can stroll along the winding dirt road adorned with elegant cypress trees and surrounded by fields of golden wheat, just as they appeared in the movie.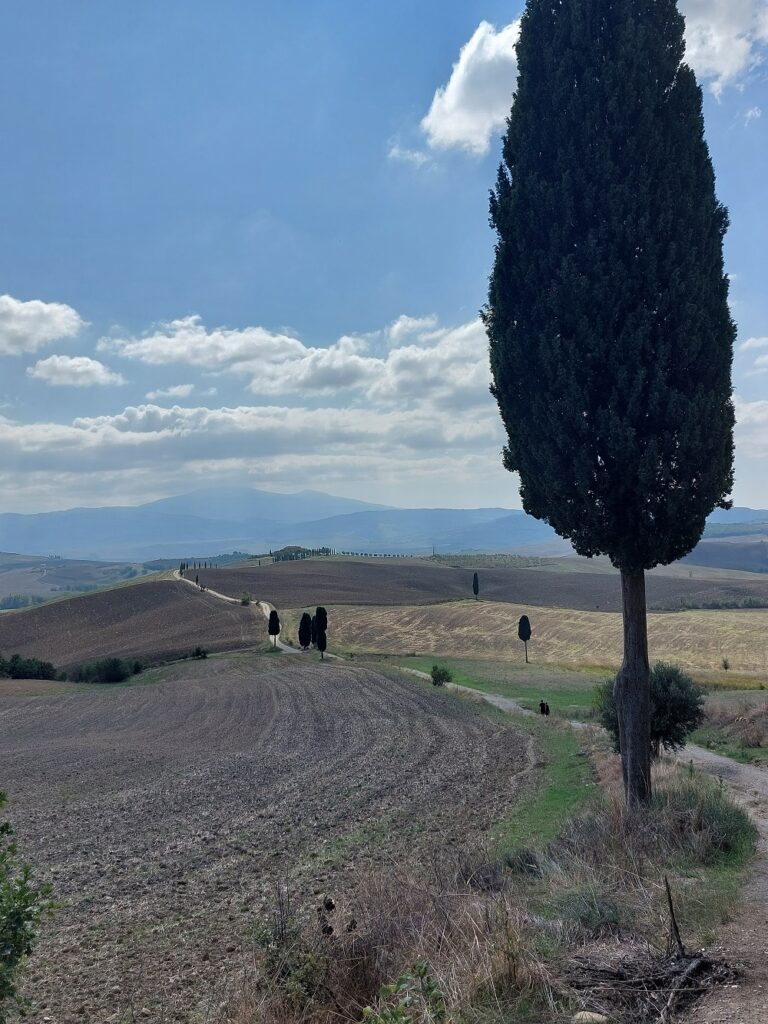 With its panoramic views of the rolling Val d'Orcia landscape, this UNESCO World Heritage Site is a must-visit destination that seamlessly blends history, art, and natural beauty.
A few kilometers outside Pienza you can find the famous Instagram spot, farmhouse Poggio Covili. Here, you'll encounter the most photographed avenue of cypress trees in Val d'Orcia, making it the perfect spot for capturing stunning moments that will surely earn you countless likes on Instagram.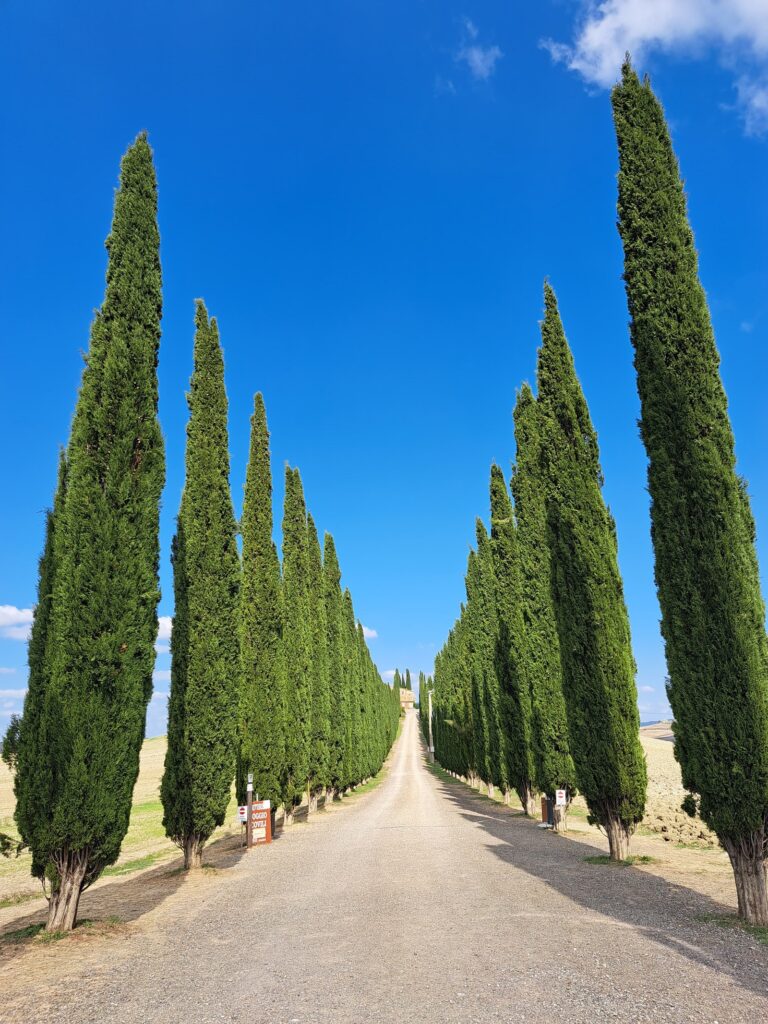 Chianti: Enchanting wine region
Grave and Castellina are two picturesque towns nestled in the heart of Tuscany each offering a unique glimpse of Italian countryside. Grave, a charming village, exudes timeless beauty with its cobblestone streets and well-preserved medieval architecture. Castellina captivates with its stunning vineyards and olive groves, providing an authentic taste of Tuscany's renowned culinary and wine culture.
This region's vineyard-covered hillsides produce some of Tuscany's finest wines, making it a paradise for wine enthusiasts.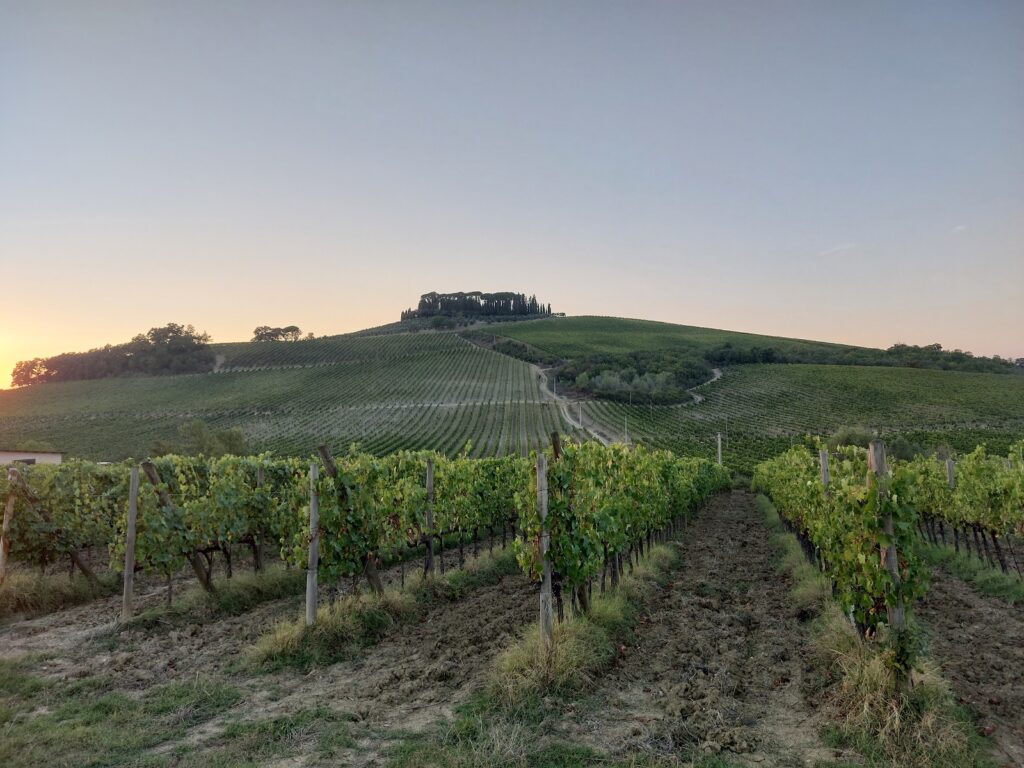 In Tuscany, the picturesque landscapes are not just for the eyes; they are a haven for wine enthusiasts. The vineyard-covered hillsides yield some of Tuscany's most exceptional wines, creating a true paradise for those with a passion for the grape. Whether you're an oenophile or a casual wine lover, a visit to this region promises an unforgettable exploration of Tuscany's treasures.