Volterra is a commune and town located in the province of Pisa in Tuscany. The town has been inhabited since Neolithic times and was an important Etruscan settlement. During the rule of the Romans, the town became a municipium and gained much importance. During the 5th century, Volterra became the Bishop's residence and its fame rose in the region.
Volterra is quite a large town, spread over an area of 252 sq km and has a population of close to 12000 residents. The economy in Volterra is mainly based on industrial activities rather than agriculture or wine as is the case with most towns in Tuscany.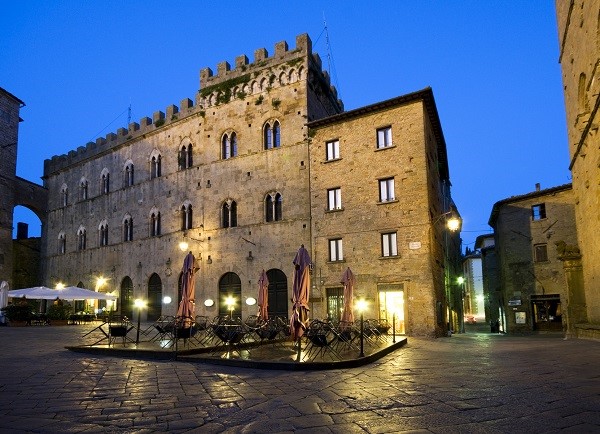 Attractions in Volterra
Porta All'Arco
Porta All'Arco is the best attraction in Volterra. It is a massive ancient gate which was built with volcanic rocks in the 4th century BC. The gate was a part of the massive walls that were once built around the town but has been destroyed over the centuries.
Duomo of Volterra
The Duomo of Volterra is the most important religious site in the town. The cathedral was built centuries ago but major renovation works were done in the 13th century. The cathedral has a beautiful 13th century wooden deposition, some angels which were made by Mino da Fiesole and various other beautiful ornaments. The architecture is pure Romanesque and is known to be one of the finest examples of architecture in this region. Inside the cathedral are various art pieces and frescoes done by renowned artists. There are also a few terracotta figures and the altar is beautifully made.
Sacred Art Museum
The sacred art museum is located next to the Duomo of Volterra. The museum is quite small and the collection is displayed in three rooms. Tickets have to be bought in advance and combo tickets for two museums are also available.
Etruscan Museum
The Etruscan museum in Volterra has been noted as one of the best museums in Europe for Etruscan art. The museum has a very large collection with several impressive works collected over the centuries. Explanations and brochures are all in Italian, however, guides are available.
Roman Theater
The Roman Theater is the only monument left in Volterra from the Roman times. The theater was built in the 10th century BC and is known for its excellent acoustics. The theater also provides great views of the town and the surrounding landscapes.
Palazzo dei Priori
Palazzo Dei Priori is almost 800 years old and is Volterra's City Hall. The palace is known to be the oldest in Tuscany and the design of the palace is based on Florence's Palazzo Vecchio. The chambers inside the palace are very beautifully painted and are open to visitors when they are not occupied.
Medici Fortress
The Medici fortress is quite an unusual fortress and is actually used as a prison for Sicilian convicts and mobs. There is a park close to the fortress which was originally an Acropolis for as long as 3000 years before it was burned down by Florence and turned into a park.
Getting to Volterra
The easiest way to reach Volterra is by bus. The closest town to Volterra is San Gimignano and Pisa is also not very far. Buses leave every hour for Volterra from Pisa, San Gimignano and other smaller towns in the province. The buses all arrive in Piazza Martiri della Libertà. Those who have their own cars can drive down from San Gimignano or from Pisa. Visitors who are coming from outside Italy can take a flight to Pisa and from there get a bus to Volterra.
Moving Around Volterra
Volterra is not a very small town but moving around is not difficult. Those who have their own cars can drive around the town easily. There are several parking lots through the town, the main ones being at Piazza Martiri Della Libertà. Parking lots in Volterra are usually free so it is quite convenient. There are public buses too which are mostly used by the locals for moving around in the town. A fun way to explore the town is by renting mopeds, scooters or bicycles. There are several shops in Volterra that provide vehicles on rent to tourists.
Stay and Accommodation
Volterra has plenty of options in terms of hotels and accommodations, mainly because it is an important tourist destination in Tuscany. Hotels are available in all budget ranges, from luxury to budget hotels. There are also many Bed & Breakfasts where tourists can get comfortable rooms at inexpensive rates. However, during peak tourist seasons it might get difficult to get bookings and decent rooms. Some of the best known hotels in Volterra are Albergo Etruria, Albergo Villa Nencini, Albergo Nazionale and Seminario Vescovile San Andrea that rents thirty rooms at low rates.
Eating in Volterra
There are several good options for eating out in Volterra. There are many good restaurants in town that serve Italian, Tuscan and other European cuisines as well. There are also plenty of small old fashioned trattorias and taverns where the locals normally like to eat. Some of the best places to try in Volterra are Ristorante Enoteca del Duca, La Vecchia Lira, Ombra Della Sera, Ristorante Sacco Fiorentino and Enoteca Scali. There are plenty of places that have fresh grilled seafood and several small gelatarias.
Shopping in Volterra
Volterra has many different places where visitors can shop. The weekly markets in Volterra are held every Saturday and these open air markets are the best places to shop. Plenty of vendors sell several different types of items like clothing, jewelry, antiques, food items and handicrafts. There are also several small shops in Volterra that sell wooden handicrafts and small art pieces. Visitors can also purchase several varieties of good quality Tuscan wines from many wine shops in Volterra. Local cheeses are available in most food stores and good quality extra virgin olive oil can also be purchased.