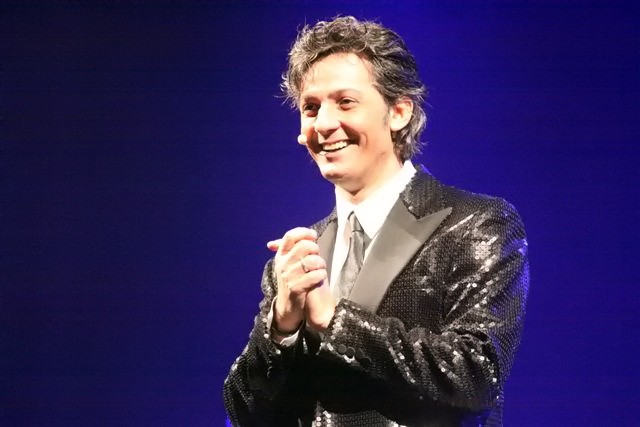 Fiorello is one amazing showman. He started in Italian resorts as an entertainer for tourists, but his natural talent didn't take very long to show. He turned quickly into a television phenomenon – he was hired by the private networks to host a karaoke live show that toured throughout Italy. This gave Fiorello incredible exposure, but also the flexibility to try out different aspects of his talent such as dancing, singing, and hosting. This experience was the ultimate training ground to launch his career into the Italian star system. Prime time shows started to invite him at first and then he was actually called to host them. It was a revolution because people really tuned in to watch him, rather than the format of the programs, and his popularity grew very fast. In addition to that, he was able to invite many international stars, mainly singers, and sang duets with them in an extraordinary way. The most memorable one may be the one he did with Liza Minnelli.
Fiorello is a bomb ready to explode at any given time, with his strong energy, and it is impossible to predict what he will do next. He is the first one to amuse himself, often laughing at his own jokes, and he is truly funny. One of his many talents is impressions – he speaks and sings like others, and he is not afraid to do impressions of people right next to him. Sometimes it is even difficult to hear the difference from the original. Once his status reached high levels, Fiorello started getting invitations for small appearances to jump-start new shows or save them from low ratings.
Besides being successful on television, Fiorello proved himself as a professional singer, selling many records, and also as a radio host where his impressions come across even more powerful. On the radio, he has no limits and his jokes are funny and well thought out, and even his improvisations have something that always makes them quite funny. He had developed a very strong relationship with Mike Bongiorno and when Bongiorno passed away, Fiorello gave some very funny speeches in his memory. Fiorello however, has had some dark moments in his private life, and at one point he almost threw everything away. Fortunately for him, he found the strength to come back.
To international audiences, and the American in particular, Fiorello is known for one of his rare film appearances in the movie The Talented Mr. Ripley in the role of Fausto. He was able in that movie to act with a fine cast which included Matt Damon, Jude Law, Philip Seymour Hoffman, and Gwyneth Paltrow. He performed "Tu vo' fa l'americano," one of the most internationally recognized Italian songs, in the tavern scene where Jude Law plays the sax.
Fiorello's strength lies in knowing how to reach for absolute artistic perfection and yet remain normal and natural. Only true artists can do that.