From a small village in Tuscany to the stages of the planet. The story of Andrea Bocelli is the story of a unique talent. A musical genius. Learn about Andrea Bocelli's history, his life, the Andrea Bocelli songs, his family, and his professional life. Also, you can find out things about Andrea Bocelli's love story.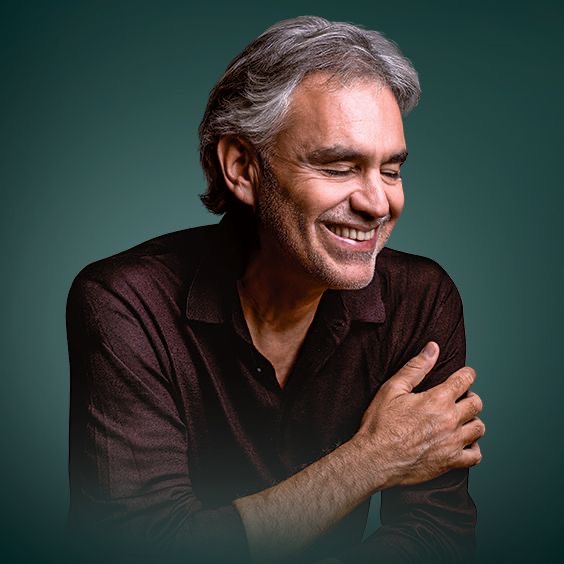 Music in the veins – Andrea Bocelli
The truth is, Andrea Bocelli couldn't have been anything but a singer. An opera singer at that, filled with talent. Despite his disability, which never stopped him.
He was born in the small town of La Sterza, not too far from Pisa. But, if his mother followed doctor's orders, he would have never been born. In fact, his parents were advised to pursue an adoption. Doctors knew that Edi and Alessandro's child would have a disability.
But family's love is stronger and Andrea was born on September, 22nd, 1958. Everyone knew he had problems with his sight and, eventually, the diagnosis was: congenital glaucoma. When he way 12, during an accident playing soccer, he lost his sight completely.
Andrea Bocelli – Childhood and music
No one in his family had a musical or show background. His family had a farm, where they sold machinery and made wine. Still, he was attracted to instruments and his passion started at 6, when he learned to play the piano. Later, he learned to play the flute, saxophone, trumpet, trombone, guitar, and drums.
If there was an instrument, he would play it. At least it seemed like it.
Music was Bocelli's comfort, his safe space. And his tenor voice has become a comfort to many during the decades of his career. Which started when he was only 14 with the victory at the at the Margherita d'Oro in Viareggio contest.
Later, he went to law school and his concerts at piano bars paid the tuition.
His mother's words
Bocelli's mother, Edi, has always been his number one supporter, believing in his talent.
During a 2018 interview with the TV show "Domenica In," she remembered Bocelli's career, mistakes, and inspiration. Once, he was hospitalized in Torino and he started showing interest in symphonic music.
"He forgot all about the cures and hospital," she said, "he was fascinated by music."
Bocelli, from local piano bars to international stages
Bocelli followed his newfound love for the symphony and for his tenor voice. His first success happened in 1992, when he recorded a demo tape of "Miserere" for Zucchero Fornaciari. Two years later, he participated to the Sanremo Festival, reaching the broad Italian public.
The Italian tenor reached international fame with the song Con te partirò. Thanks to his duet with Sarah Brightman in 1997, the song went viral (a viral version in the 90s). You'll know it as "Time to Say Goodbye."
Time to say goodbye – One of the most famous Andrea Bocelli songs
All these years later, even Bocelli still loves this song.
"Songs like "Time to Say Goodbye" still arouse a lot of emotion in me even now, when I perform it at a concert," he said to The Talks, "it's a song that has become a classic in its own way, all around the world, entering into people's hearts."
A love that never dies – Bocelli's life in Italy
After 1997, Bocelli's career has been rising and rising. In 2017, the movie The Music of Silence brought his life to the big screen. In 2021, he and his son (also a singer) traveled to China to perform at the Spring Festival.
He's truly a global talent. But he always comes back to his beloved Milan, his adopted city.
An Andrea Bocelli love story. He could've lived in Los Angeles, as the most famous living Italian singer. He could've lived anywhere. But he remains in Italy. Bocelli lives in Tuscany with his wife and daughter.
Andrea Bocelli has three children. Matteo, Amos, and Virginia. Virginia is the youngest one, but if you're following Andrea Bocelli on Instagram, you can see that she's already very involved in music. Though, when it comes to music and the children of Andrea Bocelli, there's one song that we must highlight! He is singing a song together with his son, Matteo that's the most heartwarming father-son song that you can hear of the repertoire of the Andrea Bocelli songs.
Andrea Bocelli songs – Music for Hope
Must watch: singing to fight Covid-19
In the spring of 2020, Italy was the epicenter of the pandemic. The victims' numbers rose every day, in a scary upward slope. To celebrate Easter and to bring peace, Bocelli sang at the Dome of Milan, deserted both inside and outside. The last song was "Amazing Grace," a message of hope.
In the big arenas, I feel the energy of the crowd, of course, but in church there's no need for that. While I was singing in the Duomo, I knew that I was giving voice to the prayers of so many people.

Andrea Bocelli