Born March 23rd, 1945, his music varied from pop to avant- guard. Always with undeniable success.
The career of Franco Battiato moved and changed with Italy. From TV appearances to his music of different influences, his name will stay in history.
The reactions to the announcement
He died quietly from his illness on May, 18th. As soon as the news spread, grief and thoughts of solidarity spread. Both from politicians and everyday people. After all, Battiato was an inspiring figure.
"A Master left us, one of the biggest of Italian music," said the Minister of Culture Dario Franceschini, "unique, always looking for new artistic expressions. He leaves behind an eternal heritage."
More messages came from David Sassoli, the president of the European Parliament, who wrote, "my deepest and sincere condolences for the death of Franco Battiato. Maestro. Poet. Master of music and words. We will miss him."
But the messages didn't only come from politicians. In fact, most Italians took their pain to social media, tweeting quotes of Battiato's songs and sharing his music on Facebook. And his colleagues, saddened by the news.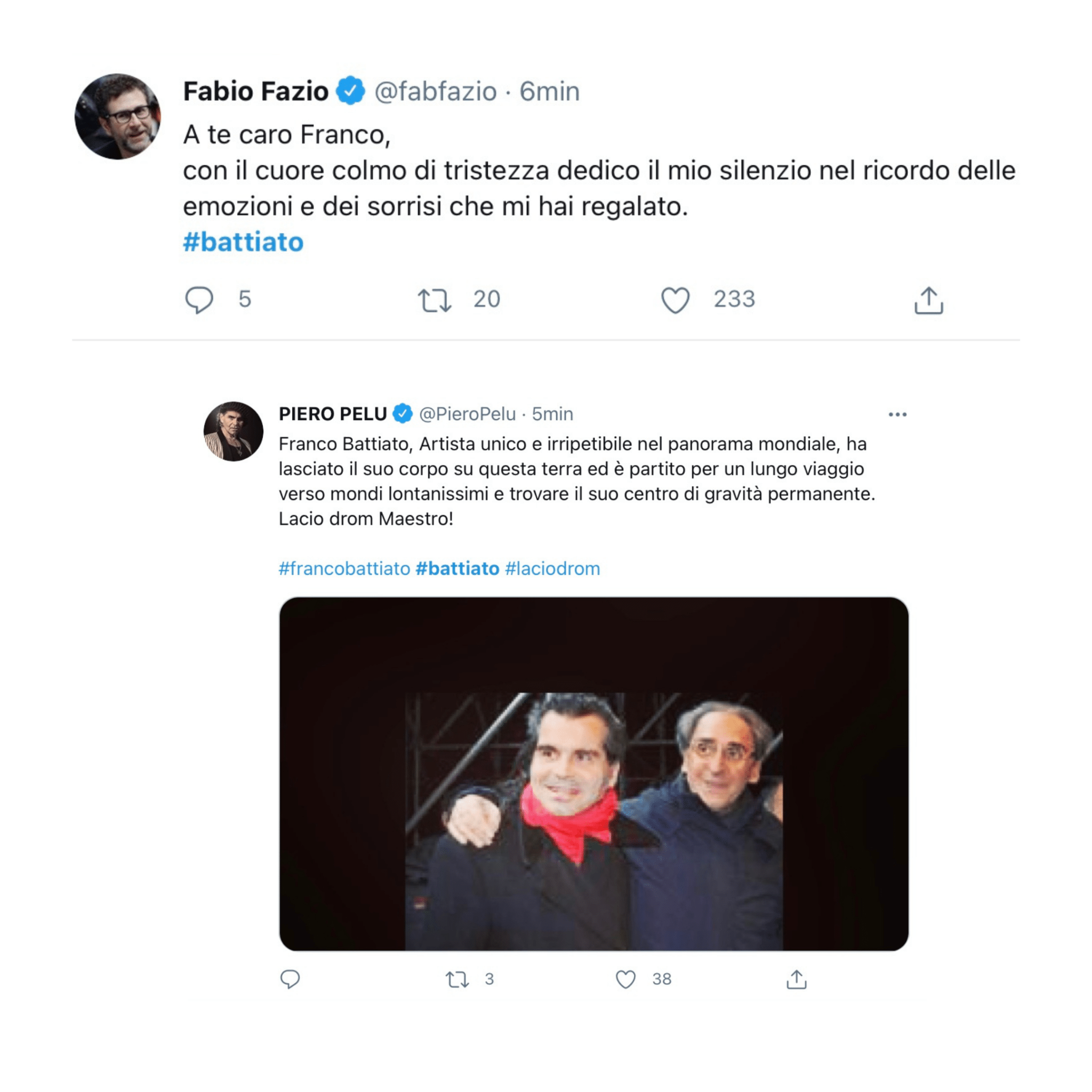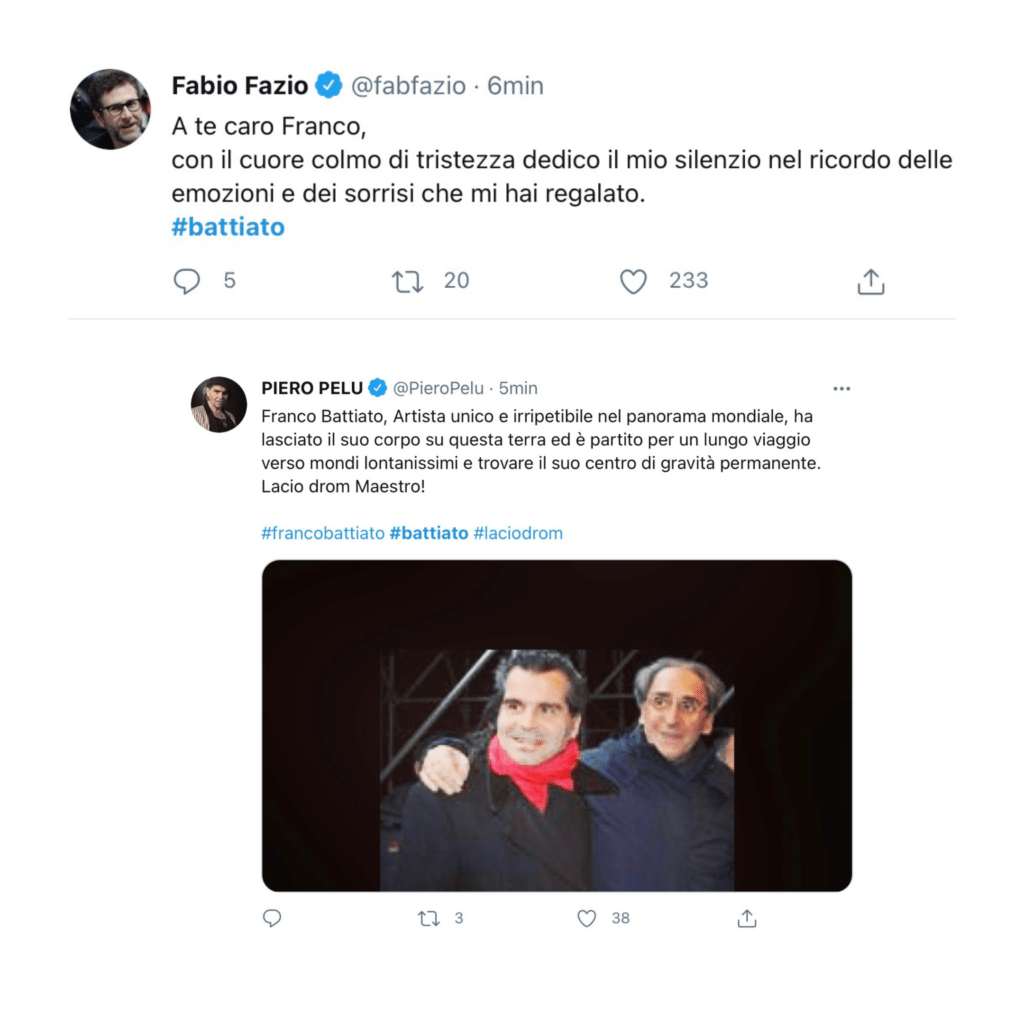 "To you, dear Franco, with my heart full of sadness, I dedicate my silence in memory of the emotions and the smiles that you gifted us," wrote on Twitter Fabio Fazio, a TV host who interviewed Battiato multiple times.
More messages came from Piero Pelù, an Italian singer. On Twitter, he wrote "Franco Battiato, a unique artist in the global landscape, he left his body on earth and he left for a long journey to far away worlds. And to find his permanent center of gravity." Plus, Permanent center of gravity is the title of one of Battiato's most famous songs.
Franco Battiato, an inspiring career
Indeed, the Sicilian has been one of the most influential Italian singer and songwriter. Thanks to his eclectic style, he was able to reach a wide public. And, from a tiny village in Sicily, he made it to the national stage. He dipped his talent in electronic music, opera, and rock.
Often, Battiato's songs are defined as "cultured." Since he sang about philosophy and meditation. Furthermore, he used his music to teach people. But he also talked about love and hope. Indeed, Battiato touched many genres and topics, never afraid of experimenting.
Until he retired. He did his last concert in 2017, while he published his last album in 2019. With the title "Torneemo ancora," (We will come back again), the Sicilian singer and songwriter leaves his last footprint in the music landscape.
During his career, Battiato collaborated with many Italian singers and songwriters. Names such as Francesco Guccini and Fiorella Mannoia joined him on stage. Also, he collaborated with Francesco Renga and Tiziano Ferro, to reach younger generations. Unforgettable is Battiato's partnership with another giant of Italian music: Pino Daniele. Together, they sang "Chi tene o mare," about the beauty and struggles of Southern Italy.
Chi tene 'o mare
Cammina ca vocca salata
Chi tene 'o mare
'O sape ca è fesso e cuntento
Chi tene 'o mare 'o ssaje
Nun tene niente
Who has the sea knows everything that happens. Then it stays away and it makes you feel, how it burns. Who has the sea, you know, bears a cross and walks with salty mouth. Chi tene o mare.