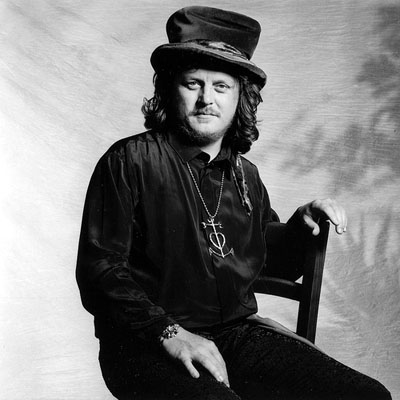 "blues is blues: it's full of soul" claims Zucchero, one of Italy's greatest musicians, in a recent interview. Zucchero's philosophy is that there is no distinction between Italian blues and American blues, or the blues of any other country – however, that is only one form of music Zucchero is devoted to.
He has a vast love for classical music as well, having been greatly influenced by Puccini and Verdi in his youth. Since then, he has divided his attention between classical music and blues throughout his successful career, occasionally even venturing into rock-n-roll territory – he has recorded with Luciano Pavarotti and Andrea Bocelli, as well as blues legends John Lee Hooker and Eric Clapton.
Zucchero (which means "sugar" in Italian – one of his junior high school teachers gave him the nickname) was born in Roncocesi, a village in the Province of Reggio Emilia, on September 25, 1955. His real name is Adelmo Fornaciari and he has sold approximately 2,000,000 copies each of his 25 albums (15 studio, 4 live, 6 best off).  He got started in music by learning to play the organ in his local church, and at the age of 13 met an American student who introduced him to soul, blues, and R&B music, which he quickly fell in love with. He went on to form several bands, some of which were called "Sugar & Daniel," "Le Nuove Luci," and "Sugar & Candies," steadily working to develop his musicianship until he ended up recording his first album "Un po' di Zucchero" in 1983.
In 1985 he went to America to make an all blues album with the bass player Randy Jackson titled Zucchero & the Randy Jackson Band, which included his first hit song "Donne."
In 1987 Zucchero became hugely successful in Italy when his album "Blue's" sold 1,200,000 copies to become the best selling Italian record of the year.  In 1988 his fame spread throughout Europe and he toured in Belgium, France, Germany, Spain, Holland, and Switzerland. Probably Zucchero's best-known song in Europe is "Senza Una Donna," which he recorded with the British pop musician Paul Antony Young in 1991. Because Zucchero is interested in many different styles of music, he can easily collaborate with various artists in all genres. Over the years he has enjoyed working with such greats as Joe Cocker, Eric Clapton, Sheryl Crow, Sting, Miles Davis, Johnny Hallyday, Brian May, Luciano Pavarotti, Dolores O'Riordan, Tom Jones, Jeff Beck, and B.B. King, among others. He has stated that one of his dreams is to record with the American R&B, soul, and gospel singer, Aretha Franklin, who is known as "The Queen Of Soul."
The first person Zucchero ever collaborated with was jazz legend Miles Davis in 1988. And Zucchero said it was a rather intimidating process, since he was still at the beginning of his career. Davis came to Italy on a world tour and was greatly impressed when he heard Zucchero's song "Dune Mosse" playing constantly on the radio. The jazz icon loved Zucchero's combination of Mediterranean melodies and traditional blues so much he wanted to collaborate with him immediately.
Zucchero sings mainly in Italian, English, and Spanish and his voice has been described by fans and critics around the world as being bluesy, passionate, soothing, and intense – some people claim there is a definite Ray Charles quality to it, too. Fans who only speak English are always surprised when they discover that, although they may not understand the lyrics to Zucchero's songs, they are still very much moved by the melodies and tone of his vocals. And Zucchero's musicality is not limited to only singing, he can also play many instruments as well, being proficient on the guitar, the electric piano, organ, mellotron, and the fuzz synthesizer.
Even though Zucchero is well known in Europe and has had tremendous success there, only a small group of people are aware of him outside his home continent. But he's been working hard to change that. In 2005 he struck a deal with Starbucks/Hear Music, who put his 2004 album "Zucchero & Co." on sale in coffee houses across America. Starbucks/Hear Music already had great success getting Alanis Morissette's "Jagged Little Pill: Acoustic" well known. Zucchero has spoken about how difficult it is for a European artist to break into the American market. But he is already satisfied with the level of exposure the Starbucks/Hear Music deal has given him.
In 2004 Zucchero released a live DVD of his concert at the Royal Albert Hall in London, which features many of the duets he performed with artists on his album "Zucchero & Co." Fans all over the world rave about how good the concert turned out.
Zucchero even played at the Woodstock '94 concert and was the only international artist to do so. And in July of 1996 he was invited to the Montreux Jazz Festival becoming the first Italian artist to ever be invited: he performed at the festival with Little Richard.
When you listen to a Zucchero album, be prepared for a diverse and emotion-filled journey – you'll be led down many varied paths of music and always enjoy the ride.
Zucchero performs "A Wonderful Life"
By Christine Lee