Riccardo Cocciante, born in Vietnam to a French mother and an Italian father, is an artist who has left an indelible mark on Italian culture. Cocciante's multicultural background has allowed him to bring something unique to his music, which has set him apart. While he was raised in Italy, Cocciante's work is influenced by other cultures and he has found success singing in Italian, French and Spanish.
Many of Cocciante's songs belong to the annals of music history, including "Margherita," "Bella senz' Anima," "Cervo a Primavera," and "Questione di Feeling," just to name a few. Cocciante's work has a taste of the international and an authenticity that allows him to connect with his audience on a visceral level. The artist has brought France and the Far East to Italy and even speaks with a bit of an accent – one that is all Cocciante – which only adds to his mystique and the enigma surrounding his music.
Gentle and very respectful of his audience, Cocciante shapes his music like a sculptor works with marble, and his performances are vivid and full of energy as he dives into every song, grasping every word as if it were the last he will ever speak. The result is not only an amazing musical style, but also an ability to enthrall millions.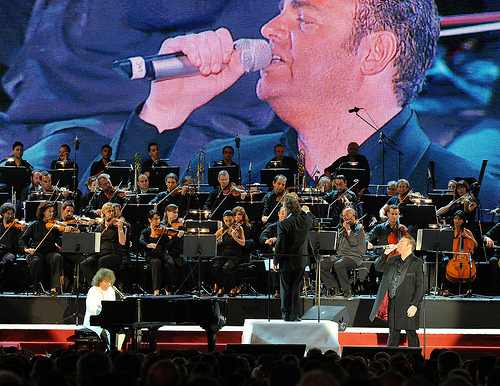 Cocciante's music is melancholic and romantic, as if he wants to tell us about a world where love is strong and powerful, but difficult to enjoy: a place where love is reserved for others. Granted, it's not a very optimistic approach, but Cocciante makes it compelling with his touching poetry. Cocciante's music is not commercial, yet he's commercially successful. The artist doesn't follow an industrial pattern nor the trends of the moment, he creates his own musical universe and everyone is invited to join in, but no one is allowed to change the essence of his work. This is probably Coccicante's main strength, which has gained him recognition and credibility.
Bella Senz'Anima,  Riccardo Cocciante.
In recent years, Cocciante has dedicated himself to large scale musicals, usually writing in French and bringing to Europe what traditionally was an American strength. He started with "The Hunchback of Notre Dame" in 1997, followed by "The Little Prince" in 2002 and "Romeo and Juliet" in 2007.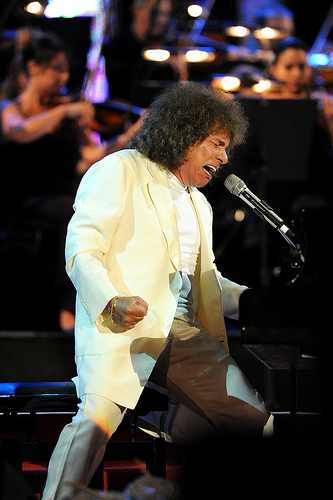 Cocciante's success with musicals has been huge, bringing him the attention of the media and most importantly that of the general public. His musicals are like modern operas, in which costumes and art direction merge with powerful sound to deliver enchanting shows based on classic stories.
The formula seems to work very well, and Cocciante has found in this medium what is likely his favorite way of expressing his art, as a musical is more complete than a song and it allows to the artist to be more flexible with both music and lyrics. Of course, Cocciante cannot perform the musicals and his soul is present only in the creative phase, but so far the actors have been doing a wonderful job of bringing his visions to life.
On a final note, it would be nice to remember that this man is not a young kid anymore, however his soul remains young and his genius inspired.
Riccardo Cocciante and Mina perform "Amore"