Eros Ramazzotti, an Italian idol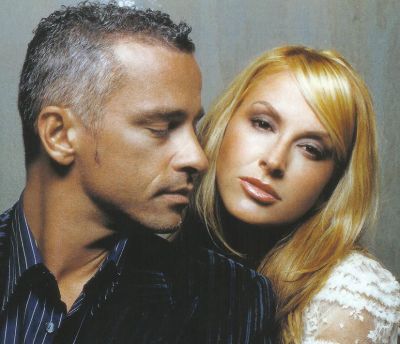 Eros Ramazzotti is an Italian singer and songwriter born in 1963 in Cinecittà, a suburb of Rome. Eros's good looks and incredible musical talent have made him one of the best loved and successful pop singers in the world, having sold more than 60 million records worldwide.
Eros comes from a working class background – his father was a house painter – and retained this humble nature throughout his career. For example, after Eros won an award in the "Overall" category at the 1986 Sanremo Music Festival, a reporter asked him if he considered himself to be a genius or merely an artist. Eros replied: "I'm just a boy who has always wanted to sing. My culture is from the street, not from a school or a university."
And his singing dream has indeed come true. He has now sang with the very best in the industry, recording duets with such stars as Cher, Céline Dion, Tina Turner, and Andrea Bocelli. Eros' voice is that of a natural tenor, polished and somewhat aggressive, but very expressive and melodic. He has a slightly nasal sound which makes his timbre comparable to none: Eros' voice is, without a doubt, among the most recognizable in the Italy.
Most of Eros' albums feature him performing a mixture of rock-influenced pop songs and passionate autobiographical ballads. Choruses are always catchy and he has a unique vulnerability in his voice that is highly appealing. Ramazzotti also records his albums in both Italian and Spanish, which makes him extremely popular in South and Central America. But people who speak only English don't have to worry about not understanding his lyrics. Many single-language speakers still enjoy his music because of the great rhythms and strong melodies that adequately convey the emotion behind his words.
When Eros was in his youth, he was more interested in football and singing than in his school studies. He said he tried to study accounting, but did not have an affinity for numbers. He eventually quit school to pursue his musical career. And he also had a brief acting experience, working in films made by the great director Federico Fellini. He did this for extra money before embarking on his musical career.
He received his first guitar from his father at the age of eight. His father had been a singer with a moderate reputation, and even recorded a few albums. Eros then moved to Milan as a teenager to fully pursue his singing career. He signed his first contract in 1981 after meeting executives of Drogueria di Drugolo (DDD) Records when they saw him perfom at the Castrocaro Music Festival. Later, at the Sanremo Festival, Eros won the New Voice award for his album "Terra Promessa", in 1984. Then in 1987 his album "In Certi Momenti" (then published in Spanish as "In Ciertos Momentos") sold two million copies throughout Europe, and he followed it with a lengthy tour. As many as one million people showed up for each concert. His next album, "Musica è" ("Musica es," in Spanish) sold even more copies.
Since that time, Eros has recorded many albums, releasing one after another showing his impressive talent. Soon Eros had a gigantic European following, with a large amount of his fans being centered in Germany, in spite of the fact he never recorded a song in German.
In 1990 Eros went to the US and put on a sold out show at Radio City Music Hall in NY. Then, in 1994, he had a very big year. He was invited to perform at the Berlin MTV music awards, and he also formed his own production company to release his own albums as well as those of upcoming new talents. Around the same time, the famous director Spike Lee made a video clip for one of his songs from the album Tutte storie, which greatly impacted its overall success: it was "Cose della Vita," which Eros also recorded as a duet with Tina Turner.
Around 1995 Ramazzotti signed a world contract with BMG Ricordi and played in seven European cities as a part of various summer festivals. The concerts included famous participants such as Sheryl Crow, Elton John, Jimmy Page, Joe Cocker, Rod Stewart, and Robert Plant. 1995 is also the year Eros meets Michelle Hunziker, whom he was to marry shortly after. The couple divorced in 2002 and have a child together, Aurora, born in 1996.
In 2000 he records "Stilelibero" and in 2003 his ninth album, simply called "9," which is largely dedicated to the painful separation of the singer from Hunziker.
"Calma Apparente" signs Ramazzotti return to great international collaborations, namely that with American Singer Anastacia, with whom he records "I belong to you/Il ritmo della passione."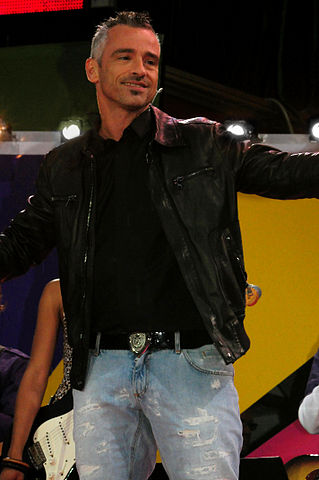 The following year, in 2007, Ramazzotti publishes an interesting double cd collection, "e2", where he collaborates once again with some of the greatest names of international music, including Carlos Santana, the Chieftains and Steve Vai. This album was the second best selling album in Europe that year, only behind the release of iconic American band, the Eagles. In 2008, he receives the NIAF prize in the US, assigned for his contribution to the diffusion of Italian music in the world. Four more albums follow, between 2009 and 2014: "Ali e Radici" (2009), "Eros Best Love Songs (2011), "Noi" (2012) and "Eros 30," a greatest hits released in 2014, in occasion of his thirty years in the music industry.
His latest album is "Perfetto" (also released in Spanish, with the title "Perfecto"), and came out in May 2015.
Since 2009, Eros is sentimentally tied to Marica Pellegrinelli, with whom he has today 2 children. They married in 2014.
While listening to any of Eros' albums, you're bound to find one shining moment where the mixture of vocals, melody, and rhythm all combine to surpass everything else he has ever done. Listen to all of his albums. Search for that moment. Surely you will find it and transcend with him.
Eros Ramazzotti's "Cose della Vita": the video has been directed by Spike Lee, in 1993.
By Christine Lee