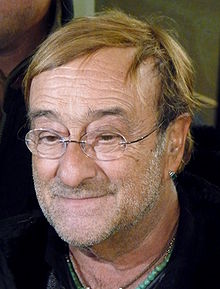 Lucio is a name evoking strong feelings in all Italian music lovers. Beside Dalla's, Lucio is also the first name of another great singer: Lucio Battisti. Lucio Dalla was probably equal to Battisti himself when it came to defining the best of Italian pop music.
Lucio Dalla was born in Bologna and has produced songs that have entertained several generations. Dalla's music has kept a level of integrity and a sense of respect towards audiences that is rarely seen these days, and which must be taken into full consideration when listening to the artist's music.
Lucio Dalla's titles cover an ocean of emotions: just think of "Piazza Grande," or "Caro Amico ti Scrivo" to get an idea of the depths of his words and lyrics. For an international audience that doesn't speak Italian, sadly most of the content is lost, but the musicality is still there, as well as Dalla's imposing voice.
Dalla performs "Caruso" along with iconic tenor Luciano Pavarotti
Dalla's strength is that he's always maintained a high level of quality in his music even when singing in different genres and with other incredible singers.
Perhaps the most remembered of all Dalla's songs is his duet with Luciano Pavarotti, performing the dramatic "Caruso," a song that appeals to the hearts of Italians that have lived abroad and experienced emigration, but still very Italian in its roots and sound. Dalla wrote the song and Pavarotti helped deliver it memorably. Furthermore, we cannot forget "Ma come fanno i marinai?" or "4-3-1943".
There is no doubt that newer generations are probably more focused on different sounds, and Dalla is not seen as hip as some of his younger colleagues, but even the youngest among us must recognize Dalla's ability to maintain the traditional Italian sound while delivering commercial pop ballads.
Lucio Dalla – Attenti al Lupo.
All this is even more important because Dalla managed to keep alive the figure of the Italian true "cantautore," who is sadly disappearing under the weight of all those tinny voiced, mass produced, pop acts who are so popular nowadays. Dalla was a versatile musician, but also a very fine singer, whose clear and clean tone always followed notes in perfect synchrony, while not sounding  too technical. He was indeed one of the forefathers of the "cantautori", singers who characterized immensely the cultural and artistic Italian panorama of the last 60 years.
As decades went by, Dalla kept sharpening his musical touch, and dabbled in a variety of genres from pop to soul, from jazz to blues, and even opera. In more recent years, due to the strong boom of Italian musicals, Dalla was asked to work on them as well and proved to be up to the challenge. He showed himself capable of moving out of the constrictions of a single song in order to fully develop an entire show. Unlike Battisti, Dalla loved live concerts and TV appearances, enjoying the contact with his own public and fans, who always demonstrated their support and love.
Dalla was a man of his city, Bologna: his love for all Bologna's sport teams will be always remembered as a symbol of how, in spite of being an artist, he felt indeed "one of the crowd." And Bologna, his city, as well as the whole country, cried desperately the day of his passing, just over 4 years ago. The country has not only lost an incomparable artist but, in a way, a man of times gone by, an artist true to his roots and with real talent. His fans all over the country will make sure his memory, as well as his work, never gets forgotten.