What a wonderful way to wake up, I thought!
I had switched on the radio to hear the clear, silky voice of a female singer performing "Easy to Love." The only problem was that I didn't know who was singing. I soon found out that it was the Italian jazz singer Roberta Gambarini.
It was probably always Gambarini's destiny to be a singer. Her parents even called her Roberta after their favourite movie, Roberta, which starred Ginger Rogers and Fred Astaire, and featured Jerome Kern songs. These included one of Gambarini's parent's favourite songs, "Smoke Gets In Your Eyes."
Roberta's parents were a very musical couple who met at a jazz concert. Her father played the saxophone. The couple introduced their young daughter to music by taking her to jazz concerts from an early age and bringing home lots of jazz albums. Gambarini saw such jazz legends as Jimmy Witherspoon and Carmen McRae. She learned to play clarinet and piano. She also loved to listen to Louis Armstrong, Billie Holliday, and Nat King Cole.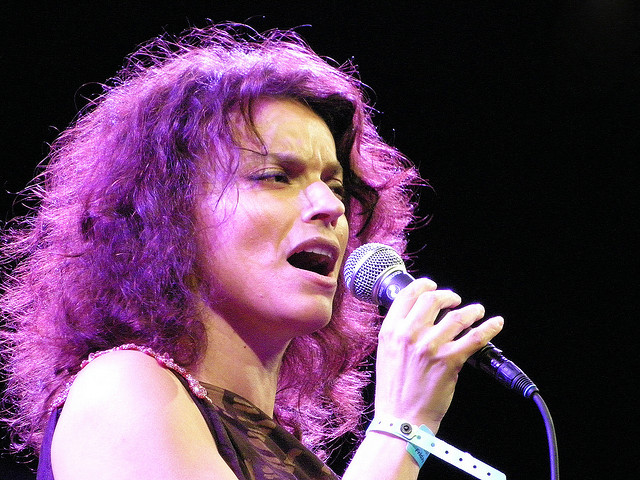 She started learning English at 4 and liked the albums even more when she could understand the lyrics. The album, Sunny Side of the Street won her heart, especially the title song which she says is "playful and accessible to all."
The smooth-voiced singer's parents always encouraged her to make a career in music. She started early moving to Milan, from her native Turin, at 17 in the 1980s, but she had a hard time. She told an interviewer that "it's not easy being a woman in jazz in Italy." She also found the atmosphere of divisive politics in the 80s difficult.
In 1998 Gambarini got her first break by winning a scholarship at the New England Conservatory in Boston. She didn't stay there long, however, because she soon won third place in a prestigious jazz competition in Washington. After this, the singer began to get noticed and started dividing her time between the New York musical scene and Boston. Eventually she decided to live in New York. New York reminded her of Italy which she liked, but she found that living in America was easier for a female artist than living in Italy.
Gambarini found many mentors in the United States. These included James Moody and Benny Carter. James Moody became like another father to her and changed her way of singing. Benny Carter, who defined her one of the world's best female jazz singers, helped her with her repertoire. She also worked with childhood idols such as Dave Brubeck.
The singer's first album, Easy to Love (2006) won a Grammy nomination for Best Jazz Vocal Album. This includes songs from The Great American Songbook, such as "Porgy." She also sings a Jerome Kern medley, which she dedicated to her parents, who she said are the "coolest imaginable." Her version of "The Sunny Side of the Street" on this album was also highly praised.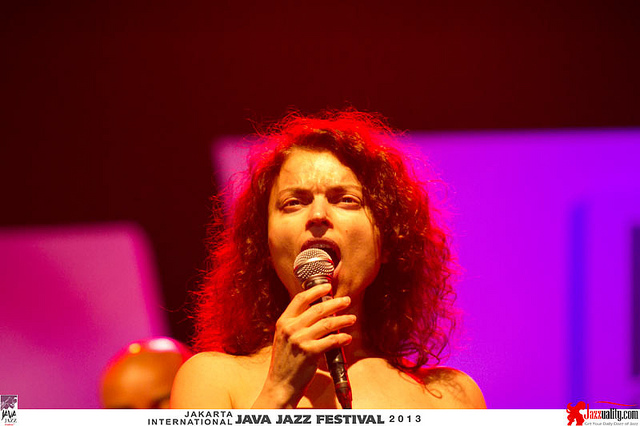 In 2009, she releases So in Love, which includes a sorrowful version of the title song by Cole Porter. She especially likes this song because it has soul and takes the idea of being in love to its limits. According to the Jazz Times, "Gambarini opens with the Cole Porter title track, allowing it to unfold in slow reveal, achieving a sublime effect that suggests twinkling stars appearing one by one against a jet-black sky." She certainly brings much emotion to the soaring music and lyrics of this beautiful song. The CD also includes other jazz greats, such as "Crazy" and "Get Out Of Town." James Moody plays the saxophone on this song.
She has also made an album of Italian songs, Under Italian Skies, with Andrea Donati, a musician and arranger of music. He wrote the songs with Alda Merini, perhaps Italy's greatest living poet.
Since then, Gambarini has focused on live performances and collaborations with other jazz artists.
Roberta Gambarini was called the greatest female jazz singer since the mid-50s by Hank Jones. She has even been compared with the great Ella Fitzgerald. Reviewers also think that her voice is improving. It will be interesting to see what the future holds for the Italian jazz singer.