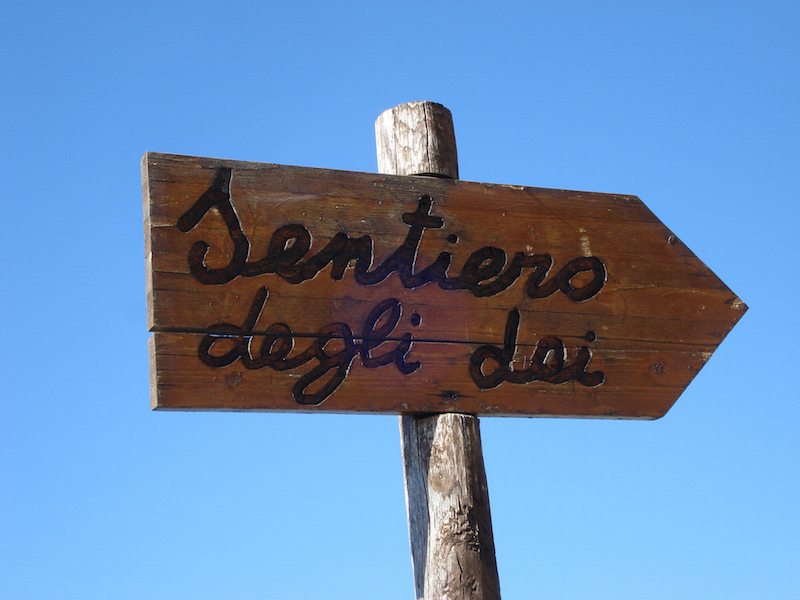 Il Sentiero degli Dei, the path of the gods.
These were truly the lands of the gods. When you think of a quintessential backdrop to the lives and actions of Graeco-Roman divinities, it is to the blue of the Mediterranean and the deep green of its trees your mind runs.
It is by the rugged mountains and hills of Greece or Southern Italy your imagination places the bodies and the actions of the Olympian gods, which were to become more Roman than the Romans after Greece, the land of civilization and aesthetics, became Rome's most treasured province.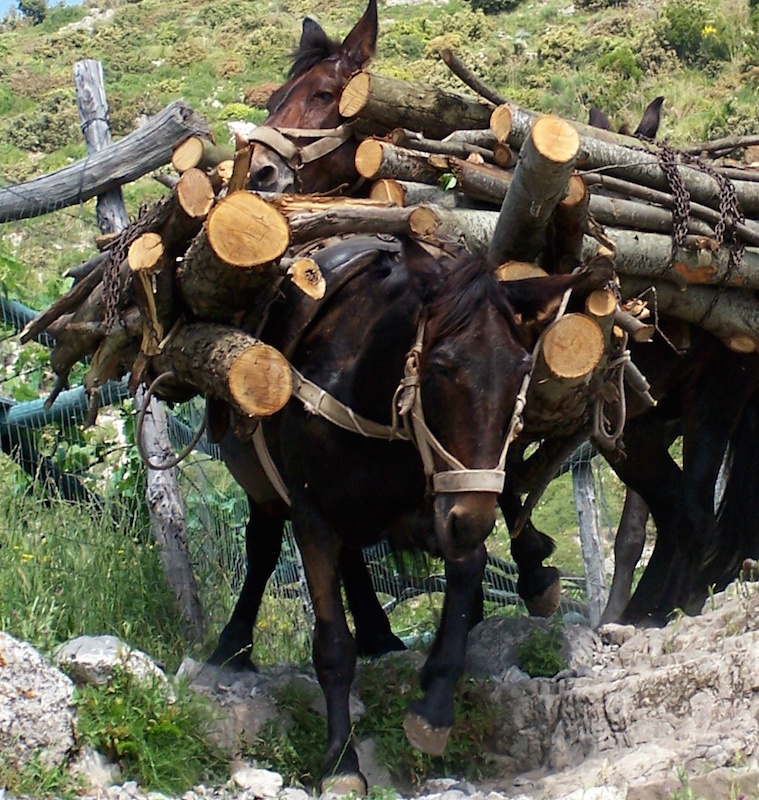 No wonder this trek has such a suggestive name, then: it encapsulates in one glance all the character and beauty of the Mediterranean, sounds and scents included, so breathtaking anyone could think it hadn't been created by the gods, but for the gods.
Immersed in the local maquis, near imponent holly oak woods, wild stoney areas breaking into the coast line, you'll feel like you're no longer on earth.
At least for some precious second.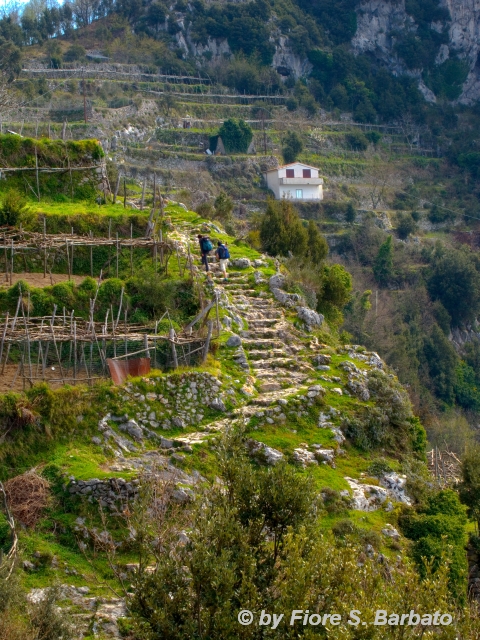 The Costiera Amalfitana and the Costiera Sorrentina, home to the roads and "mulattiere" of this itinerary, are a painting-like mirror to our own Mediterranean fantasies. Beautiful as they are, reality probably surpasses any of them. Let's take a walk on the roads of the Sentiero degli Dei and find out: abandon your car for a day and embrace the beauty of this walk through lemon orchards, terraced fields and secluded monasteries (the Monastero di San Domenico can be, in fact, visited), a spectacular view of the cliffs hanging steep over the sea as your silent, yet most precious trip companion.
The Sentiero degli Dei's a relatively easy walk, as part of it goes downhill, but if you're afraid of heights this may not be the best for you. Don't say we didn't tell you!
Also: the fact it's not difficult doesn't mean you shouldn't prepare properly, so make sure to wear trekking shoes, thick socks and always carry sunblock with you.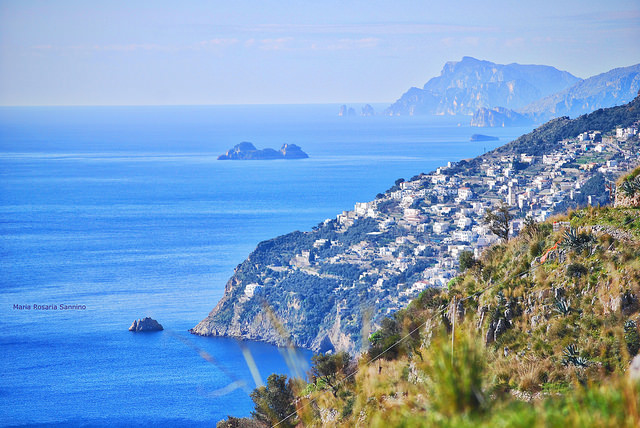 The Itinerary
Where is it and how to get there
The Sentiero degli Dei joins two small villages: Agerola, on the Costiera Amalfitana, and Nocelle, a borough of Positano, one of the pearls of the area.
If you begin your trek in Agerola, you won't only make it easier on your legs (the path goes slightly downhill), but you'll always be facing the Amalfi coastline and a splendid view on the island of Capri. On a side note, Agerola is famous for its "fiordilatte", that is, fresh cow milk mozzarella, which is known worldwide, so you may like to buy some before you start your walk, especially if you're planning to have a picnic along the way. Throw fresh bread and focaccia, along with some tomatoes, in the bag with your fiordilatte, make sure you have a thermos of coffee (hey, you're in Italy, in the end) along with water, and you are set to have the best lunch ever. Yes… there is something about eating outdoors after walking for a while, that makes even the most frugal of meals taste like a banquet!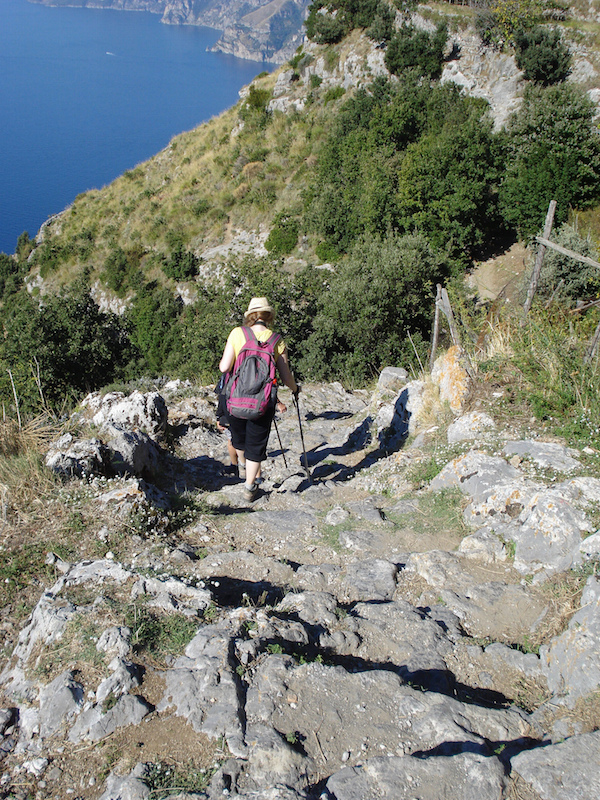 Agerola is a small place, but it can be easily reached from Amalfi by bus. Usually, the line is served by SITA buses. Be careful though: the itinerary proper starts from Bomerano, a borough of Agerola, so you should ask the driver to let you know when it's time to get off. Drivers are probably well used to drive Sentiero degli Dei's lovers up and down from Amalfi, so I'm pretty sure you only need to say "Potrebbe farmi segno quando si arriva alla fermata per il Sentiero degli Dei?" and you'll be golden.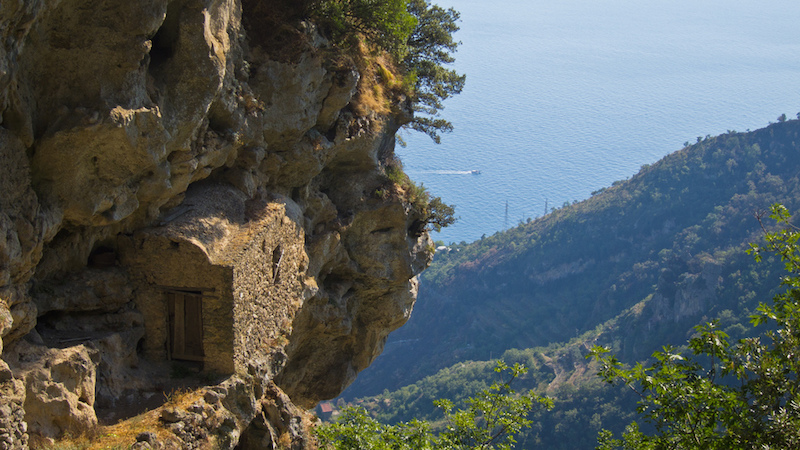 From the bus stop, you'll find plenty of signs showing where to go to start your walk. The roads of the itinerary are marked by CAI (Club Alpino Italiano) signs, so don't worry about getting lost!
Following the CAI signs you'll reach, after crossing the river Pennino, a small earthen square, from where the path proper begins. The name of this area is, for sake of information, Grotta del Biscotto. Here, continue on the main path, or choose a deviation, by many considered more panoramic, which will join up with the Sentiero degli Dei at Li Cannati.
The Sentiero degli Dei is about 6 km (3.7 miles) long and ends roughly 200 metres closer to the sea than at departure point (Agerola is at about 600 metres above sea level, whereas Nocelle is at 420). It will very likely take you around 3 hours to complete this easy trek; as said, it's truly a walk for everyone, perfect to enjoy a nice day out with your family –kids included– or an easy, stress free outing with a bunch of friends. However, and we said that already, remember most of the Sentiero is overhanging the sea and it may not be pleasant if you're afraid of heights.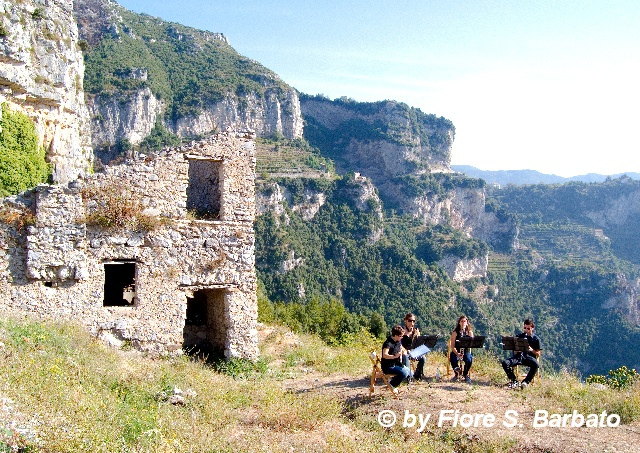 Once you get to Nocelle, you can reach Positano by bus or with another 1 1/2 hour walk: from Nocelle's Church Square, take the stairs leading to the local State road, turn right and keep on walking until you reach Positano. Alternatively, you can follow the characteristic local ceramic signs leading to Montepertuso and, from there, to Positano.
If Amalfi is your holiday hub, or if you're staying in Agerola,  you can catch SITA buses back to both from Positano.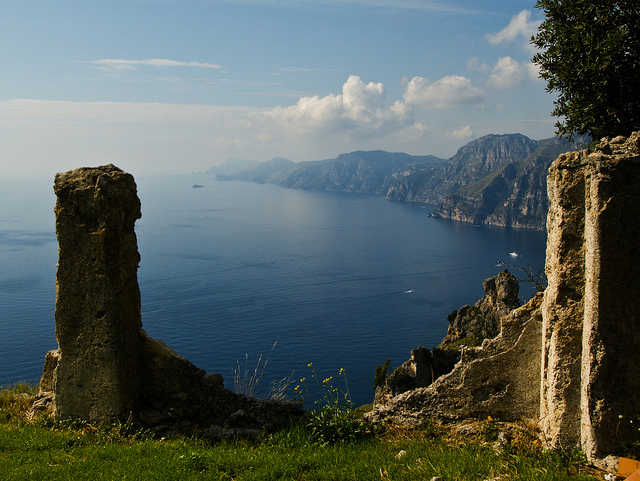 An Interesting Alternative
An alternative to the main Sentiero degli Dei  is the one leaving from Vettica Maggiore, touching upon the re​ligious complex of San Domenico and then joining the Sentiero degli Dei in its most panoramic section, in direction Nocelle.  
From Vettica Maggiore, which is located between Positano and Amalfi, you'll take a recently renovated flight of stairs which'll lead you up to the Monastery of San Domenico in about 30 minutes. The Monastery and its church, dedicated to Santa Maria a Castro, were built (the church first, in the 12th century, the monastery 4 centuries later) on a terrace 400 metres above sea level, overlooking the coast. This is not only a place where you could enjoy some spiritual respite or, more prosaically, a beautiful view, but, if you're lucky, also open air, classical music concerts, which are often organized. Once in the area, you may like to ask if there is any coming and plan one specific excursion for it.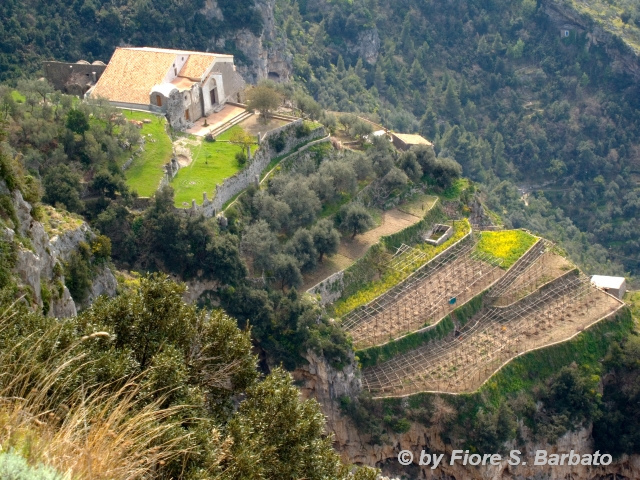 From here, it's an extra 35/40 minutes walk to join up with the Sentiero degli Dei and keep your trek in direction of Nocelle. You'll reach the village in about two hours.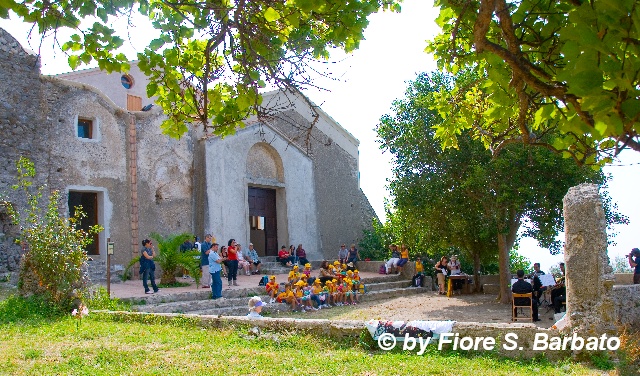 An interesting thing: Nocelle is a tiny village, of not more than 150 people. If you're looking for a dive into a picturesque past that no longer exist anywhere else in the world, Nocelle's the right place to be.
By the way, it also has one restaurant with pretty nice grub!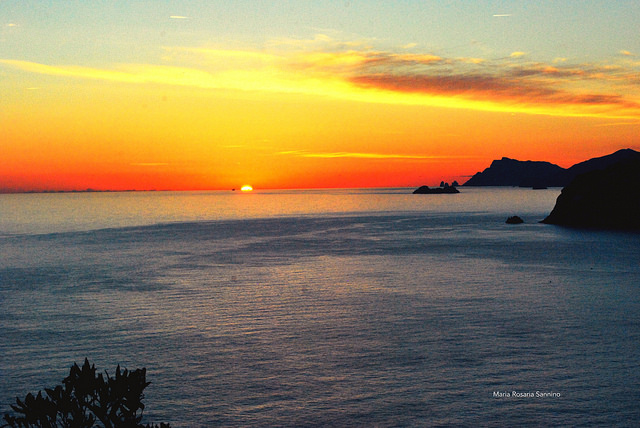 The Sentiero degli Dei is an easy enough excursion allowing to experience the Amalfi Coast and the South of Italy in a different, more intimate way. We're so used, today, to travel by car that we forgot how much more of a place we can enjoy and how much more we can learn about it if we simply walk and listen to voice of its beauty and its history. Next time you're in Italy, give it a bomergo.