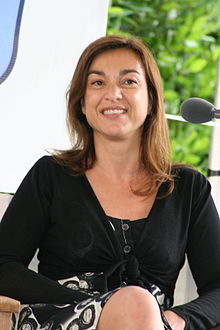 What strikes the most about Daria Bignardi are her versatility and her incredibly young looks, despite the fact that she has been on Italian television for over two decades. She was able to move from hosting the number one edition of Big Brother to become a perfect interviewer, and has worked with all major networks. Over time, with hard work and a certain tough attitude that characterizes her, Daria was able to gain recognition and credibility in the eyes of general Italian public. Her interviewing style is, in all likeness, what made her so famous: she keeps her guests always at ease, yet manages to ask even the thorniest questions, always getting an answer. In all honesty, she is one of the best at doing it. Some might object she expresses her personal political views – which are fairly clear at all times – but for the majority of the public her journalistic talent makes up for her possible lack of objectivity.
Although her big break came with the Big Brother series, she will be most likely remembered for the talk show that shaped her into the TV personality she is now: Le Invasioni Barbariche, which aired on La7 network. It is important, however, to notice her style seems to have mellowed down: gone is the aggressive, strongly politically driven journalist, substituted by a calmer, more mature entertainer. In her show, she has successfully interviewed very important figures of the Italian star system, politicians, entrepreneurs, and prestigious journalists. The typical format of Le Invasioni Barbariche centered on 30 minutes long interviews, characterized by fast pace and breathless rhythm. At one point, she took her trademark format to RAI, where she hosted L'era glaciale for one year, but the true soul and home of the show was definitely La7, where she returned successfully.
Bignardi is a truly special tv personality and host: her energy conquered the heart of the public, her professionalism gained her the trust and respect of her guests, who often accept to discuss delicate subjects, at times very personal, at times not necessarily that politically correct. This technique -or skill- allows for a more open conversation and lets the audience see inside the true, inner heart of the people interviewed. Daria Bignardi is naturally capable of delivering that, creating a unique and informal environment where, ironically, even the tougher guests are comfortable, and open up with a smile. Often, the guest who starts at a disadvantage is given the opportunity to gain his or her way to a full appreciation from the audience: Bignardi lets it happen without letting her personal ideas interfere.
This is probably her biggest achievement as a TV host, an ability she has learned through experience and that she has mastered extremely well. Let's not fool each other, though, of course Daria Bignardi is still very political and very stubborn, so much so she is often labeled a one-side interviewer. However, her charm, the unique capability she has to create the right atmosphere for both guest and public to truly enjoy the interview, still manage to overrule the -at times- biased angles of her questions, and often even their content. The audience's interest is caught by that atmosphere, and the rest is merely a well designed frame. Daria Bignardi, for all of the above reasons, well deserves her rank on Italian TV and, if she keeps up the good work, she will surely keep the public and her guests entertained for many years to come.