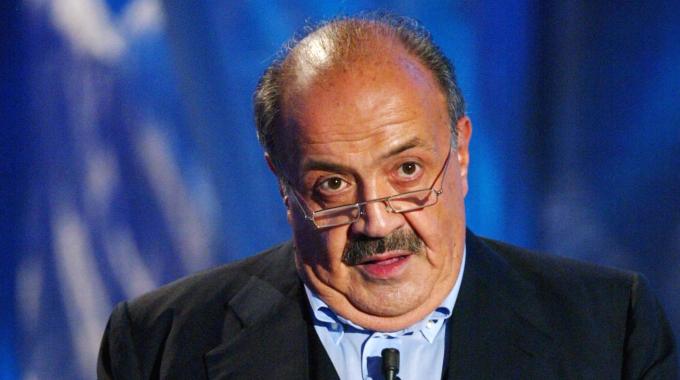 Maurizio Costanzo is one of the most well-known people in Italy, a legend of Italian television. While his profile has declined in recent years, the presence of his wife Maria De Filippi has only increased. Here we'll take a closer look at Costanzo, a complex and controversial public figure, who seems to have devoted his life to entertaining the masses.
Maurizio Costanzo's career began at RAI, as did the careers of the majority of his generation, as this national network was the only one in Italy until Fininvest private networks debuted in the 1980s. Costanzo is a journalist, and his inclination towards political news and social topics influenced most of his career. While Costanzo often published articles and voiced his opinions, he never wanted to be a news anchor, but instead opted to the way of the talk show, a format he practically introduced to Italy. Costanzo monopolized the genre until Bruno Vespa came along with "Porta a Porta," which was Costanzo's first significant competitor. The success of Maurizio Costanzo and Bruno Vespa meant that a myriad of different talk shows would pop up on every network in the years to come.
After Costanzo's very successful ride at RAI, he, along with others like Mike Bongiorno, Raimondo Vianello, and Corrado, left the public network in favor of the newly-founded private one. For Costanzo and the others the move proved to be quite beneficial. Based on previous experience, the star started the "Maurizio Costanzo Show" and every night he entertained Italian audiences. However, keep in mind that Costanzo's talk show was very different from most American ones.
Costanzo's winning formula was to invite several guests with varying specialties and backgrounds and allow them talk for a couple of hours, while he hosted, moderated and asked questions in a very colloquial manner. The topics varied every night and the location was always a theatre. One memorable moment was the night Costanzo hosted his talk show at Madison Square Garden, discussing topics that concerned Italian immigrants and Italian Americans.
Costanzo's show was also a springboard for many young talents just starting out and allowed many to obtain national exposure and launch very significant careers. This gave Costanzo further popularity, but also a very powerful position, as he became not only an astute talent scout, but also the promoter and the producer of an entire generation of talent.
When Berlusconi entered politics in 1994, he left a big hole in his network, and Costanzo stepped in as creative director even though his political views were always very different from Berlusconi's. With this new position, Costanzo basically controlled most of the network's content for over a decade. At the same time, Costanzo gave his wife the opportunity to launch her own career, and today she is one of the most powerful women in Italian show business.
These days Costanzo has returned to RAI and radio for minor roles and sideshows, but his empire has been consolidated outside the TV studios and he is an integral part of the Italian talk show business, which was partially inherited by his wife and is well run by her team.