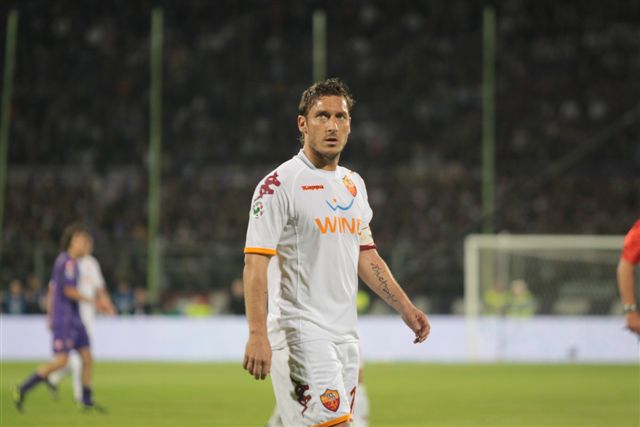 "Il Capitano" (The Captain) is the nickname that Francesco Totti goes by among the supporters of A.S. Roma, but others in the soccer world often refer to him, in a mostly friendly manner, as "Er Pupone" (The Big Baby). Whatever you want to call Totti, one thing is certain, he is one of the best to ever have played the game of soccer (calcio). Born in Rome in 1976 and raised there, Totti grew up in the ranks of the A.S. Roma team and has only played for the Roman side during his illustrious Serie A career. Today Totti's playing career may be wrapping up, but he remains one of the highest scorers ever in the Italian league, and a truly important part of the Roma team, not to mention a bandiera (flag or symbol) to all his supporters.
Totti has often been criticized for being arrogant, and even petulant, but his touch and style make him a true soccer artist. While there have been some controversies involving Totti over the years he'll likely be remembered most for his incredible talent rather than his attitude. Those who know Totti well – and personally – claim that he is a very nice person, someone who is both generous and reserved, although this doesn't always come across on the field.
Since a very young age Totti demonstrated a tremendous talent and it didn't take him long to emerge as a true leader and, eventually, the indisputed captain of Roma. Totti is famous for his goals, assists and his free kicks (not to mention his penalty kicks), all of which makes him a very complete player.
Many consider Totti – who is married to TV personality Ilary Blasi with whom he has two children, Christian and Chanel – a coach on the field and his power over the team is so strong he's the clear boss in the locker room. Unfortunately, sometimes Totti's personality overshadows the coach himself.
Among the many great sport achievements Totti has reached, including winning Serie A with Roma, there are actually three moments that he will always be remembered for all of which took place when Totti was wearing an Italy jersey. A penalty kick during the European Championships, where he took the risk of shooting in a "cucchiaio" style shot, one of his signature moves. A player like Totti who is seemingly able to take a penalty without feeling the pressure and who is confident enough – or arrogant enough – to go for the risky "cucchiaio" (spoon) during a decisive moment, is certainly someone to take a second look at. Totti will also be remembered for spitting on an opposing team's player during another European Championship game, and for scoring a last-second penalty in a World Cup game against Australia, which allowed Italy to go on to win the 2006 World Cup.
With Roma, he won one Italian championship in 2001 and two Italian Cups, which is pretty good considering that Roma, although a top team, has only won three championships in its entire history. Totti's jersey number is 10, the traditional number of the best players and a team's playmaker. Many consider Totti the alter ego of Juventus captain Alessandro Del Piero, with whom he had an ongoing competition with, although the two were always seemingly friendly and played together many times on the Italy team. In 2004 he has been listed in FIFA 100, the list of the best football players alive and for five times he has been voted the best Italian player; according to a research in 2012, he resulted the most popular european player, before Alessandro Del Piero and Cristiano Ronaldo. As a true celebrity, he has his own personal website, and it's very popular.
On May 28, 2017, football lovers of all jerseys shared a big emotion for Totti's last game with AS Roma; "Il Capitano", now 40 years old, played for twenty five years for this one club. It's admirable that Totti has forgone more awards and accolades to stay with his hometown team for his entire career.