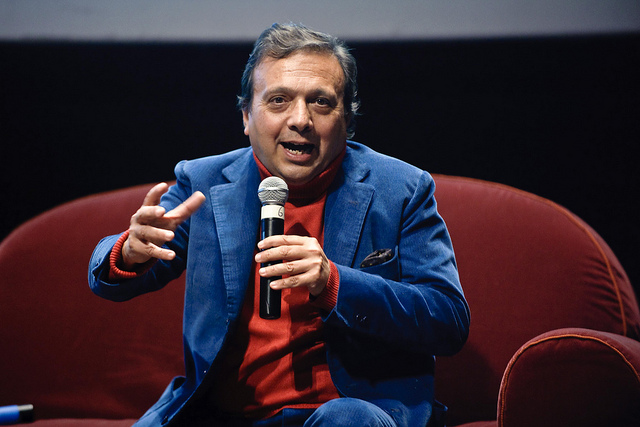 Piero Chiambretti is one of the most bizarre characters on Italian television, as his comedy style has distinguished him as a very "out of the box" host, upfront and at times quite graphic. In recent years, his style has morphed into a more sexually oriented form of standup, although he still managed to maintain high tv ratings. He is most capable of leading a conversation on his terms and, more than anything else, he can be truly candid with his guests, asking those questions everyone wants to, but will never dare to voice out. Always a gentleman, his style is polite and friendly, but the results are often astonishing.
Chiambretti was born in Aosta, a beautiful Italian city tucked into one of the most striking mountain regions in the world, right beneath the Mont Blanc. His career started, like that of many other entertainers, in local TV stations. His style was very clear and refined since the very beginning of his career: a true natural-born standup trendsetter, not one to follow in someone else's shadow. After being noticed in Turin's local tv stations, it didn't take long for RAI to hire him: he worked on several shows, always capturing audiences and gaining the respect of his peers in the TV industry, who saw in him a new talent and a possible future icon for the next generation of hosts. The well-deserved blessing arrived when he was called to co-host the Festival of Sanremo, the most important television event in Italy. The host was Mike Bongiorno, the father of Italian television and master of masters, but Chiambretti didn't loose his humor and style, even beside such an icon.
That experience gained him an even higher level of respect, and transformed him in a top celebrity. The newborn, private network La 7 offered him a deal to host an 11:30 talk show, trying to imitate the format of Jay Leno and David Letterman. The results were good, but Chiambretti seemed too constrained behind a desk, so the format changed and the new show "Markette" became a solid hit. The show invited famous people for one to one interviews. At the same time, other guests would appear and perform while the main guest was still being interviewed. Often the intervening guests were girls or dancers doing all sort of things, including stripping. The ratings went to the roof.
Such ratings attracted the attention of Mediaset, the number one private media company in the country, owned by former Prime Minister Silvio Berlusconi. Chiambretti agreed to copycat his format from La 7, changed the title to "Chiambretti Nights", and started working on Italia 1, the second network of Mediaset. Chiambretti kept on pushing the envelope, almost in a Howard Stern manner and the ratings kept climbing, to the point that Mediaset promoted him to Canale 5, their main network. Chiambretti's arrival at Canale 5 was a huge boost to his career, but it also represented a personal conflict and major contradiction, because ironically, in his early career stages, he attacked President Berlusconi quite roughly. When cash flies though, in the world of television, one may even decide to change political views.
In 2011 and 2012 he started with Mediaset a few musical programs, but they were not successful as expected. For 18 months he disappeared from the screens. He came back with Striscia la Notizia and a couple of other talk shows, Chiambretti Supermarket and Grand Hotel Chiambretti. Since 2016 he hosts Matrix Chiambretti.