Al Bano e Romina Power are one of the most famous duo in Italian music: they delivered wonderful songs, but also embodied for many a decade a magnificent love. When the couple met, in 1967, Al Bano was a young, talented Italian singer, who had just won "Un Disco per l'Estate" with "Nel Sole;" Romina was the beautiful daughter of Hollywood heart-throb Tyrone Power and famous actress Linda Christian. They met on the set of the a movie, "Nel Sole," titled after Al Bano's song: when a song was a hit, back in the 60s, it was not unusual to produce a movie, with the same title and starring its interpreter, to increase even more its success.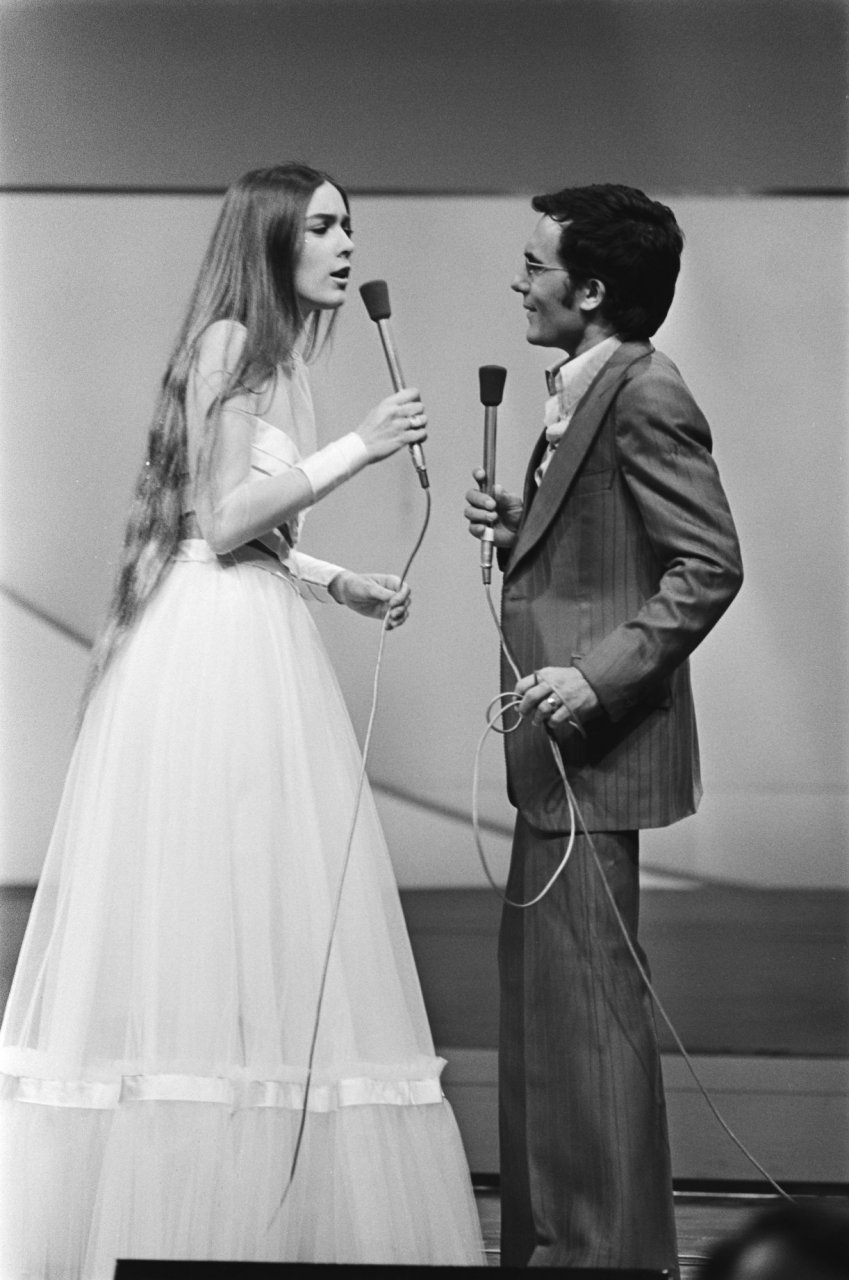 Romina's family obstacled the relationship at first: Al Bano was only a young singer coming from the deep rural South of Italy, Romina was the daughter of two American stars, born in LA and used to the high life of the wealthy. The two, however, stood for their love and eventually married in 1970, when Romina was already expecting their first child, Ylenia.
Most people know about Al Bano's career before Romina, but not many are aware of the fact Romina herself had been performing since a young age, and was already a star in her own right when she met her husband in 1967. She signed her first recording contract in 1966 and, in 1969, she won the young artists' section of Festivalbar.
Their lives were torn apart after the disappearance, in 1994, of their daughter Ylenia, who went missing in New Orleans. She was never found and many believe it was this tragedy to separate the couple. The end of their marriage came at the end of the1990s, when they also separated professionally. Al Bano, blessed with a powerful, well trained voice, continued singing as a solo performer, while Romina decided to keep a more private profile, embracing private life with her children between the US and the South of Italy.
Their brand of carefree, catchy love music has had its fair share of critics in Italy (too superficial, too camp, Romina's voice being too weak), but abroad it has always been a different story. Al Bano and Romina kept embodying a symbol of Italian popular culture in the world, even after their success waned in their home country. For almost three decades, they represented a sound, strong fixture of Italian traditional music, just as much as they embodied the symbol or genuine, long lasting love.
If their brand of simple, heart warming  love songs has been often criticized, their status as main representatives of a certain type of "feeling-good" Italian music is undeniable: songs such as "Felicità," "Ci sarà," "Nostalgia Canaglia," "Cara Terra Mia," have entered Italy's popular collective memory and nor time neither their personal and professional splitting has eroded their popularity.
"Ci sarà," performed at the 1984 Festival di Sanremo
After the Split
Al Bano and Romina's lives were changed deeply by the tragedy of loosing their daughter Ylenia. After several years of appeals and searches, the couple decided to legally declare their daughter dead even though, it seems, Romina was not ready to do it, just yet. To many this was the last straw in an already failing relationship that, as it often happens, could not handle the strain and pain of such a huge loss.
Their divorce, it must be admitted, came as a bit of shock to the people of Italy: for decades Al Bano and Romina were a sort of icon of conjugal steadiness and seeing the two going their own separate ways was strange. While Romina, as we said, kept on working while maintaining a rather private profile, Al Bano soon returned to the front pages of gossip mags when he began a relationship with Italian show girl Loredana Lecciso, with whom he then had two children.
The great reunion
2014 has marked an important moment for the career of Al Bano and Romina, but also for their fans, as the two decided to start performing as a duo again. They began with concerts in Russia, Eastern Europe and the US, where fans acclaimed them as time had never passed. Then, in February 2015, their artistic partnership became official with their appearance as special guests at the Festival di Sanremo, where they perfomed fantastically, showing the same verve and complicity on stage that had made them famous.
Their personal relationship, which was polite, but far from warm for most of the 2000s, rekindled, even though both of them strongly deny rumours of being, once more, an item.
Al Bano and Romina back on the Festival di Sanremo stage, in 2015. 
What a strange phenomenon, Al Bano and Romina.
I have never been a fan, yet, as a child of 1980s, I grew up thinking of them as a loved-up couple: always together, with a beautiful family. Then tragedy hit and life got harsh on them, too.
When popular tv shows started pumping the news of their artistical reunion, my first thought was something on the lines of "things are going back to normal, then:" I keep not being keen on their music, yet, for some reason, in my mind (as in that of many people my age) they belong together. Of course, this comes from the fact we Italians are used to see them as a duo, but also from the fact their personal relationship has come to characterize them as much as their professional one.
I am pretty sure that many people, in spite of not openly admitting it, are hoping today Al Bano and Romina Powell will soon get back together in real life as they did professionally.
When a love story mirrored for decades those told in soap operas and romantic movies, you sort of hope they'll end up the same way…