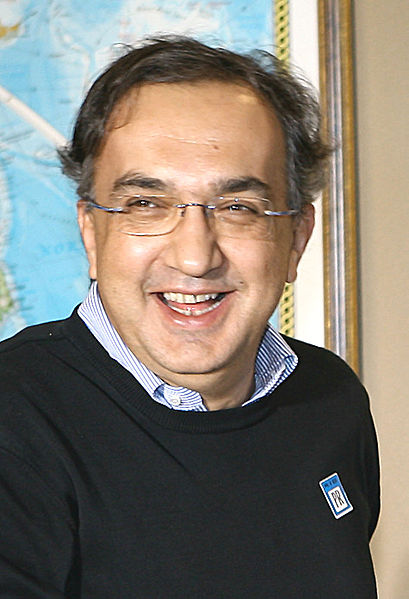 Born in Italy in 1952, Sergio Marchionne, who apparently arrived from nowhere with a background in philosophy and was brought to Fiat as CEO by Luca Cordero di Montezemolo, has become one of the most important figures not only in the Italian economy, but in the world. Marchionne took a very different approach in turning around the fate of Fiat, which seemed to be doomed before his arrival. He made the company a self-sustaining one, rather than depending on the support of the Italian government, as was the case for decades. Marchionne restructured the company and made it very aggressive in the international market, aiming at specific countries such as the U.S., where traditionally Fiat had always been very weak.
The acquisition of Chrysler was one of his most important and effective operations, as Fiat took the control of the company without spending a dime, with a serious business plan, and leveraging on government loans and strategic exchange of technology. Marchionne put Chrysler back on its feet and able to generate cash again and soon producing a profit. The American government has been paid back and Fiat now owns the company and soon its stake will be over 50%.
What is striking about Marchionne is his everyday appearance: he never wears a business suit, in fact, he always wears a black sweater, which is becoming his signature. But of course, besides the unconventional attire, what makes Marchionne unique is his attitude toward business: he doesn't take no for an answer, he goes his way and does not care about social and political criticism. He feels that money and investments belong where there is a profit, otherwise everything else is simply an inflated market, ready to crash on itself.
His approach became very controversial in Italy, when the unions attacked him left and right for considering the shutdown of some plants, unless certain renegotiations were accepted. These new terms, which the workers accepted, opened a new future for Fiat, and possibly for the Italian working environment in general. Marchionne made no secret of the fact that Fiat will only exist where it makes financial sense and will invest only where there are favorable conditions to operate. And that remark included Italy as well, in fact applied especially to Italy.
Following the merge with Chrysler, Fiat is now synergising technology and dealerships throughout North America and Europe, and we are all curious to see whether Fiat can succeed where Mercedes Benz has already failed.
His strong presence on many boards gave him also a strong international credibility, in fact he was a board member of UBS, along with Philip Morris. From 2014 until his death in 2018 he was CEO of Fiat Chrysler Automobiles and chairman of Ferrari.
Some curiosities about him include the fact that he was one of the best paid Italian managers, but he didn't pay taxes in Italy because he's resident in Switzerland. In 2006 he was reported by a swiss labor union because allegedly he hired Italian gardeners for his villa in Switzerland and paid them one third of the minimum wage requested in Switzerland; he replied that he was not involved in the hiring and payment.
In July 2018 Marchionne went to a clinic in Zurich for a seemingly routine shoulder operation; after a few weeks he died. He has been replaced as FCO Ceo by Michael Manley; Ferrari is led by Louis Carey Camilleri.
Marchionne represented modern Italy and many Italians can see in him the true spirit that was always present in the Italian people throughout the centuries.