Paolo Bonolis is the biggest star Italian television can offer at the moment. It all started around 35 years ago when a very young Bonolis, alongside a very young Licia Colò, was called to host the kids' TV container show Bim Bum Bam, a major hit and one of the most successful runs in children television. The show indeed went on for several years and it prepared Bonolis to become a complete showman.
One of his strongest qualities has always been his tremendous flexibility and the ability to move between networks as no one else has ever done. The two major TV groups in Italy, Rai and Mediaset, are equally home to him and his audience follows him no matter what. He has a great understanding of comedy and punch lines, using the guests and even the audience as sparring partners, and he knows exactly how to push the right buttons. He can switch from funny to drama within a matter of seconds, in a very Alberto Sordi kind of way, whose act he often copies. This is probably the biggest criticism he gets ,but in fact it is also part of his strength, something he banks on consciously and very effectively.
Bonolis today is a man of great power and after hosting shows like Domenica In… and Ciao Darwin, he gained the full trust of the media and of his fans, to the point he was asked to host the musical festival of Sanremo, the biggest event on Italian television. He was able, in fact, to turn the tide for the festival and pulled in a huge audience. The success was tremendous and Bonolis apparently made over one million euro for his services. After a few years he repeated this feat, coming back to host Sanremo with an even more successful edition. In terms of his compensation, one of the amazing things about him is that he talks about his salary without embarrassment, a unique thing in the entertainment industry, especially in Italy.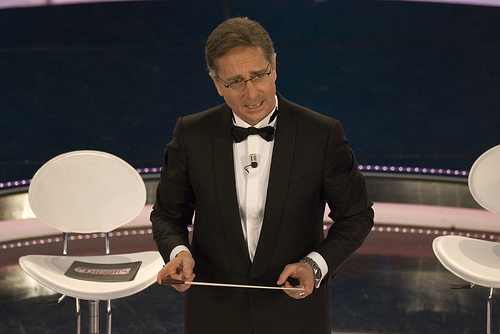 As his career unfolds, Bonolis seems to always win with one exception, in which he totally missed the angle and actually almost embarrassed himself in what at the time appeared to be a strong idea. Mediaset had invested a large amount of money to secure the right to broadcast soccer and had their plans set on Bonolis to deliver an amazing show called Serie A. It failed miserably but, hey, everybody fails at least once. Bonolis was forced to abandon the show, the first and only time so far in his otherwise brilliant and impeccable career.
Mediaset had secured his services after a very strong period at Rai, where Bonolis introduced a successful show on prime time: Affari tuoi. The show was basically the Italian version of Deal or no Deal and became an instantaneous hit. When Bonolis left to Mediaset they tried to imitate Affari tuoi with a show called Fattore C which actually opened a legal dispute between Rai and Mediaset based on the clear similarities between the shows.
Besides being a successful television host, Bonolis is a decent actor as well, once appearing as the leading actor in the comedy film Commediasexi. The performance was quite good, but Bonolis considers it as simply a funny moment. He never took acting seriously, saying that he is a television host and not an actor.
Last but not the least element of his career is his professional relationship with Luca Laurenti, a character actor who is present in every show hosted by Bonolis. Laurenti is an interesting figure in Italian show business, a man who plays dumb and has a bizarre voice, but who turns into a prime singer every time he opens his mouth to sing. Laurenti and Bonolis have truly linked their careers, although Laurenti has remained loyal to Mediaset in the periods where Bonolis switched network.
One of his last successes is "Music", a 3-nights TV show with big personalities from the music world, broadcast in January 2017; on the first night Simon Le Bon and John Travolta were among the guests.
Whether on his own or with Laurenti, Bonolis is a forerunner in Italian television. It is exciting to watch his career and to guess at what he might do next. Italian television wouldn't be the same without him.