Located in central Italy southeast of Florence, the town of Arezzo has a population of 99,199 as of 2019. The town is the center of agricultural trade in Italy. Its industries include clothing, gold, jewelry and machine.
Arezzo has been called home by some very prominent people of history and today, such as the botanist Andrea Cesalpino, Guido of Arezzo, famous for development of the music scale writing system, Michelangelo Buonarroti, one of the most fabulous painters and sculptors of all time, brilliant scholar Petrarch, and others.
History of Arezzo
Arezzo, originally an Etruscan town, was formed into a Roman military colony and station, and in the 11th century became a free commune. Arezzo was defeated in 1289, when it sided with the Ghibellines, by Florence. In 1384, Arezzo was officially incorporated into the Tuscan State of Florence.
During Roman days, red-clay vases known as Arretine vases were produced in Arezzo. During this time, Arezzo was called "Arretium" by the Romans. Education and arts thrived in the town during the Middle Ages.
Places to See in Arezzo
Maintaining many of its Medieval characteristics, Arezzo contains beautiful constructions worth seeing, including the Gothic cathedral which dates back to 1286, the Gothic Church of San Francesco from the 14th century, the Bruni Palace (15th century origin) which is now a museum and gallery, and Vasari's mansion. Many people find the Roman amphitheatre and museum thrilling as well!
While you are in Arezzo, do pay a visit to Lucignano, a small town in the province of Arezzo.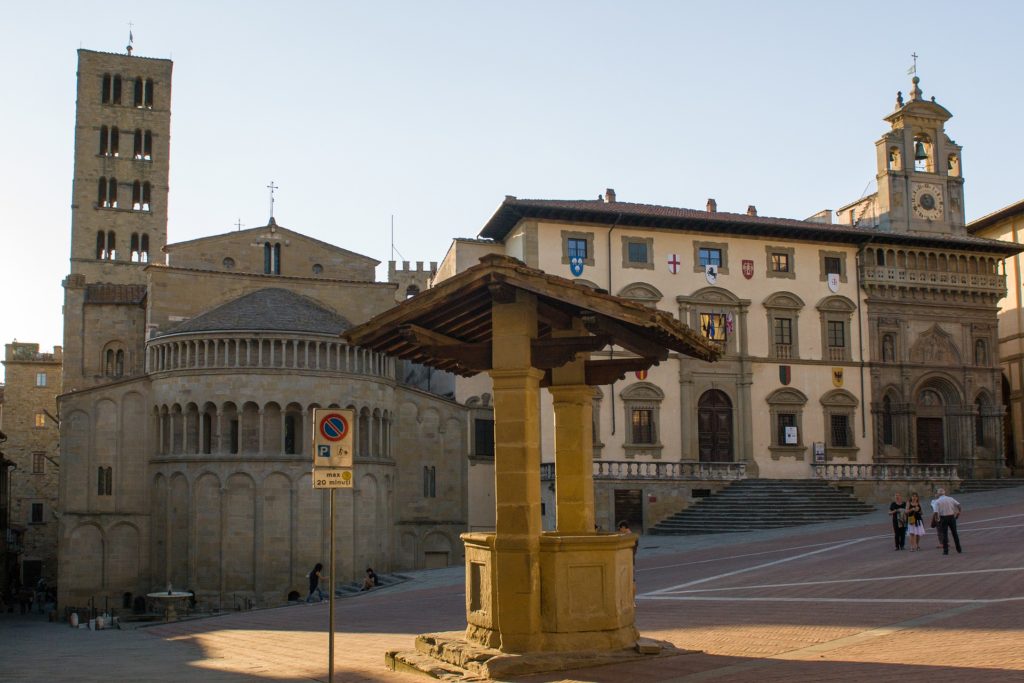 Dining and Fun in Arezzo
The town is famous for acquacotta ("cooked in water") with fried onions, tomatoes, egg and cheese. Stuffed pheasants and sauteed chicken giblets are two other specialties of Arezzo. Dining is delightful as you try out the delicious local cuisines.
An event to take note of is the Wave Festival, which is a "free of charge" music festival held each summer in Arezzo. The festival features Italian and International pop bands. Also, the Antique Fair is held in Piazza San Francesco, Piazza Grande and the Logge Vasari on the first Sunday of the month and the preceding Saturday. Therefore the Antiquaria takes place on the Saturday 30/31 and Sunday the 1st. It's a wonderful market and a do not miss event  if you are nearby for the dates!
For a relaxing tour, the picturesque Arno Valley, located in the vicinity of Arezzo where the Arno river changes direction and goes north, is a lovely sight to see. Its brilliant colors and pine thickets are gorgeous at the close of the summer. It's one of many sites you must visit when traveling to Arezzo.
Written by Candice Pardue