Traveling along Lake Como and up through the Dolomites is a breath-taking journey. With spectacular scenery and photo stops around every corner, this is a perfect trip to take by car. It gives you the flexibility to visit some of the smaller towns, drive through majestic mountain passes and make the most of your time in these beautiful regions. See the itinerary for a great northern Italy road trip.
Northern Italy road trip
This one is one of the most beautiful road trips in Europe! A road trip around northern Italy takes you from the cosmopolitan city of Milan, along the shores of Lake Como to the beautiful, medieval town of Bormio. From Bormio, head over the famous Stelvio Pass (or via Müstair, Switzerland during the winter months) through stunning alpine scenery, until you finally arrive in the charming town of Bolzano, the capital of South Tyrol. Discovering some of the most beautiful places to visit in Italy.
Milan – Lecco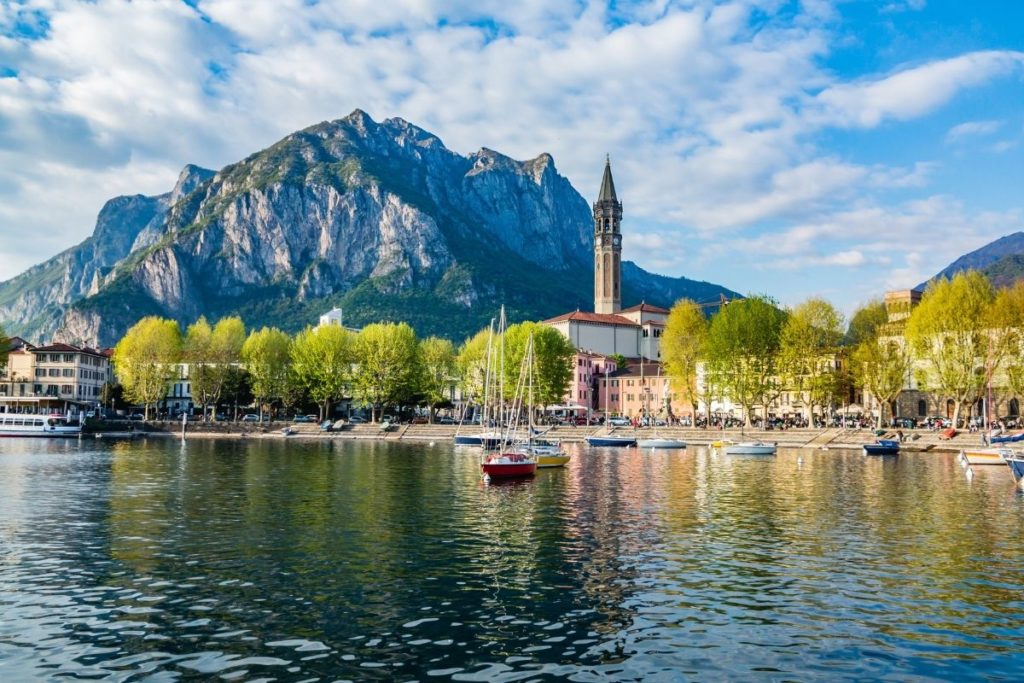 Touring Italy is really fun! If you're on an Italy road trip, you might want some tips to drive in Italy before departure! Then… Starting a road trip from Milan might just be convenient, as you can visit the city itself as well. For Milan, we usually recommend 2 days to explore it all, and you can get great accommodation in Milan for a night before heading to discover the north.
Start your road trip after breakfast, heading northeast to the southern point of Lake Como. The drive to Lecco only takes about an hour, but try and arrive early to give yourself as much time as possible in this lovely town.
Situated on the foot of the Bergamo Alps, Lecco allows you to enjoy Lake Como without the crowds of some of the other lake towns. Despite the relaxed atmosphere, Lecco has some beautiful architecture and a number of excellent restaurants serving traditional Lombardy fare (think alpine cheeses, hearty stews, and creamy gelato). There are also some great cycle trails and walks near the town, some with remarkable views of the lakes and mountains.
Stay in Lecco for a night or two to soak up the scenery and explore this side of Lake Como.
Lecco – Bormio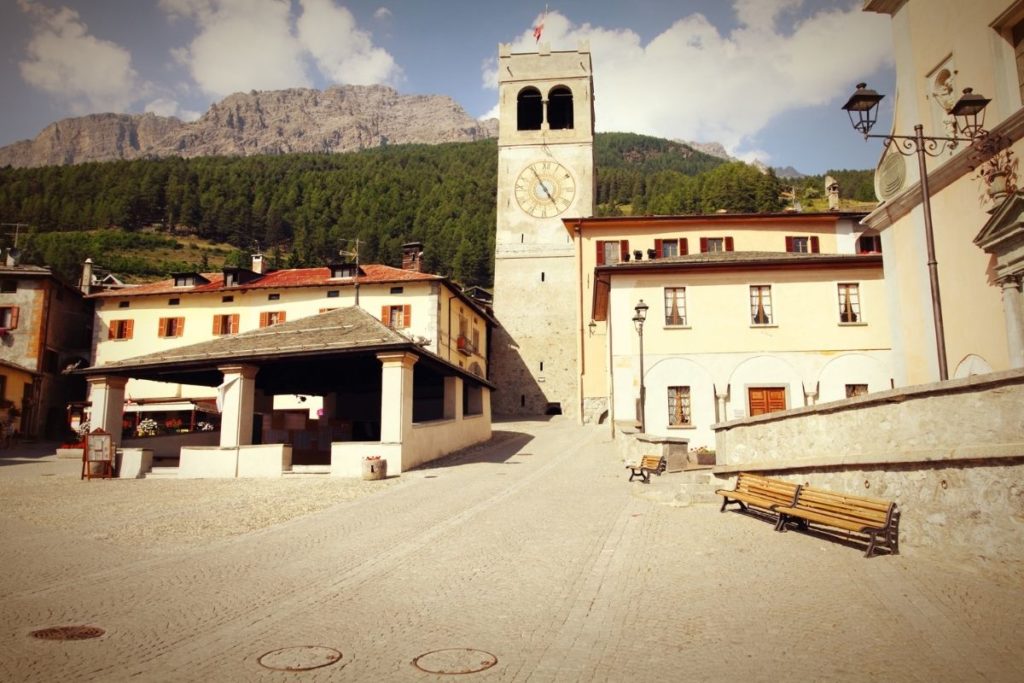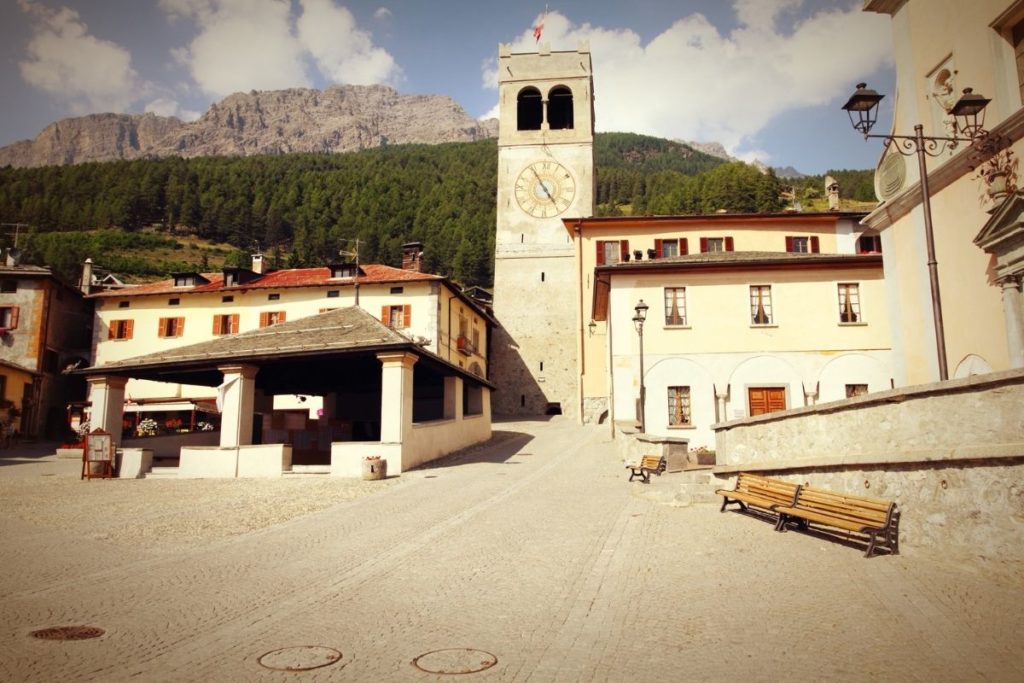 From Lecco, follow the lake north to the mountain town of Chiavenna, near the border with Switzerland. Chiavenna is a gorgeous town to explore, with pretty buildings hanging over a rushing stream with the mountains in the distance. It's also a great place to stop for lunch. For a unique experience, visit one of the Crotti restaurants in town and try their set menu.
Crotti are underground caves where cheese and meat are stored, many of which are owned by restaurants – and their lunches can be quite substantial. Expect a starter of cheese and cured meats, pasta, followed by stone-cooked meat and potatoes, and biscotti di Piuro (sweet, crumbly biscuits) for dessert. While you're there, be sure to try some of the local wine.
After lunch, drive through the valley towards Bormio. It's a picturesque drive, especially once you start climbing up the mountains into Bormio. Along the way, you'll see alpine meadows, pretty towns and, of course, the huge mountains.
It takes about three hours to drive from Lecco to Bormio via Chiavenna, so you have time to explore both towns. Stay overnight in Bormio to see more of this lovely town and relax in its thermal springs. While you are planning your northern Italy road trip, here's another tip! If you want to try out some of the wonderful skiing in the area, opt to spend 2-3 nights here instead.
Bormio to Merano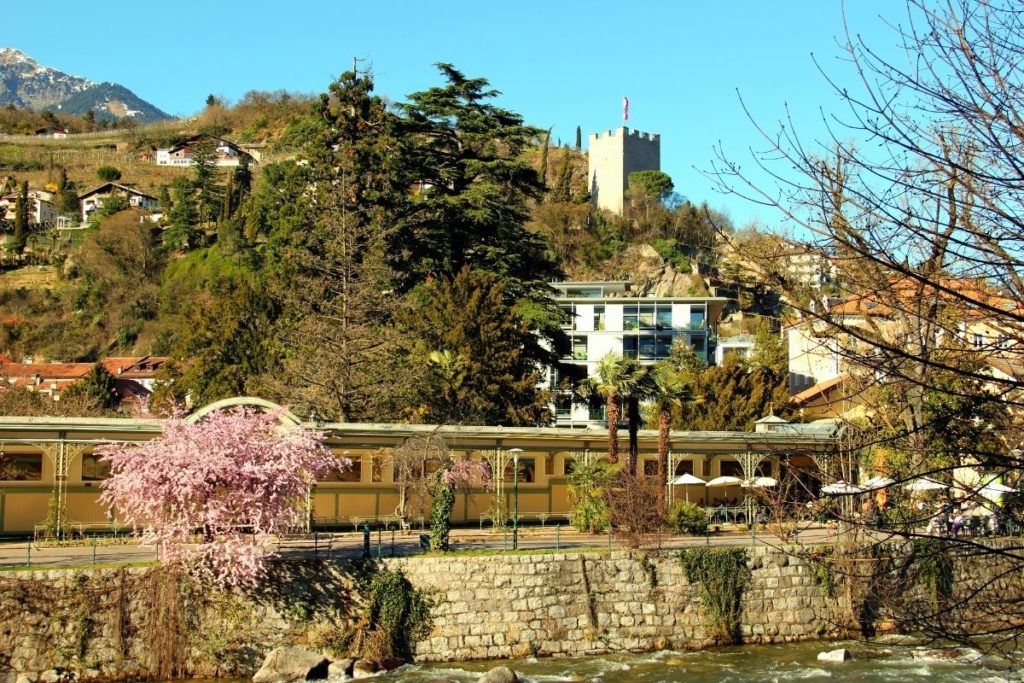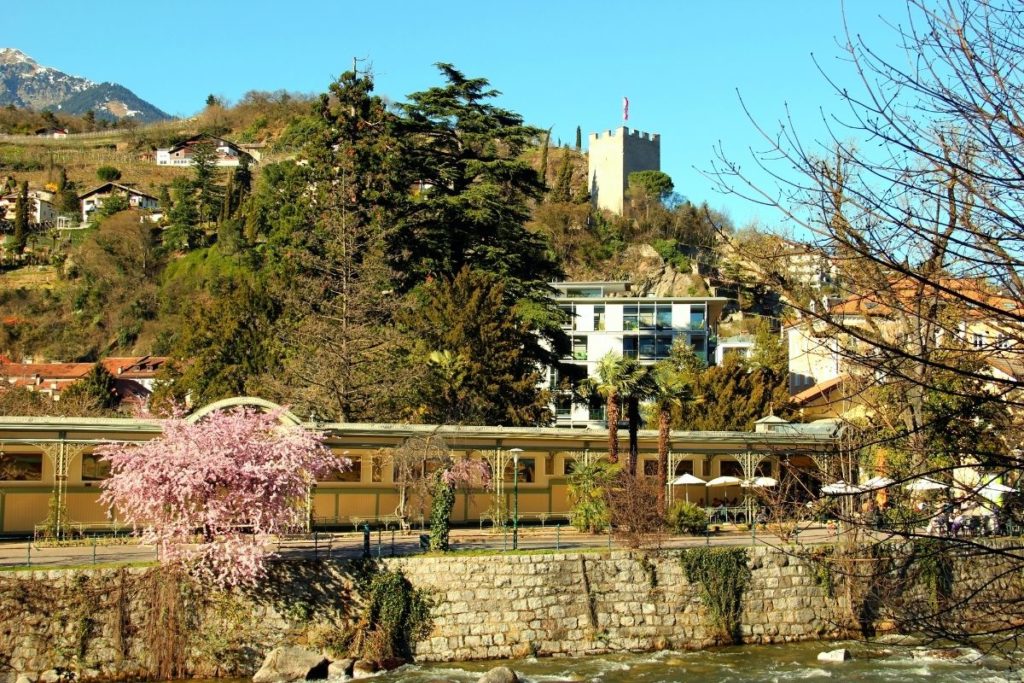 Let's continue now our Northern Italian itinerary with the next stop! The drive from Bormio to Merano is spectacular, no matter which route you take. Take your time with this stretch, which winds through the Alps, and plan to spend longer than you think on this drive. Be sure to charge your camera before you go, as you'll find some wonderful scenery on this part of the trip – just be sure to find somewhere safe to stop for photos.
If you're traveling in the warmer months (June to October) and you're a confident driver, take the famous Stelvio Pass through the mountains. Closed throughout the winter due to snow, it's a beautiful, exciting drive, the paved road winding up the mountain in a series of hairpin turns. The views are gorgeous, however, it's the road itself zigzagging up the mountains which is the most remarkable. As well as the sometimes-hair-raising turns, there are also some straight stretches with stunning scenery and the occasional tunnel. Stop in Trafoi all'Ortles to have a break, recover from the drive and take photos of the pretty church.
A tip for the road trip around northern Italy
If the Stelvio Pass is closed, drive via Müstair instead. This is also a lovely drive, crossing into Switzerland and the Swiss National Park, but not as strenuous as Stelvio. Enjoy views of mountains and valleys and stop in Müstair to stretch your legs and peek into the Convent of St John, a UNESCO World Heritage site with stunning frescoes. Then, continue on, past mountain towns and sun-bathed valleys, until you arrive in Merano.
Whichever route you take, have lunch in Merano, a gorgeous town surrounded by the Dolomites. Explore the art nouveau buildings and, if you have time, try one of the thermal spas. After lunch, take the famous Sissi Path (named after the Empress Elisabeth of Austria) from the town center to the Gardens of Trauttmansdorff Castle. It's a beautiful walk, with art and beautiful views along the path, and takes about an hour each way. A northern Italy itinerary must include the Dolomites, always, for everyone!
Bolzano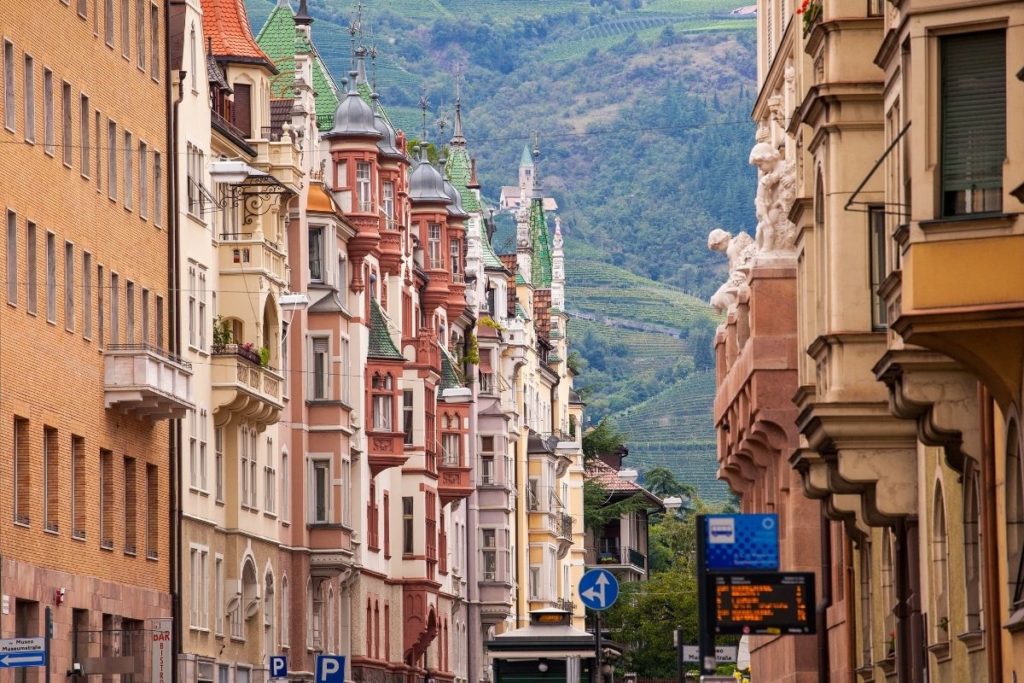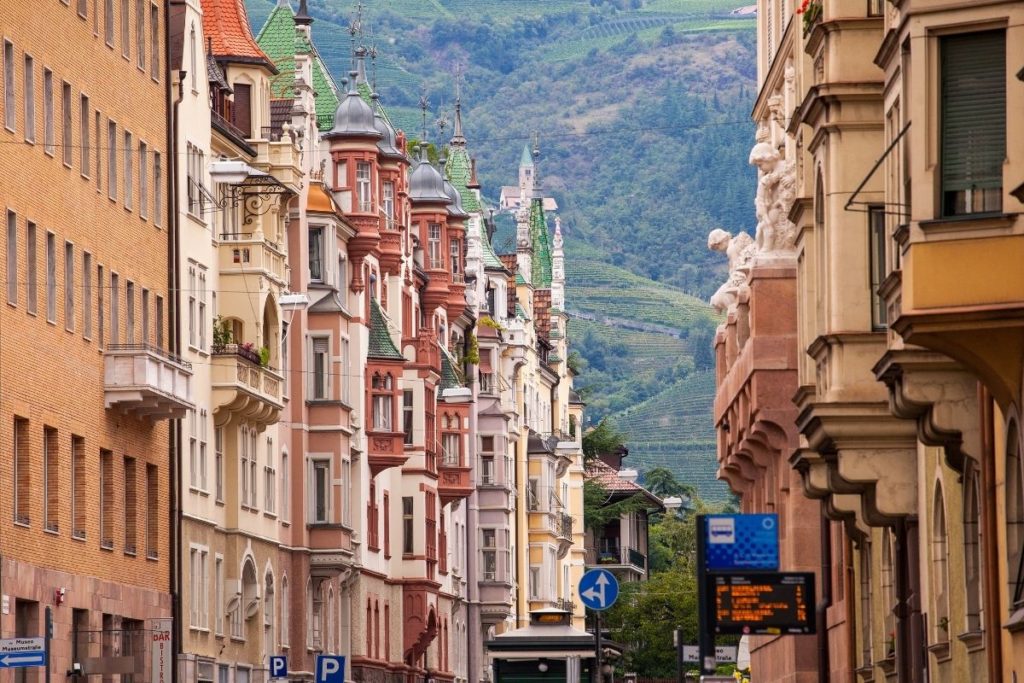 Just 30 minutes drive from Merano is Bolzano, the beautiful capital of South Tyrol and one of the highlights of any northern Italy itinerary. With a storied history encompassing German, Austrian and Italian culture, it's worth spending a few days in this charming town.
While you're in Bolzano, explore the town center, lined with cafes, bars, and restaurants, and sample some of the delicious German-style pastries. There are also a couple of great museums in town, including the South Tyrol Museum of with an exhibit including the world-famous ice mummy, "Ötzi, the Iceman". If you enjoy skiing, it's only half an hour to the Dolomites, while in summer there are a range of hikes – all with spectacular views of snow-capped mountains, green valleys, and clear lakes. A drive through South Tyrol is a must-do in Italy!
Final thoughts about the Northern Italy road trip
While this road trip can be done in just a day or two, you can also stretch it out by using these stops as a base to explore the region. Both Lake Como and the Dolomites have enough to keep travelers occupied for days especially if you enjoy water sports, skiing, or hiking. If you're planning to also visit lakes in the Dolomites, you'll have a lot to do! Don't forget the best-fitting hiking outwear if you decide to visit the Dolomites though!
However, it's the views that really make this road trip remarkable and give you the opportunity to experience the rugged Dolomites in all their splendor.
Written by Roxanne de Bruyn from Far Away Worlds