Sardinia is a beautiful island in the Mediterranean and is the second-largest island in Italy. It boasts over 2000km of coastline and is visited by millions of tourists every year. It is famous for its outstanding beaches, yet the island offers so much more, from a rich history to culture to food. This guide will take you on an unforgettable journey from La Maddalena to Alghero to Bosa. You will see some of the best attractions and beaches in North Sardinia and have the best La Maddalena to Bosa road trip.
La Maddalena to Bosa Road Trip – An Exciting Sardinia Road Trip
There is no denying you will be talking about it for years to come. For accommodation, you can stay in hotels, B&Bs, or for a cheaper alternative, you can try camping in Sardinia. There is something for everyone on this breath-taking road trip, so buckle your seat belt, look out the window, and have the time of your life. Also, if you're camping in Sardinia, make sure you're planning well what you bring with you, camper coffee makers, sleeping, dining, and other items that are a must if you travel by a camper. Make sure you check the best luxury hotels in Sardinia for a perfect stay! Make sure you also check the best beaches in Sardinia, since that's the most important part of the island vacation!
Good to Know for this La Maddalena to Bosa, Sardinia Road Trip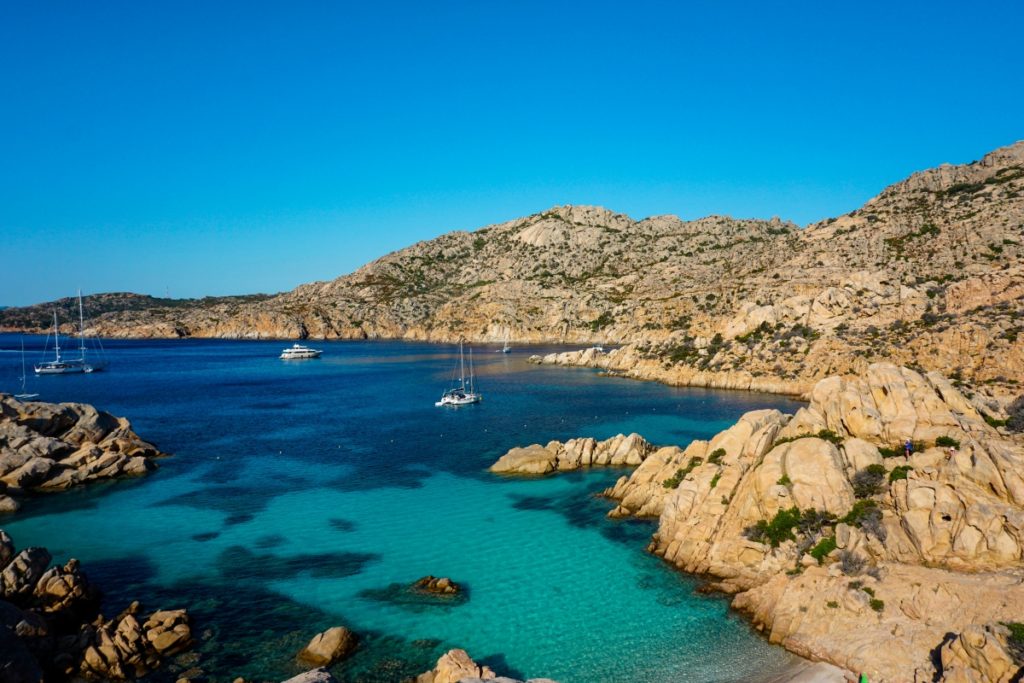 The best time for this La Maddalena to Bosa Road Trip is in the shoulder season. In the summer months, it will be swarming with tourists, and you may not be able to enjoy the secluded beaches. From May to early June and September to early October, you will find emptier beaches in Sardinia, fewer tourists, and still plenty of good weather to enjoy.
There are 3 main airports on the island, Cagliari (CAG), Alghero and Olbia. For a La Maddalena to Bosa road trip, you should fly into Olbia for convenience. If you want to bring your vehicle, you can reach Olbia by ferry from mainland Italy and Corsica – but in the peak summer months, you should book your ticket in advance because Sardinia can get very busy.
Sardinia Road Trip
La Maddalena to Bosa Italy Road Trip
STOP 1 – The Archipelago of La Maddalena
The first stop on this La Maddalena to Bosa road trip should be the Archipelago of La Maddalena. You can reach it by a fast and efficient ferry from Palau, where you can go as a passenger or take your car with you. The ferry will bring you to the vibrant island of La Maddalena, where you will see holidaymakers enjoying a spritz in one of its many bars and restaurants. To discover what the island has to offer, you should stay for 2- 3 days.
La Maddalena is the perfect base to discover the Archipelago of La Maddalena in all its beauty. It is formed of 7 major islands and 55 smaller islands and became a national park in 1994. These islands are the place to discover the idyllic, remote, and secluded beaches that make Sardinia famous. The clear water is the best of the best, and it is a dream destination because it is an unspoiled natural wonderland with electric blue water.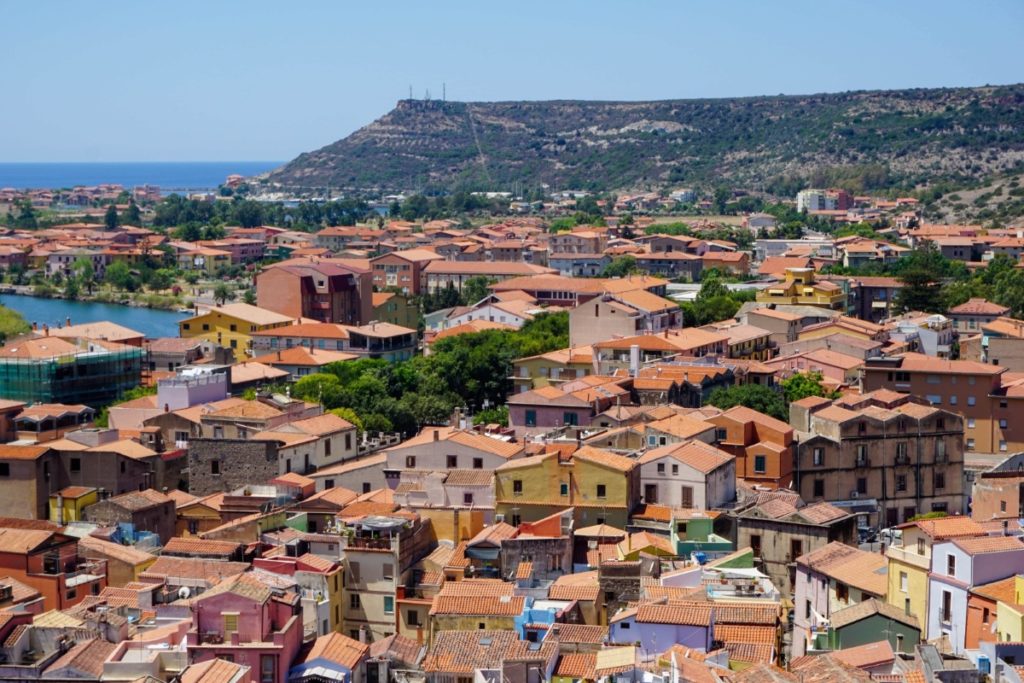 The best things to do on the islands include sailing, snorkeling, swimming, and hiking. First, you should discover the worldly beaches on Caprera Island. Cala Cotticio, nicknamed Little Tahiti and Cala Nepolentana, can be reached by a hike or boat and are two of the best beaches.
Also, you can visit the Garibaldi Museum, the house of the Italian hero, who spent his last 26 years living on the island. Finally, you can explore the Archipelago by sailboat on either day tours or longer booked in La Maddalena quay. It is a rare paradise. Let's move to the next stop of the Sardinia road trip.
STOP 2 – Alghero
From La Maddalena, you should drive towards Alghero and spend three days to make the most out of your trip. On the way, you can stop at Santa Teresa Di Gallura to spot Corsica from the Torre di Longonsardo and explore its colorful streets. In addition to visiting Castelsardo, a town with a medieval castle on the hill and quaint streets to discover.
Alghero is a medieval city with a Catalan past. It is the place to be to watch an incredible sunset and to explore the Centro Storico. The historic center is the perfect place to have a drink to relax and enjoy the surroundings. In Alghero, you can enjoy its beaches, take a boat trip and visit the iconic Neptune's Grotto in Capo Caccia. Here you see the grand staircase overlooking the sea. You can reach Neptune's Grotto by boat, or you can take the 654 steps down, which may be difficult in the heat.
STOP 3 – Bosa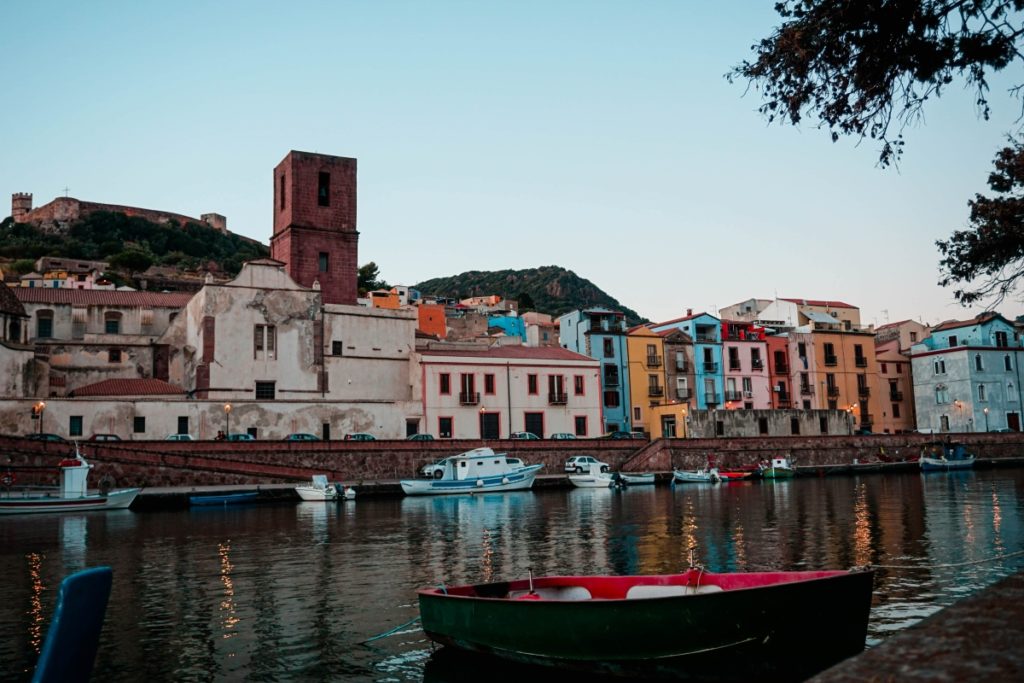 The final stop of this Sardinia road trip from La Maddalena to Bosa is the colorful and exciting small town of Bosa. Bosa has fewer than 8000 people and usually visited on a day trip from Alghero, but spending at least two days would be ideal. The journey from Alghero is beautiful along the rugged blue coastline, which makes this road trip ended perfectly.
The best thing to do in Bosa is to see the mesmerizing castle on the hill. The Malaspina Castle dates back to the 12th century and costs only €4 to enter and explore. It is also where you will find panoramic views overlooking the River Temo and the colorful houses.
You can also explore the Cathedrale di San Pietro Extramurous. It is one of the oldest churches in Sardinia, dating back to the 11th-century. Later, you can explore Cane Malu, which is a unique lunar landscape, where you can sunbathe or jump into the natural swimming pool (if the waves allow). Remember to wear appropriate footwear because the path is rocky to reach it, but it is like nothing else you will have seen before on this La Maddalena to Bosa road trip.
Bosa is a hidden gem in Italy and the evenings are full of life, where you can join the locals enjoying a drink in the piazza. Have some food at Sa Pischedda and stay at Bomoarosa B & B.
Food Tips for this La Maddalena to Bosa Road Trip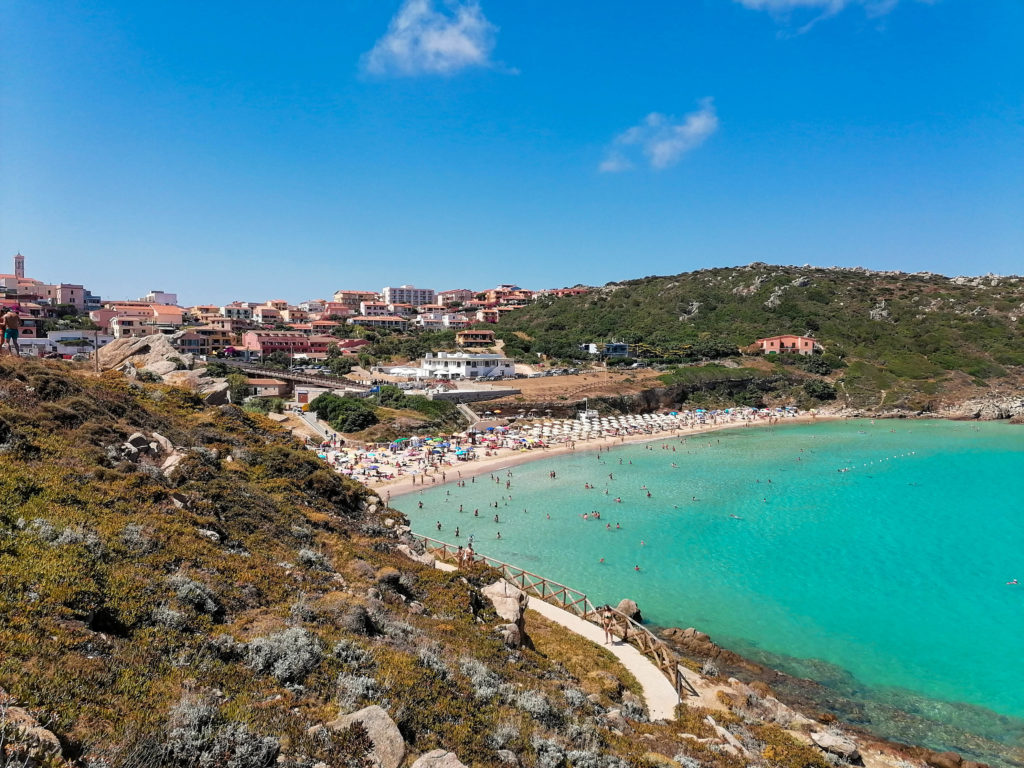 If you are a food lover, then you will love this road trip. Sardinia is a place where you can try tasty, local and traditional food.
The top tips would be to try Fregula or Colurgiones as the main course. The first is a sort of couscous, served as a soup with meat, seafood or veggies. The second is delicious dumplings with cheese and mint filling, usually handmade and embellished with a characteristic pattern on the top. If you like desserts, then a must-try would be Seadas, another type of ravioli, filled in with ricotta, fried, and served with honey. Delicious. These delicacies can be found all over the island, including all the three stops on this La Maddalena to Bosa, Sardinia road trip.  Also, you can plan beautiful south Sardinia road trips too!
Written by Rachel and Nico of Average Lives
Pin it: Sardinia Road Trip, Italy