There is no doubt: traveling by car is fun. Italy on the road is unforgettable. But Italy with kids requires more planning. Here are some Italian rules you should know if you're planning a road trip in Italy with kids.
Traveling by car gives you freedom. Freedom of stopping when you want, of choosing your own itinerary, and freedom of schedule. However, when traveling to Italy with kids, there are some important rules for families. To avoid any negative experience.
Italy on the road, the laws
Safety is key. But regulations change from one country to another. This is a useful guide for your Italian road trip. Kids included.
Seatbelts and more safety measures
As per the Italian codice stradale, the rule of the road.
First of all, make sure your kids sit on their seggiolone, the child car seat, placed in the rear. This is according to article 172 of the Codice stradale Italiano, which takes into account EU directives. It specifically addresses families traveling with children.
This article imposes the use of seatbelts for all children. If they are shorter than 1, 50 meters (4 feet 9 inches), the use of adequate safety systems is mandatory, always measured by weight and height. The safety system has to be in conformity with the rules of the United Nations Economic Commission for Europe.
The weight then, no longer age, is the parameter dictating the type of safety measure. The Italian police have simplified things for parents, by creating a handy chart of weight and corresponding safety systems.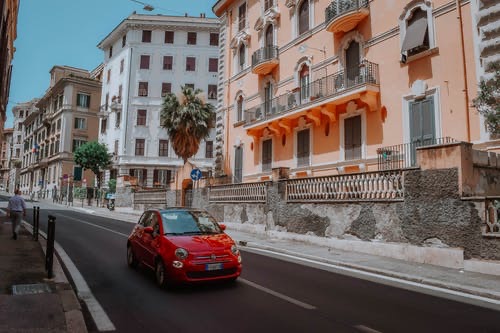 The Italian chart of weight
Group 0 (up to 10 kg- 22 lbs)
This group usually includes kids from 0 to 9 months. The seat you should install is that for children from 0 to 13 kg (28.5 lbs) and it must be installed facing backward. Or forward if the child is at least 6 kg (13 lbs).
Group 0 + (up to 13 kg- 28.5 lbs)
The indications for this group are the same as those of the previous group, but the seat must have a capacity of up to 18 kg (40 lbs), hence ensuring higher protection for the child's head and legs.
Group 1 ( from 9 to 18 kilos-from 20 lbs to 40 lbs)
For children from 9 months to 4 or 5 years. Seats (supporting kids weighing from 9 to 18 kg, or 20 to 40 lbs) must be placed facing forward, and they must be fixed to the car seat with the seatbelt.
Group 2 ( from 15 to 25 kg- from 33 lbs to 55 lbs)
Children aged 4 to 6 or 7 years belong to this group. The seat requires cushions with homologated armrests. The car seatbelts tie the child seat with the car seat.
Group 3 (from 22 to 36 kg- from 55 lbs to 79.5 lbs)
This group is generally made up of children from 6 to 12. In this case, cushions without armrests are to be used on the seat of the car. This helps to increase the height of the child when sitting. So the children can use the car's seatbelt.
People older than 3 can only sit on the front seat if they are taller than 1.50 meters (4 feet 9 inches). If not, they must sit on an adequate booster cushion, the back of which must firmly lean against the seat of the car. The booster cushion's seatbelt has to be fastened at all times.
Breaking these rules leads to a fine. And the amount ranges from 74 to 299 euros (roughly from 90 to 450 USD). Keep this in mind if you're traveling to Italy with kids.
Italy on the road: services areas for children
When traveling with children, toilet and snack breaks are essential.
Important words
If you're travelling on the highway, the Autogrill is the quintessential Italian highway restaurant. While the aree di sosta are the resting bays, without services. On the other hand, on provincial and national roads you will find the a punto di ristoro, rest stop, often a cafeteria or restaurant.
All petrol stations on Italian highways always includes a cafeteria and toilets and most of the times a fast-food restaurant.
However, it could happen that not every motorway café is well-equipped with facilities for children. Like the fasciatoio, the baby-changing table. You always find it in the toilet of a restaurant. Here, you can also find the seggiolone, the high chairs for kids to sit at the table.
More and more often, both bars and restaurants offer both options.
More useful information
To avoid the risk of not finding the right equipment for your child, you can visit the website of Autostrade per l'Italia. It's the site of the Italian highway system. Here, you can find information on the services for families. Including children menus, facilities and the layout of the safety requirements.
What the several area di servizio, service areas, can offer you is often explained through some symbols you can find here below, with a brief explanation:
Baby room (with baby-changing table)
Parco giochi (playground)
Bar
Restaurant
Area quattro zampe (area for animals)
Internet Wifi (in most of the cases it is not for free)
The terms in pictures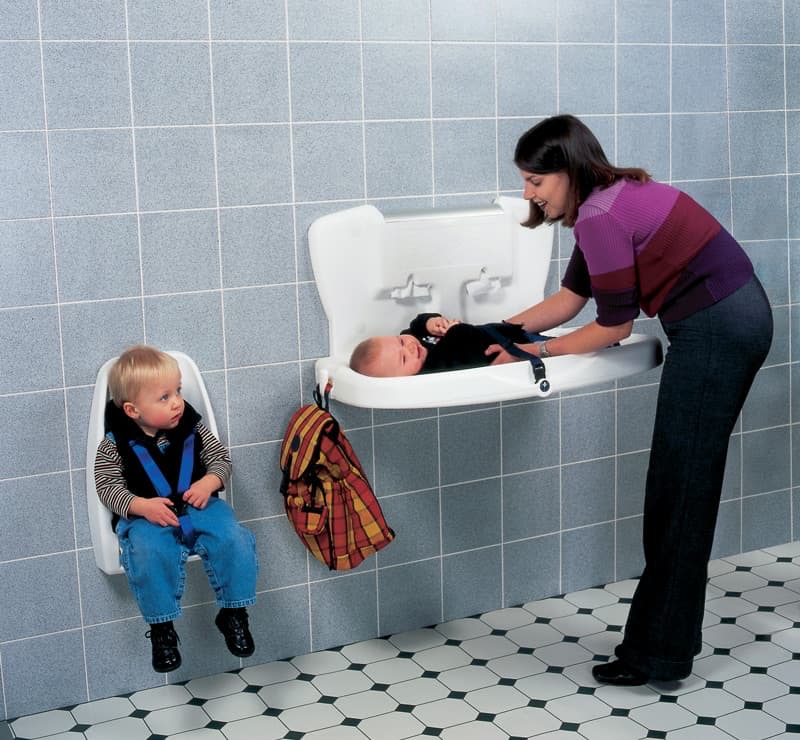 Wrapping up the rules for road trip in Italy with kids
Discovering Italy on the road is a great way to connect with locals and to discover new places. And doing it with children shouldn't be hard. Simply remember to check out the latest requirements and to be mindful.
Italy is a perfect place to travel with your family. There are many great options for activities with kids in Italy. It doesn't matter if you plan a family trip to Italy to cities, seaside or mountains, a family road trip to Italy, or island getaway, we can assure you that every member of the family will find something they'll love.
So, your family vacation will be unforgettable. And driving a pleasure.