Looking for an amazing road trip in Italy? A great road trip is one that goes from Liguria to Tuscany. More specifically, a road trip that goes from Genoa to Pisa, via La Spezia. This road trip covers wonderful cities, incredible viewpoints, and delicious food. The best amount of time to spend on this journey is 2 days with one overnight stay in La Spezia.
Since Italian road trips are really worth doing, if you're looking to follow this itinerary, but you're planning to tour Italy with a motorhome, you can start going down south with this itinerary, then continue with a Tuscany road trip, down to Lazio, Campania, Basilicata and Sicily. From there, you can come back through Puglia, and head up north stopping in Umbria, Abruzzo, Le Marche, Emilia Romagna and finishing with Lombardy and Veneto regions.
Liguria – Tuscany Road Trip in Italy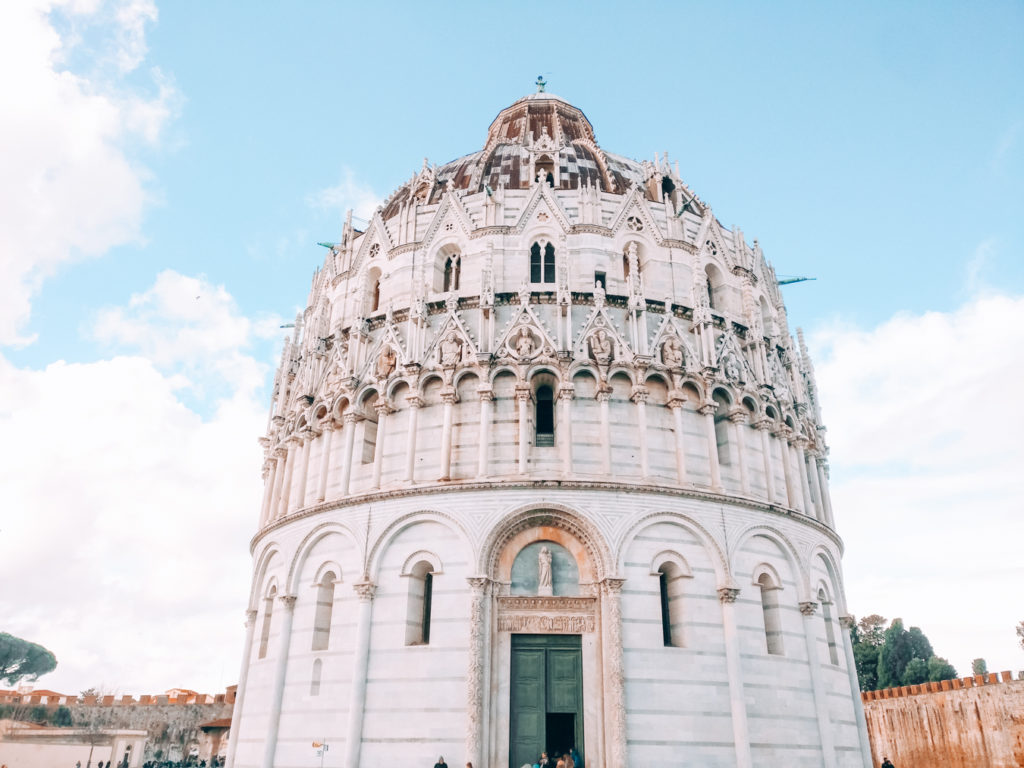 Stop 1: Genoa
If you're planning a road trip to Italy, this one will make you fall in love with the country fast! The road trip starts in the morning in the port city of Genoa. This is the capital city of the region of Liguria and one of the largest cities in Italy. Furthermore, the busiest seaport in Italy is located in Genoa.
When in Genoa, one should definitely go to the Old Port. This is a place with a great atmosphere. There are many restaurants, cafes, and shops, and this is a great place to start the day with some delicious Italian coffee.
At the Old Port, there are also many interesting sights. For example, there's the Lighthouse of Genoa. This is one of the most recognizable landmarks of Genoa that was built in the 16th century. For hundreds of years, this was the largest lighthouse in the world.
Besides that, there is much more to see in the city. There are lots of beautiful spots that are great to wander around. For example, Piazza De Ferrari is a square in the center of the city with lots of beautiful architecture. Another great place in the center is Via Garibaldi, which is a street with lots of historic places. The street is a UNESCO World Heritage site!
For lunch in Genoa, trying out pesto is a great idea. This sauce originated in the city of Genoa and consists of basil, garlic, olive oil, and some other ingredients, and is very delicious. There are many restaurants in the city that serve pesto.
After lunch, take in a view of the city at Spianata Castelletto, before going to the next stop of this road trip.
Stop 2 of the Liguria – Tuscany road trip:
La Spezia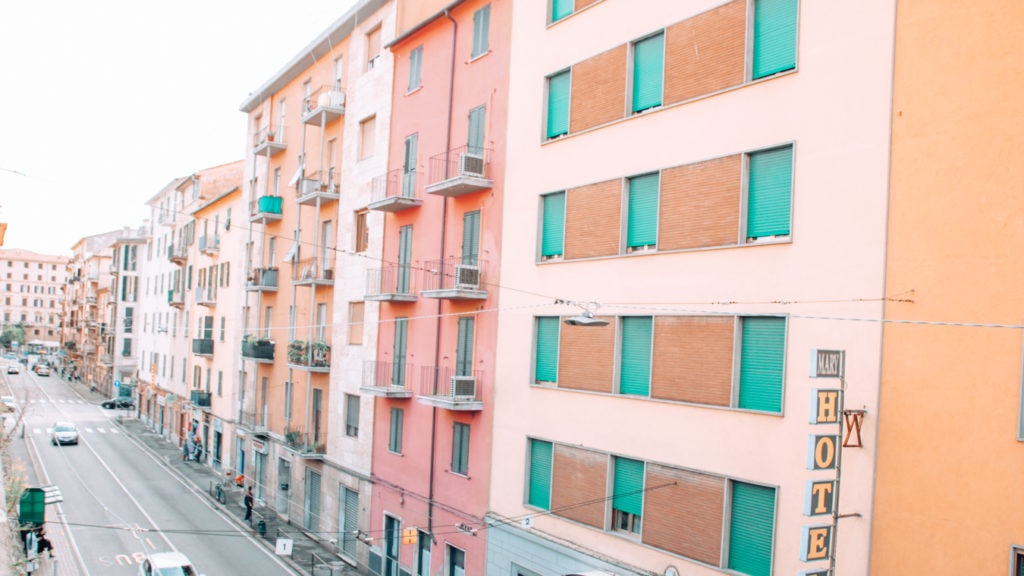 The next stop of this road trip is La Spezia. From Genoa, it is about a 1.5-hour drive. Along the way, some beautiful views of the Ligurian coast can be seen.
La Spezia is after Genoa the second-largest city of Liguria. This is also a beautiful coastal city that is a better place to experience local life in Italy than many more tourist places. There are beautiful historic buildings here and the waterfront of La Spezia is great to relax. Here are many palm trees that look beautiful. Also, the city center is home to great shops.
One of the most well-known things about La Spezia is that it is close to the area of Cinque Terre. This is an area with five beautiful towns with lots of colorful houses that are very idyllic and look incredible. Because of this, there are many photo spots in Cinque Terre. Also, there are lots of hiking trails in the area that go from one town to the next. Therefore, there are many reasons to visit Cinque Terre. From La Spezia, it is very easy to get to Cinque Terre. Going by train from the main railway station of La Spezia is the easiest way to go. The train ride is only about 10 minutes. That's why, when staying in La Spezia, it is recommended to also go to Cinque Terre!
Furthermore, interesting sights in La Spezia are Castello San Giorgio, an old castle, and the Technical Naval Museum, which is all about the Italian Navy.
A local highlight worth trying when in La Spezia is Focaccia. This is an Italian bread that originated in Liguria. It has a lot of similarities with pizza and it can be served as part of a sandwich. It is very delicious!
An overnight stay in La Spezia is the best way to experience the city of La Spezia and to have enough time to explore the third and last stop of this road trip on the second day.
Have some coffee for breakfast and a pastry at one of the bars in La Spezia, and then go to the next stop of this road trip!
Stop 3: Pisa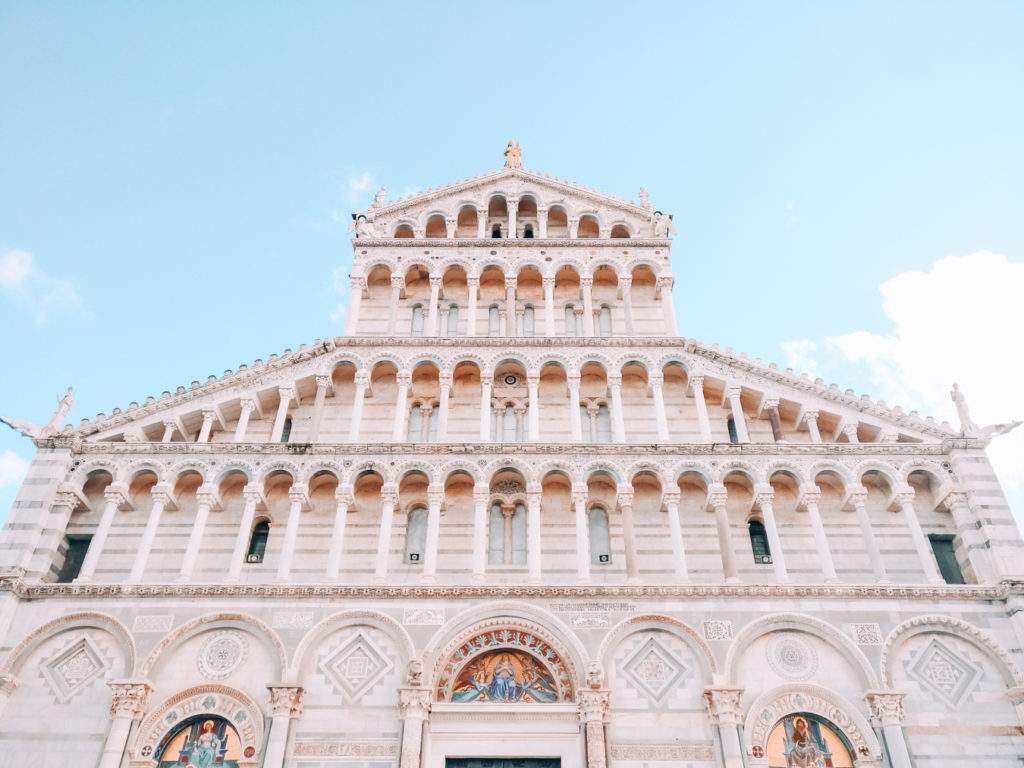 From La Spezia, it takes about an hour to drive to Pisa, the last stop of this road trip. Pisa is one of the most well-known places in Italy or even the world. If you're in Florence and you're thinking about day trips, it's a great option to do a day trip from Florence to Pisa.
Even though Pisa is very well-known, it isn't a very large place. For that reason, it's possible to walk to all parts of the city.
When going to Pisa, definitely go to the most famous sight of all. The Leaning Tower of Pisa is known all over the world. It is the bell tower of the cathedral of Pisa and it leans for about 4 degrees. One cannot leave the city of Pisa without taking a picture while pretending to hold the tower. What's great as well, is that it is possible to go to the top of the tower.
Besides the Leaning Tower of Pisa, Pisa Cathedral is very interesting to visit as well. This building is built in the Romanesque architectural style, as is the Leaning Tower of Pisa. Furthermore, there are lots of beautiful decorations on the front of the cathedral, and the interior of the cathedral is spectacular to see, because of all kinds of frescos and gold decorations.
Furthermore, the Pisa Baptistery can be found at the Piazza del Duomo, which is also worth visiting.
Besides that, there is more to see in Pisa. Those who walk from the Leaning Tower of Pisa to the city center of Pisa will find the Palazzo Dei Cavalieri along the way. This is a beautiful palace at Knights Square and it was built in the 16th century.
In the city center, there are many restaurants and shops. One of the best restaurants is Spaghetteria Alle Bandierine. At this restaurant, it's possible to get delicious pasta dishes for a low price.
Also, in the city center, there's the River Arno. Walking along the river is a great activity when in Pisa. Along the way, there's some interesting architecture. The Church of Santa Maria Della Spina is one of the most beautiful structures on the river bank. Defiitely worth doing a day trip from Pisa to Florence!
Conclusion of the Liguria – Tuscany Road Trip in Italy
The road trip from Genoa to Pisa, via La Spezia, is an amazing one with wonderful sights, Italian culture, and beautiful viewpoints.
Written by Dymphe from Dymabroad
Pin it: Liguria -Tuscany road trip