Are you a beach lover? If so you shouldn't miss the gorgeous views of the coast when you walk from the world famous beaches of Portofino to the town of Santa Margherita Ligure. The scenic walk takes about an hour and a half and once you reach Santa Margherita you will be rewarded with spectacular views of the Ligurian Sea.
Visitors to Santa Margherita Ligure, in the Riviera di Levante, are often taken with the exclusive style of the town's hotels, its elegant villas and gorgeous gardens, not to mention the delicious seafood caught by local fishermen and served up in the town's restaurants. Santa Margherita has numerous things to see and do, including the Villa Durazzo, a 17th century palazzo located in a park, the Basilica di Santa Margherita, the Castle, which was built in 1550 as a defence from attacks by North African pirates, and the Abbazia Della Cervara, an abbey that can be found along the road to Portofino. If you like, you can also wander through the tourist port admiring the traditional local fishing boats and the luxury yachts. Of course, the harbor is perfect for various sports and also hosts a international sailing regatta.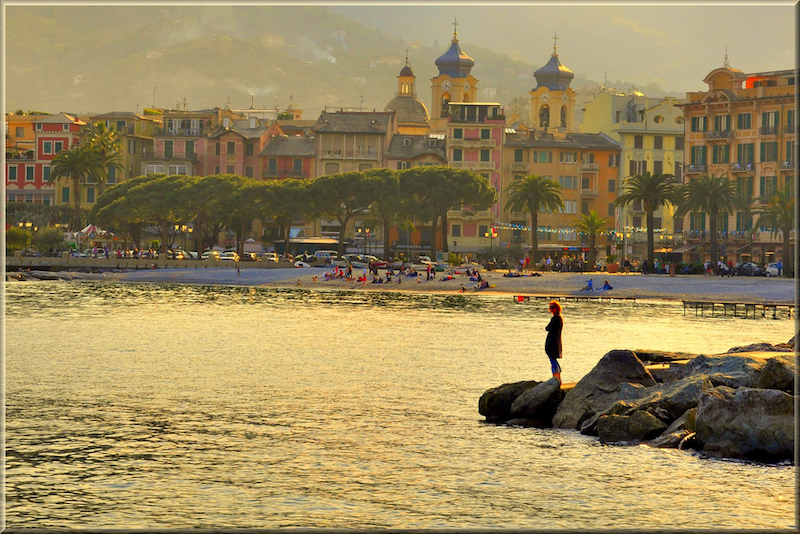 Just past the harbor one will find the beginning of the path for the walk to Portofino. By following the sea coast you will be led to the tiny town of Paraggi, a must-see for its coves and emerald sea. Continuing along the paved walk, you will then reach the gorgeous beach of Niasca, which is surrounded by Mediterranean vegetation. The beaches of Paraggi and Niasca are often the jumping off point for diving trips.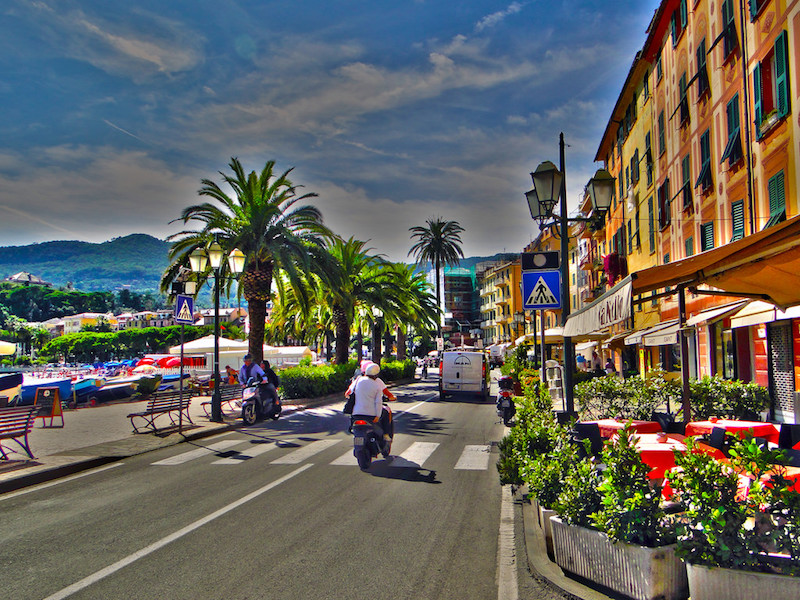 Where to Sleep and Eat in Santa Margherita Ligure
If you decide to stay in Santa Margherita, the town offers a wide selection of accommodation that provides a taste of old-fashioned elegance. The choices range from luxurious hotels and villas to agriturismi used for vacations where you can eat the farm's genuine Ligurian products. (Agriturismo is a combination of the Italian words for agriculture and tourism). A great hotel is the Park Hotel Suisse, which has a prime location near the harbor, very close to where the walk to Portofino starts. The hotel also runs diving activities for those who want to dive in Paraggi, Niasca or Santa Margherita.
If you prefer to enjoy a stay in an agriturismo, I would suggest the Agriturismo Portofino, which can also accomodate the disabled. The property is surrounded by gorgeous olive trees and the owners are very kind and welcoming, making sure guests feel absolutely at home. The view is also breathtaking, as seen in the above photo. If in the area, make sure to stop at the Agriturismo Il Monte, and enjoy the typical Ligurian cuisine served up at this farmhouse. It's not to be missed!
By Anna Merulla