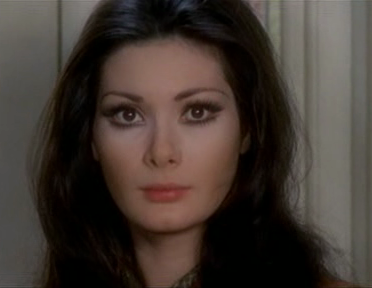 Those who fell in love with Edwige Fenech in the 70s will remember her sex appeal, her femininity and the actress' seductive French accent. Born in French Algeria in 1948 to a Maltese father and a Sicilian mother, the star of the erotic comedies that were once all the rage in Italy had both teenage boys and grown men falling head over heels from her, although some had to do it while hiding from their wives. The comedies that Fenech starred in had basic plots that were built around a bedroom and featured several topless or full frontal nudity scenes, often in showers. Light sex was also shown and many of the storylines involved affairs. The movies were rated for adults only, but teenagers often snuck into the theatres or waited to watch the films on late night TV, often to get a glimpse of the irresistible Edwige Fenech.
These films and the figure of Edwige Fenech have achieved true cult status in Italy and they also helped a generation of young men discover their sexuality. Compared to what is available today these films were light, almost harmless, although at the time they were definitely seen as edgy. Today movies like The Hangover or American Pie are probably more risqué. Fenech understood her role very well and communicated her character to the screen with spirit and full control, soon finding herself not only with a career, but the status of an icon.
Fenech also made other films, but she'll forever be remembered for her sexy comedies, stereotyped as the sexy teacher or the provoking foreign lover with whom average husbands wanted to run off with. In real life Edwige Fenech was born in France to an Italian mother and is a very intellectual and intelligent woman, one that was able to be respected in high society as well as in the business world. Fenech moved in these worlds so well she dated Luca Cordero di Montezemolo, one of the most respected men in Italy and currently the President of Ferrari, for almost two decades.
Today Fenech is a successful producer and is not ashamed of her past work, often showing gratitude to her fans. The actress had given up appearing on film until Quentin Tarantino asked her to appear in Hostel. Tarantino had a passion for her movies and for Edwige herself, which gives one an idea of how much the actress' movies affected men of a certain generation. Fenech has now decided to cast herself in a television miniseries that she is also producing, which will bring her back in front of the Italian viewing audience in a big way for the first time in years.
Today, almost in her 70s, she is still one of the most attractive and elegant women in Italy.