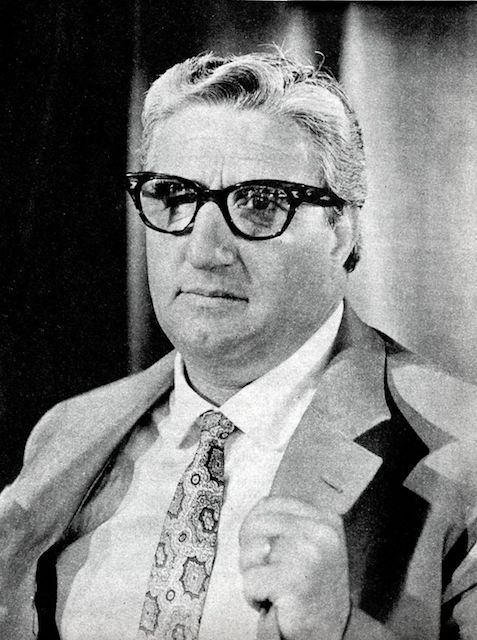 Mario Carotenuto (1915-1995) was a Roman actor; an actor who with an expression or a glance would bring to life a certain Romanness that is typical of the streets of the Eternal City. He was never a major leading star like Alberto Sordi or Marcello Mastroianni, however in his supporting roles he contributed to the famous era of Italian cinema, particularly comedies, that even competed with Hollywood back in the 50s and 60s. Like any other artist and actor of his generation, Carotenuto came from an old and serious school of acting and he was part of some of the most significant films produced in Italy. One among these was "Pane, amore e…" (Bread, love and…), but we shouldn't forget "Lo Scopone Scientifico" (The Scientific Cardplayer) with Alberto Sordi and Hollywood superstar Bette Davis.
Those were golden years for Italy, especially for Rome, whose Cinecitta truly offered a valid alternative to Los Angeles in terms of luxury and production facilities. Carotenuto himself was a minor part of that phenomenon, and his name will probably be more easiely remembered in Italy than elsewhere, but it is important to speak about him, because he represented the average middle class Italian, returning from the war and transitioning into an industrial society, where everything was possible and in which modern Italy was shaped. Needless to say that today many things have changed, but it is enough to pick up a DVD to be able to suddenly dive back in those years.
Carotenuto did also some excellent work in live theater, challenging himself with some of the best playwrights, starting with Shakespeare and moving all the way up to more modern writers such as Neil Simon. This shaped him and formed his acting abilities, which easily switched from drama to comedy, from classic to modern, a quality that many recent performers have completely lost. These qualities gained Mario Carotenuto the appreciation of the audience, but also the fact that he reminded them of the average Italian father, uncle or guy next door. People saw in him a familiar face, which made them feel comfortable and on the same level, rather than passively watching a major blockbuster cast with international stars.
In the second part of his film career, especially in the late 70s and 80s, Carotenuto joined the cast of many B level comedies that were very successful at the box office, and that today, despite their lower quality, are actually considered cult movies by many and do very well in television re-runs and DVD sales. One in particular is the famous series of the "Pierino" (Little Johnny) films, starring Alvaro Vitali, in which Carotenuto brilliantly played Pierino's father, leaving behind what probably remains the most well-remembered of his roles in the minds of the Italians.