Paolo Villaggio is an Italian actor who became famous especially thanks to his portrayal of the unfortunate and pathetic Fantozzi.  Villaggio has been protagonist of more than 80 films, an amazing career for which he received, in 1992, the Leone D'Oro alla carriera and the Festival del Cinema di Venezia.
Villaggio is truly a complete artist: he is also a writer, a playwright, a showman,  a cabaret performer and a film director.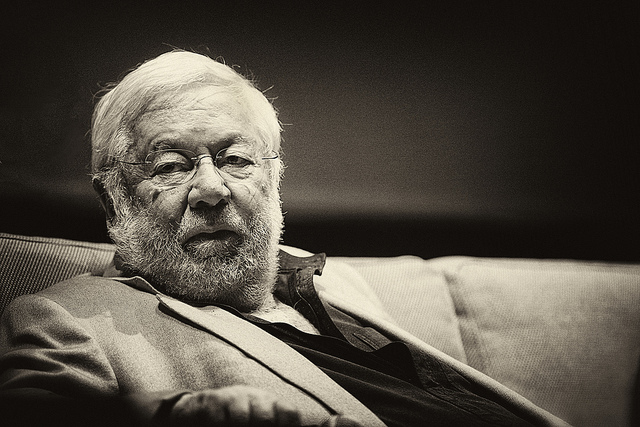 He was born in Genoa, on the 30th of December 1932. Before making it in the film industry, he had several menial jobs: entertainer on cruise ships, waiter and employee at the Italian company Italsider. It is this last job that inspired him to create the  famous character of Fantozzi: there he came into contact with a world marked by servility and adulation which he decided to turn into a grotesque caricature through his 'creature'. Before bringing Fantozzi to the silver screen, in 1975, he debuted the character of Ragionier Fantozzi on national tv, along with others who were to become iconic for his acting career and are, still today, known by the wider public:  ask any Italian about Fracchia and Dottor Kranz and you'll see. The first years of his artistic career saw Villaggio as a stand-up comedian, an idea suggested by Maurizio Costanzo, who found a strong vein of humor in him.
After starting out in a theatre in Rome, he ended up being the anchorman of an Italian program, Quelli della Domenica, and the following year he also hosted the program E' domenica, ma senza impegno. His most famous character, Ugo Fantozzi, was initially a literary creation, who first appeared on the pages of popular Italian magazine L'Europeo, as well as dailies such as Paese Sera and L'Unità.  The unlucky, servile accountant soon made it into a book (Villaggio was to publish eight dedicated to him throughout his writing career), which became a antional sensation. It was also in name of this success that, eventually, Villaggio decided to bring his creation to the silver screen. After his 1975 debut, Ugo Fantozzi was to star in other 9 movies.
Villaggio's acting skills had not been simply used to bring popularity to Fantozzi. Another of his stand up comedy character, Fracchia, became protagonist of a series of movies and, especially in the 1980s, he performed along with other great names of Italian comicity such as Massimo Boldi, in popular film like Scuola di Ladri and especially Renato Pozzetto in Comiche. His natural eclecticism brought him to interpret with success also more dramatic roles, such as that of the maestro  (the primary school teacher) in Lina Wertmuller's Io speriamo che me la Cavo. His roles in Italian cinema d'essay are also well known, especially those for Ermanno Olmi in Il Segreto del Bosco (inspired by Dino Buzzati's homonymous novel) and Mario Monicelli in Cari Fottutissimi Amici.
His interest for the written word did also take the shape of musical lyrics: he penned, in the 1970s, the words for his friend Fabrizio de André's songs Il Fannullone and Carlo Martello ritorna dalla Battaglia di Poitiers.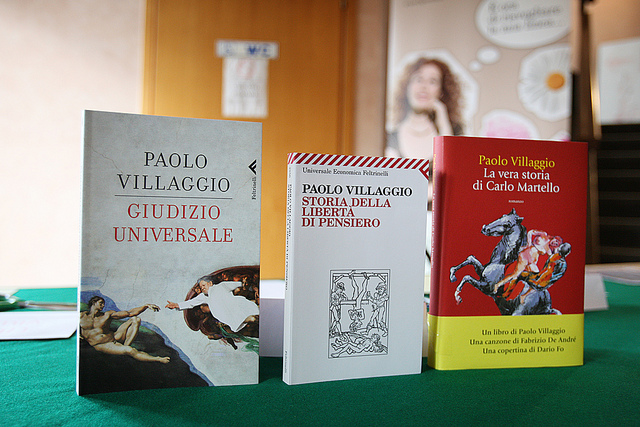 While discussing the reasons he chose Villaggio and fellow comedic genius Roberto Benigni as protagonists for was what to be his last movie, La Voce della Luna, Federico Fellini once said the two are " two ignored and neglected treasures." It was 1989, and how far did Fellini truly see: Benigni was to become one of Italy's most respected artists and Villaggio, already famous, but only and exclusively as a comic interpreter, was to gain credibility as a dramatic actor and finally be consacrated as one of Italy's most representative artists.
Today, Paolo Villaggio's status as iconic interpreter and representant of the seventh art is out of question, but his figure, to we Italians, is also that of a fearless intellectual, never afraid to expose himself to criticism. A declared atheist, Villaggio entered the world of politics in the late 80s as a representative of Democrazia Proletaria (an extreme left wing minor party), then later associated his name to the many socio-cultural battles fought by Marco Pannella and his Radical Party. Today, Villaggio admittedly supports his friend and fellow genoese Beppe Grillo's Movimento Cinque Stelle.
A less known Villaggio, as seen in Fellini's La Voce della Luna.