Dario Argento – The Hitchcock of Giallo Part II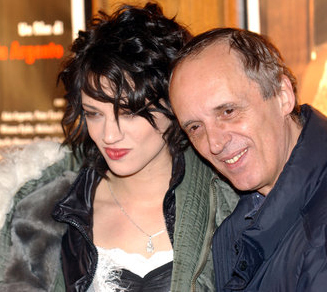 By 1985, the Dario/Daria relationship was winding down. That year saw the release of Phenomena (US Title – Creepers). This was the debut film of the young, future Oscar-winner, Jennifer Connelly. She played a girl named Jennifer who is the daughter of a Hollywood heavyweight. She is sent to a Swiss boarding school in which mysterious murders are taking place. She must use her intuitive ties to insects and an entomologist to solve the mystery before more people die a gruesome death. The film also features Dario's daughter, Fiore, who these days is a shoe designer. (Note: Fiore would also be featured in 1985's Demoni (Demons), which Dario produced.)
Dario often features his children in his films. Asia appears in the final two installments of the Demons' Trilogy – Demoni 2 (1986) and 1989's La Chiesa (The Church). However, he is only a producer of these films and not a director.
Although Asia had been working steadily as an actress since 1984's Sogni e Bisogni (Dreams and Needs), she would not perform as a lead actress in a Dario-directed film until 1993's Trauma. In this movie, Asia plays Aura Petrescu, a teenager who's placed in a clinical hospital for an eating disorder. She gets free with the help of a young man who's also a recovering drug addict. Once released, she witnesses the brutal murder of her parents' by a serial killer who likes to decapitate his victims. The youngsters become lovers and, as the movie moves along, it becomes clear that Aura holds the key to the truth; but, it may harm her – and those around her – more than help.

Dario Argento Interview.
Trauma also marked Dario's return to directing. He had taken a bit of a break from it after the dismally-reviewed Opera (1987), which was the last film Daria would appear in that Dario directed, ending a long and successful personal and professional collaboration. Around this time, his father, Salvatore, passed away, too so it would appear that the director was not having a good time of it on either a personal or professional level.
As the 90s wore on, Dario continued to work steadily but not at the same frenetic pace he did previously. He would lens both La Sindrome di Stendhal (The Stendhal Syndrome) in 1993 and Il Fantasma dell' Opera (The Phantom of the Opera) in 1998. Asia would have prominent roles in both films. In the Stendahl Syndrome, she plays Anna Manni, a police officer who is hunting down a rapist/serial killer. However, she suffers from "Stendahl syndrome", a psychological disorder which causes dizziness and hallucinations when exposed to artwork. The killer lures her into Florence's famous Uffizi art museum where the real terror begins.
In Phantom, which is based on Gaston Leroux's torrid tale of love and revenge and not the more famous, Lloyd Weber adaptation, Dario brings bitter irony and psycho-drama to the piece. His "Phantom", played by actor Julian Sands, is not disfigured on the outside, but rather on the inside. Daughter Asia plays the Phantom's love interest, the beautiful and tragic aspiring opera diva, Christine.

Classic Dario Argento Interview.
Critics and fans alike don't really know what to make of this piece. At worst, many seem to feel that this film is more like a self-indulgent attempt to poke fun at himself and his body of work than a tour de force. At best, they say it's an "art-house" film. Either way, even die-hard fans often comment that Dario missed the mark on this one. However, almost all would agree that Dario's choice to renew his collaboration with Ennio Morricone, who composed such an exquisitely haunting score, was certainly sound.
As the new millennium broke, Dario appeared to disappear, at least by his former prolific standards. Perhaps he was enjoying the fruits of his labor. By this time, Dario had become the master of horror for many and has an impressive worldwide, almost cult-like following. Some intimated that he may have retired, although Dario laughs that off.
In 2001, he wrote the screenplay for and directed Non ho Sonno (I can't sleep). This film is a true giallo masterpiece, reminiscent of Suspiria and Profondo Rosso, complete with a Goblin soundtrack. Max von Sydow plays retired detective Ulisse Moretti. He's called back in action after a series of gruesome murders in Turin because they bear the hallmark of the same serial killer he thought he buried over a decade ago. The film is visually stunning and deliciously gruesome.
Dario also lensed 2003's Il Cartaio (The Card Player) and, as mentioned above, La Terza Madre in 2007. He also released rights of two of his main works, Suspiria and L'Uccello dalle Piume di Cristallo to US producers interested to film their remakes. His last movie, Dracula 3D was released in 2010 but, in spite of his direction and the popularity of the subject, the movie was a flop.
Truth is Argento has focused greatly on means other than cinema in recent years. In 2007 he collaborated with Claudio Simonetti for a musical rendition of his masterpiece, Profondo Rosso. Since 2012, he leads the Rai Movie show 100 Pallottole d'Argento, where he introduces famous horror movies before their tv screening. In 2013, he debuted as an opera director, directing Giuseppe Verdi's Macbeth at the Coccia Theatre of Novara. In February 2015, he directed Donizetti's Lucia di Lamermoor at the Carlo Felice theatre, in Genoa.
No matter what Dario does in the future, he has an impressive body of work behind him. He is one of Italy's most prolific and creative directors, if not its best known. He is a rare talent that acts, composes, directs, writes, and produces. He is also a mentor to many including director Michele Soavi and his progeny, Asia, who made her feature-length directorial debut with the Dario-produced, Scarlet Diva in 2001. Perhaps, Dario's greatest legacy is that his thumbprint can be seen all over the world even if we don't know it's there. He is the illusionist, the true master of the giallo, the creative genius we don't always understand. He is Dario Argento, the Italian Hitchcock, but so much more.
By Deanna Couras Goodson, updated by Francesca Bezzone
Dario Argento Part I