Ettore Scola is one of the most appreciated names in Italian cinema.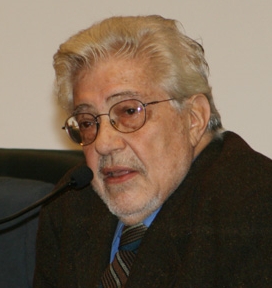 His name is associated with seminal works of contemporary Italian cinema such as 1974 C'eravamo Tanto Amati (We all Loved Each Other so Much), starring Nino Manfredi, Vittorio Gassman, Stefania Sandrelli and Aldo Fabrizi, 1977 Una Giornata Particolare (Special Day), starring Sophia Loren and Marcello Mastroianni (for which he won the Golden Globe for Best Foreign Film in 1978) and 1987 La Famiglia (The Family), with Vittorio  Gassman and Stefania Sandrelli. His last work dates back to 2013 and was dedicated to his colleague and friend Federico Fellini, known at the times of the Marc'Aurelio and whom he has always considered an inspiration.
His daughters, Paola and Silvia, produced a documentary about their father, Ridendo and Scherzando, a beautiful memento to his art, but also to Scola as a father and a person.
Nominated for five Academy Awards, his famous 1980 movie La Terrazza (starring Marcello Mastroianni, Ugo Tognazzi, Vittorio Gassman, Stefania Sandrelli, Ombretta Colli and Milena Vukovic), set during a party where a group of disillusioned Italian Communist intellectuals discuss life, has been the inspiration for Sorrentino's Oscar winning La Grande Bellezza. 
Ettore Scola: his life and career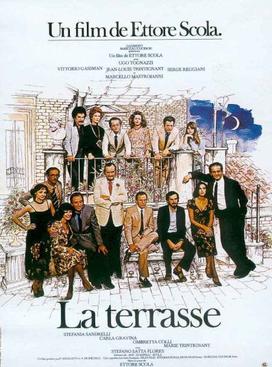 Born in 1931 near Avellino,  he moves to Rome shortly after with his family. It is in Rome that, in the 1940s, he enters in contact with the world of the performing and visual arts, through his early collaboration with comic magazines Marc'Aurelio and Il Travaso delle Idee. As a university student, he keeps collaborating with the Marc'Aurelio and begins working as a writer for the radio, along with icons of the Italian artistic panorama such as Alberto Sordi. His adventure behind the camera starts in 1964, but his first great success comes in 1968 with Riusciranno i Nostri Eroi a Ritrovare l'Amico Misteriosamente Scomparso in Africa?, with Alberto Sordi, Nino Manfredi and Bernard Blier.
From here on, it is a series of cinematic successes: beside the already mentioned titles, we should remember Brutti, Sporchi e Cattivi (1976, known in English as "Down and Dirty"), for which he won the Palme d'Or at the Cannes Festival in the same year, I Nuovi Mostri (1977, "Viva l'Italia"), Il Viaggio di Capitan Fracassa (1990, "Captain Fracassa's Journey"), La Cena (1998, "The Dinner"), Concorrenza Sleale (2001, "Unfair Competition" ) and Gente di Roma (2003, "Gente di Roma").
His thought on cinema as a form of art was that "it had to belong to and be about common people."
Scola passed away on the 19th of January 2016. He was 84.
His words and those of his movies
Cinema becomes beauty only when it can read reality.
The problem with you screenwriters is that you only know how a movie has to end!
There is something noble in the average Italian, a flaring up of dignity… it may not be heroism, but it brings us to act, even if simply with a gesture of love and support for a friend.
There's only one way to work well with actors: to know them…, to work with friends.

My aim's always been to create movies that could make you laugh, but leave you with something to think about once they were over…

You can cry alone, but laughing… laughing takes two people. (Una Giornata Particolare)

'Who'd you reckon is the least satisfied? A screenwriter or a movie critic?' 'Their wives' (La Terrazza)

If you don't have the strength to follow your  ideals, then it's better you don't have any. (Concorrenza Sleale)

We thought we could change the world, but in the end, it's the world that changed us. (C'eravamo Tanto Amati)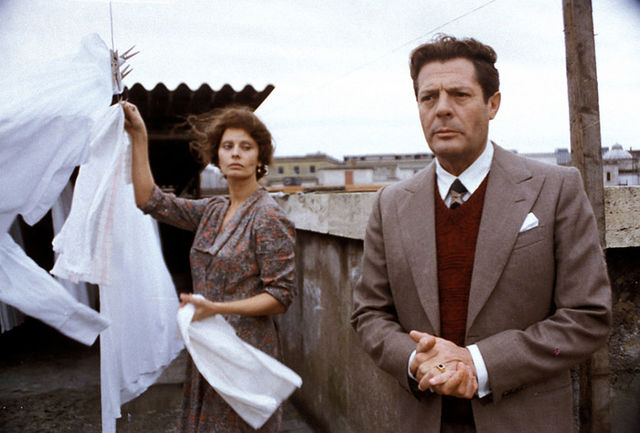 Francesca Bezzone